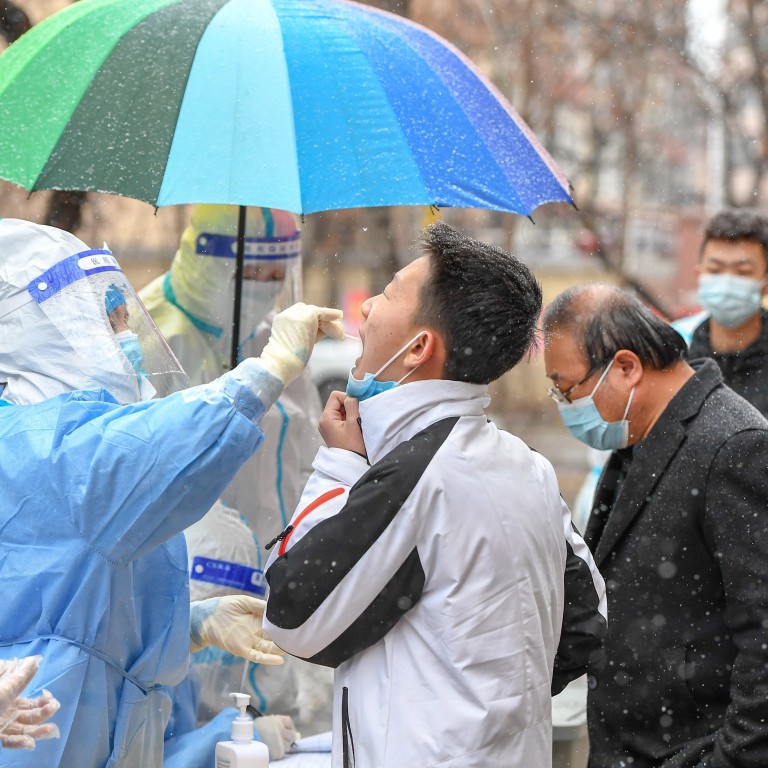 Coronavirus: new cases double in China in biggest 1-day leap since Wuhan
Bulk of infections in the northeastern province of Jilin, where more than 8,200 people are in medical facilities
Respiratory expert says the mainland has the chance to minimise virus spread using lockdowns and mass testing to avoid the massive infection seen in Hong Kong
China has reported a doubling in the number of new domestic cases of
Covid-19
to more than 5,100, the highest jump in a day since the disease erupted in Wuhan in early 2020.
The National Health Commission reported 5,154 new cases on Tuesday – 3,507 people with symptoms and 1,647 without.
Lockdowns and mass testing
– often involving millions of people at a time – have kept China's coronavirus cases and death toll low.
The country has also been largely closed off to the world to prevent people with the virus from entering.
But since the start of March, more than 15,000 people have contracted Covid-19 in China, with fast-growing clusters in the provinces of Jilin, Shandong, Guangdong and Hebei, as well as Shanghai, according to the NHC.
Mi Feng, spokesman for the State Council's anti-epidemic task force, said on Tuesday that the coronavirus was spreading quickly but the country would persist with its disease suppression strategy, known as "
dynamic zero-Covid
".
"The frequency of outbreaks has clearly risen, the number of people infected has grown rapidly and the affected area has kept expanding," Mi said.
"We must adhere to and not waver from the general strategy to prevent imported cases and internal rebounds, and the general policy of dynamic zero-Covid."
He said the strategy had proved to be effective against outbreaks of Omicron, the highly transmissible variant behind the flare-up in cases.
In Jilin, more than 95 per cent of the patients had only either mild symptoms or none at all, according to NHC official Jiao Yahui.
Nevertheless, as of Tuesday morning, more than 8,200 people were in hospital for Covid-19 in Jilin province, Jiao said.
"Moderate, severe and critical cases and patients at risk, such as the elderly and those with underlying illnesses, will be admitted to designated hospitals that are better equipped," she said.
"Others, asymptomatic cases and those with mild cases, would be admitted to other designated and prefabricated hospitals."
Outside Jilin, cases were distributed across 22 provincial areas, including in China's economic powerhouses of Guangdong province, which recorded 116 local cases, and Shanghai, which had 139.
An official in Shanghai, where the latest outbreak began with an imported case at a quarantine hotel, said the city would not go into lockdown, countering rumours that the rising numbers would mean tougher restrictions.
"Right now, Shanghai is not under lockdown and there is no need to be locked down," Shanghai deputy secretary general Gu Honghui said.
"We will, according to the risk of each locality, perform grid-based nucleic acid tests to further strengthen control and prevention of infections."
According to experts at Lanzhou University, which has carried out Covid-19 prediction modelling over the past two years, the current outbreak will be curbed by early April with an estimated 35,000 people expected to be infected by then.
Wu Zunyou, adjunct professor at the UCLA Fielding School of Public Health and chief epidemiologist for the Chinese Centre for Disease Control and Prevention, also anticipated the mainland outbreak would be under control in the coming weeks.
He noted that the Omicron variant was difficult to identify because of China's high vaccination rate and the strain's weaker symptoms.
"As over 90 per cent of the population has been vaccinated, people have a certain level of immunity," he wrote in a post on China's Twitter-like Weibo.
"At the same time, the Omicron variant causes a relatively weaker response, which means infected individuals have no or very mild symptoms, thus hard to detect."
Hong Kong respiratory disease expert Leung Chi-chiu said now was a crucial time for mainland China to impose anti-epidemic measures, such as lockdowns and mass testing, to minimise spread as "current outbreaks are still relatively limited to individual communities".
"Early intervention can prevent the situation we have now in Hong Kong," he said, referring to the Covid-hit city which reported
27,765 cases on Tuesday.
"Since the Omicron's speed and level of transmission are high, strategies such as case tracing can be used in the early stage.
"But past that stage, such as in Hong Kong where there is a massive amount of infections, the ability to curb an outbreak will have been lost."
More than half of Guangdong's new local cases were found in Hong Kong's neighbouring metropolis Shenzhen, which is subject to a
week-long partial lockdown
requiring residents to be tested at least three times.