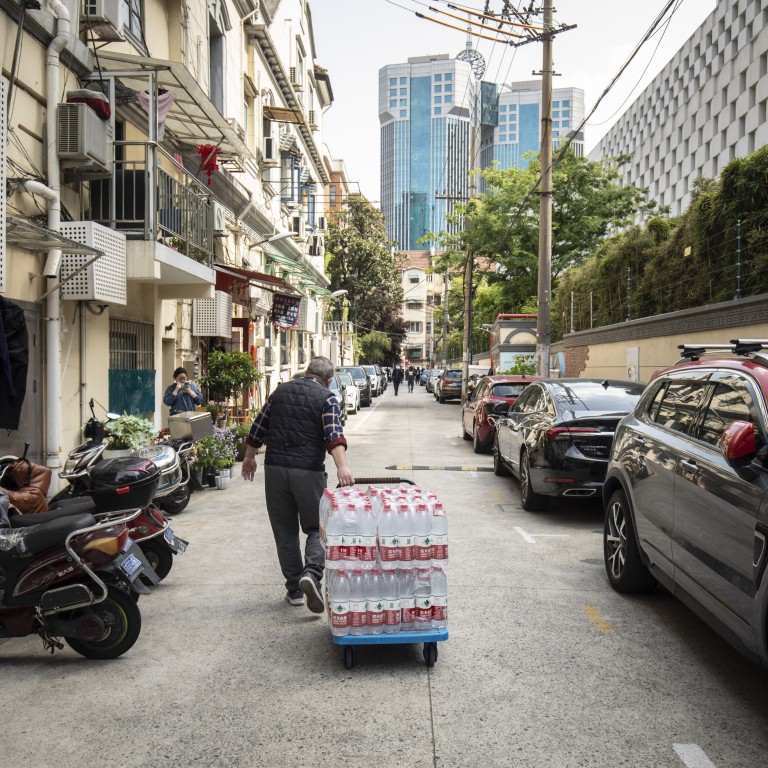 Zero society Covid by Wednesday? Shanghai's target to tame China's worst outbreak
The city has still some way to go before it can say it has brought community transmission all the way down, experts say
Authorities should release their calculations for determining the rate at which patients are infecting others, virologist says
Shanghai has yet to turn the corner in
the country's worst Covid-19 outbreak
but the number of people infected by each coronavirus carrier has almost halved, according to Chinese authorities.
Vice-Premier Sun Chunlan said on Friday that the effective reproductive number (Rt) of the outbreak had fallen from 2.27 at the start to 1.23, meaning one person would on average spread the virus to 1.23 others.
Sun told state broadcaster CCTV that the city had "achieved phased results" and "the goal of zero cases in the community is within reach".
Shanghai has reported more than 372,000 infections since March 1 and more than 20,000 cases every day since April 7.
On Monday, three weeks into a lockdown of its 25 million people, the city also reported its first
Covid-19
related deaths.
The megacity's goal is to reach "societal zero Covid" by Wednesday, a situation when new cases are limited to people already in quarantine.
Stopping the spread outside quarantined areas is a key metric for Chinese officials as they seek to reopen their cities.
For example, Jilin province in the country's northeast contained community spread after a 40-day lockdown and has started easing restrictions in various cities across the province, allowing factories to resume production.
Public health epidemiologist Benjamin Cowling, from the University of Hong Kong, said Shanghai would see a turning point if Rt could be brought below 1 and case numbers began to drop.
"Depending on how low Rt can be brought, we could anticipate how long the lockdowns might need to be kept in place until case numbers return all the way to zero," Cowling said.
"I don't see how the spread of Covid-19 could be stopped by Wednesday but maybe Rt could be brought below 1 by Wednesday."
He also said it would likely take at least a month to get cases to zero and be confident that cases were at zero, but another outbreak could happen after the city returned to normal.
Virologist Jin Dongyan, also with HKU, urged the authorities to make the Rt calculation method public.
He also said it was "scientifically not possible" to end community-level transmission in just a matter of days.
"[Authorities] should explain to the general public how this can be achieved. With some 20,000 new cases daily for days, it will not go to zero overnight," he said.
"The only possible way of doing this is whenever they pick up cases they immediately define these areas as under quarantine.
"It takes time to move people out [to isolation facilities] – a process that is already quite … delayed, and still some individuals are in the community."
He said it would take one to two weeks to see a downward trend in case numbers.
Separately, Nankai University's Research Institute of Public Health in Tianjin estimated that the Shanghai outbreak could be over by the end of May, with daily cases falling below 1,000 early next month.
The projections published on April 13 predicted the peak of the outbreak to occur between April 10 to 14. On April 14, Shanghai reported a record 27,719 cases.