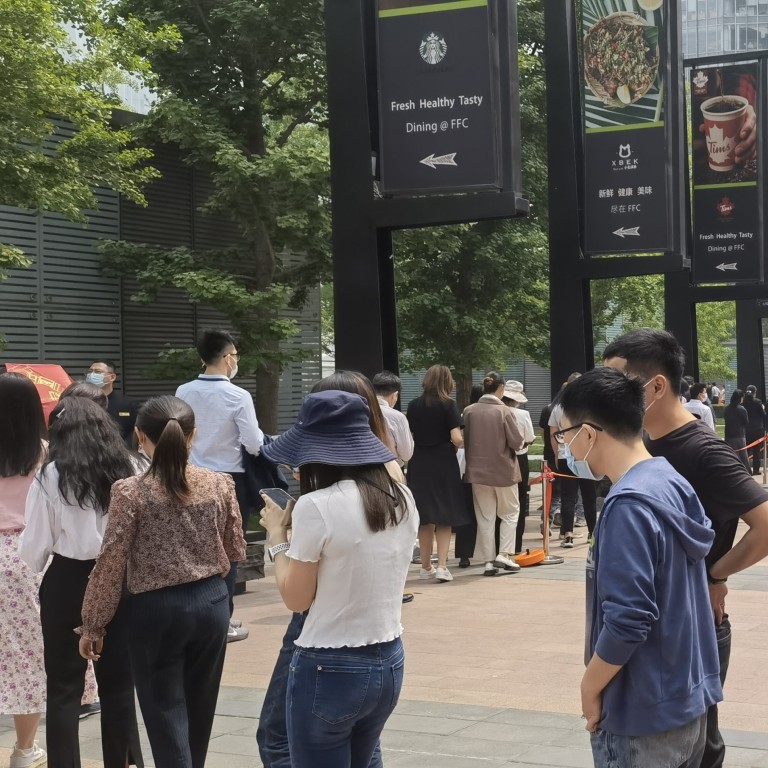 Beijing Covid-19 spike sparks panic buying as mass tests begin in worst-hit district
Chaoyang district of Beijing will undergo three rounds of mass screening for Covid-19 this week
Residents rush to stock up over fears of shortages as recently seen in locked down Shanghai
Residents of Beijing's biggest district have resorted to panic buying as orders to undergo three rounds of mass Covid-19 tests spark fears of a wider lockdown.
China's capital city is
on high Covid-19 alert
following a spike last week, with several residential compounds locked down, even as financial hub Shanghai
struggles to contain
a month-old outbreak that has battered the economy and has left people scrambling for food and medical care.
Of 70 local cases recorded in Beijing since Friday, more than half were from Chaoyang, an affluent district home to some 3.5 million people, including several embassies and multinational companies.
Residents rushed to stock up on daily necessities as the first of the three testing rounds kicked off on Monday, even though many remain optimistic about the city's capacity to bring the pandemic under control.
Joseph Li, a 25-year-old lawyer who lives and works in Chaoyang, said he felt like he was "on the edge of a [Covid-19] whirlpool", but was still "relatively optimistic" about the situation and not worried about running out of food.
Taking a lesson from Shanghai, where a strict lockdown has sparked food shortages, Li and his roommate stocked up two weeks ago on frozen and fresh food to last them four days.
"If the lockdown really comes, I think the government, community and our company will support us with supplies," Li said. "If we run out of food and the next round of necessities hasn't arrived, I'll go eat the stuff I stocked up. It's just for emergency use."
Supermarkets were packed on Sunday and the shelves of many online group-buying apps were nearly empty, said Li as he queued for his test at a makeshift site. However, he believes as long as the logistics keeps flowing, food can be delivered smoothly across Beijing, unlike the disruption seen in Shanghai.
Official paper Beijing Daily said supermarket chains including Carrefour and Wumart more than doubled inventories, and extended opening hours on Sunday, while e-commerce site Meituan's grocery arm increased inventory and boosted sorting and delivery staff.
People will be tested again on Wednesday and Friday, with top health officials warning that "hidden transmissions" began about a week ago.
Several big Chinese cities have reported outbreaks in recent months, most notably Shanghai, whose 25 million people have been under indefinite lockdown for more than three weeks.
In Beijing, a 24-year-old reporter called Aurora, who declined to give her surname, said she and her friends were worried about undetected transmissions.
Despite more than a dozen buildings in Chaoyang being placed under full lockdown and movement restrictions tightened since last week, infections spread to other districts over the weekend.
Beijing reported 29 new cases on Monday, 20 of them from Chaoyang. Cases have already spread to eight of the city's 16 districts. Aurora lives in Fengtai district – a 30-minute drive from Chaoyang which reported two cases on Monday. She has already placed online shopping orders for staples like rice and bread, instant noodles and other necessities, with plans to visit the local supermarket for fresh produce in particular.
"I'm not super-worried. As long as I can go to the office as usual, I can have lunch and even dinner [at the staff canteen] there," Aurora said. "Of course, if it's work-from-home that will be totally different. So I'm also buying food in smaller portions but more frequently to avoid waste."
She is also confident Beijing will pull through. "Generally the capital city is quite capable, it won't become as bad as in Shanghai," said Aurora. "Everyone is stocking up on food, so there's definitely a jump-on-the-bandwagon kind of feeling."
At Tsinghua University in Haidian district, untouched as yet by the current outbreak, students had cleared out the shelves at on-campus supermarkets over fears of an eventual strict Shanghai-style lockdown, graduate student Yvonne Li said.
"Normally it would be around 20 people [in one supermarket], but last night there were about 60-70," Li said.
Li said she saw students snap up food and other supplies in the supermarkets and on grocery apps, with early deliveries already jamming the entrance to dormitory buildings, and store shelves having to be refilled on Monday afternoon.
Li saw no cause for worry, however. "I don't believe Beijing will be like Shanghai," she said. "Even if the school is locked down, the university will guarantee supply … I heard that our university has also stocked up on food."