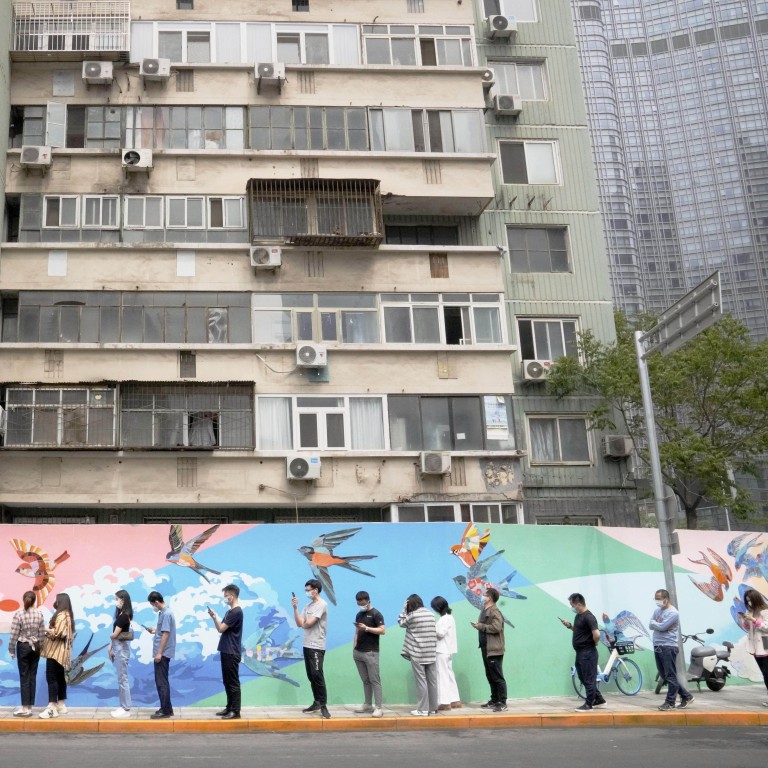 Foreign businesses in Chinese capital keep wary eye on Covid cases as fears of lockdown grow
Mass testing under way across most of Beijing and people told to stay at home
Lockdown in Shanghai sent shock waves through the communities in Beijing, EU business leader says
The municipal government announced on Monday that 11 of the city's 16 districts would undergo three rounds of nucleic acid testing from Tuesday and residents should limit their movements and avoid social contact until the results were in.
Since Friday, Beijing has recorded 92 community cases. Many of the early cases were found in Chaoyang district, part of which has been sealed off as a "temporary control area".
But the business community had seen the disruptions to business and life in Shanghai.
"The emotional effect is fear. Lockdown in Shanghai has sent shock waves through the communities in Beijing. People can't help asking what would be next," Wuttke said.
Wuttke said that rather than draconian testing, the authorities should focus on mass vaccination, especially of the elderly, a point the chamber underlined in a letter to Vice-Premier Hu Chunhua early this month, urging China to dispense with its old toolbox of mass testing and isolation.
Colm Rafferty, chairman of the American Chamber of Commerce in China, said the situation in Beijing appeared to be stable for now, with smooth mass testing and no food shortages. But the business community remained concerned about the possibility of a citywide lockdown.
"Many questions remain for the foreign business community, such as: 'What is the government's strategy and timeline for opening back up? How will my business be further impacted? What factors determine a stay in central quarantine for me and my family? Is there a possibility that I will be separated from my young children? If I'm put into an extended lockdown, can I leave the country?'" Rafferty said.
The chamber said China had kept Covid-19 largely at bay in the last two years but conditions now were very different and case surges, lockdowns and greater uncertainty had made doing business "very challenging".
A diplomat from an Asian country, who asked not to be named, said the embassy had prepared food in case it needed to help its own citizens.
And the US embassy postponed an event with ambassador Nicholas Burns on Thursday, citing the Covid-19 situation in the capital.
The districts affected by testing cover about 20 million people and include Dongcheng, Xicheng and Haidian – where most of the central government's agencies are located. Only five less-populated, suburban districts covering about 2.14 million, are excluded from the city's testing regime.
Cases have continued to rise since Friday, when six people tested positive for the virus.
Citywide testing was also ordered then but quickly called off after data suggested most cases were contained to small areas.
This time, the city's cases were in separate clusters, including one in Chaoyang where 26 students from a middle school were infected.
Beijing's decision to test so much of the city so early in an outbreak highlights the municipal government's vigilance just months from the national congress, the most important political meeting of the year.
The swift response is also in stark contrast to Shanghai, which waited about a month until cases rose to more than 3,000 to carry out mass testing.
Shanghai has been under lockdown for a month and has only just started showing signs of an easing in case numbers, with 16,980 infections reported on Tuesday. Fifty-two new deaths were reported, including a 33-year-old man who had a heart attack. The average age of Shanghai's latest fatalities was about 83 years.
Across the country, 17,727 infections were reported on Tuesday.
Shanghai and Beijing have some of the best medical care in the country but they also have big elderly populations – among the most vulnerable to the virus.
In terms of coronavirus testing, Beijing can handle 1.68 million samples a day while Shanghai can process 4 million, with help from neighbouring areas.
Late on Monday, Beijing municipal spokesman Xu Hejian said the city should expect an expansion of virus detection measures.
"To resolutely curb the epidemic and safeguard health, coronavirus screening will be expanded," he said.
Affected residents have been urged to comply with testing arrangements, stay put until they get the results, and reduce social contact. Employers are encouraged to make arrangements for their workers.
"Remote office, home office and other flexible work arrangements are encouraged," Xu said.
Exhibitions, forums, wedding banquets and other functions have been put on hold and all hotels and guest houses have been told to tightly control meetings, training sessions and other activities.
Extracurricular education and in-person training centres have also been shut down, as well as large gatherings such as arts and sporting events.
Xu added that construction work and other building projects would need to stop until the end of the mass testing.
On Tuesday, Pang Xinghuo, deputy director of the Beijing Centre for Disease Prevention and Control, recommended residents use an N95 or KN95 mask when visiting a medical institution, the elderly, babies, infants or people with underlying diseases.
She also recommended that the masks be used in poorly ventilated and crowded places and when in contact with strangers such as salespeople or maintenance staff in the home.
Additional reporting by Wendy Wu