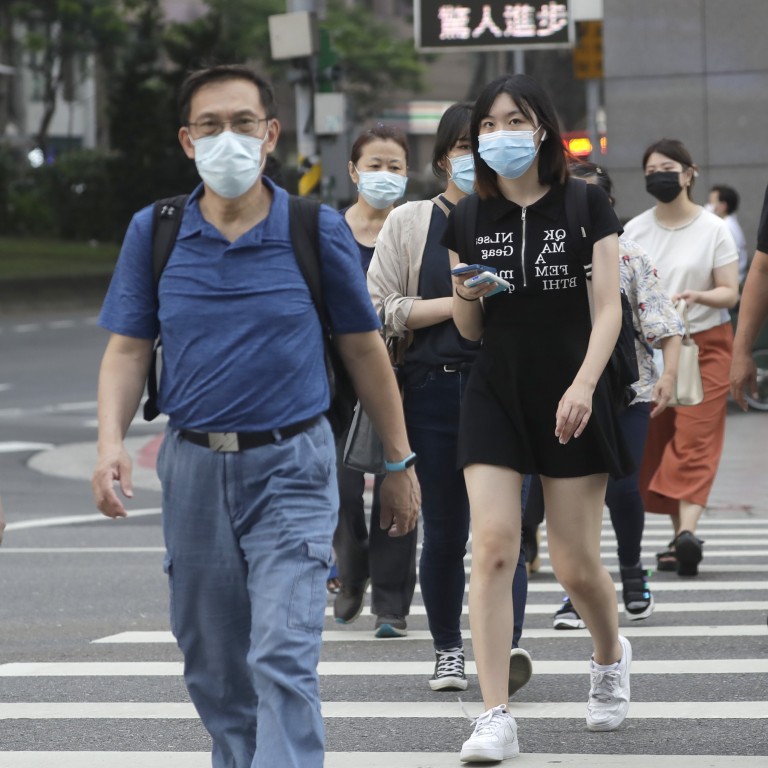 Taiwan sees surge in cases – but few deaths or serious illnesses – as it moves away from zero-Covid
An Omicron-driven spike saw the number of daily cases passes 10,000 for the first time as the island moves towards living with the virus
Meanwhile, representatives of the island's tech industry have warned that Shanghai's prolonged lockdown is likely to take a toll on some of the island's biggest firms
Taiwan
has seen a spike in Covid-19 cases this month, including more than 23,000 cases reported in the past two days, after its government chose to move away from its zero-tolerance approach to begin living with the coronavirus.
The latest outbreak – caused mostly by the less severe but more contagious Omicron variant – saw 11,353 new local cases on Thursday which marked the first time the number of local cases topped 10,000, according to the health ministry.
"Today, there are 11,974 local cases, two deaths and 339 imported cases," health minister Chen Shih-chung said in a daily news conference on Friday.
He warned the island's daily infection rate would continue to rise due to the highly contagious nature of the Omicron variant.
So far, 99.7 per cent of the island's 63,006 local cases recorded this year were either asymptomatic or have not fallen seriously ill, Chen said, adding only nine people died in this period.
Having brought a previous outbreak under control through tight border controls and tough quarantine rules in the middle of last year, the island once again reported a fresh outbreak with slightly more than 100 new local cases recorded on April 1.
Since then, the number of cases has risen sharply, including a 40 per cent increase in one day earlier this week, prompting Chen to warn that local infections were on track to hit a peak of between 40,000 and 100,000 new cases per day.
The fast-growing rate prompted the health authorities to decide to end its zero-Covid-19 policy and switch to coexisting with the pandemic and Chen has previously said the island is at a transitional phase between the two.
Last week, Taiwanese Premier Su Tseng-chang told reporters: "Taiwan has been well-prepared for the pandemic and we will gradually deal with it and there will be no lockdown [on the island] like in Shanghai."
The outbreak in mainland China's biggest commercial hub is expected to have an impact
on the island's tech sector
, with government officials and industrial leaders predicting a slower growth in the second quarter due mainly to the Shanghai lockdown.
"The lockdown in Shanghai where many Taiwanese firms have operations might have an impact on their shipments to some extent," said Taiwan's economic minister Wang Mei-hua earlier this month.
She said the island's Industrial Development Bureau had spoken with Taiwanese businessmen in Shanghai to get a better understanding of the situation.
Frank Huang, chief executive of Powerchip Technology Corporation, said the lockdown in Shanghai had greatly affected manufacturers, including those from Taiwan, making delivery and shipments difficult.
"Shipments of semiconductors have been seriously disrupted and this could affect shipments in the next few months," he said.
Foxconn Technology Group, the world's largest electronics contract manufacturer and Apple's prime supplier, suspended production at two factories in Kunshan, in eastern coastal Jiangsu province, last week after new Covid cases were reported.
Taiwan Semiconductor Manufacturing Co, the world's largest contract chip maker, however, said production at its wafer fabs in Shanghai have not stopped since the closed-loop production began.
Some health experts in Taiwan have argued there is no point keeping the zero-tolerance policy as the highly contagious Omicron variant would sooner or later create tens of thousands of local cases, citing the examples of Hong Kong and Singapore.
Chen pointed out by the time 15-20 per cent of the island's 23.5 million people were infected, Taiwan would have to live with the coronavirus as that would mean around 4.7 million people had tested positive.
Instead of imposing strict quarantine measures or soft lockdown as it did last summer, Taiwan decided to loosen its quarantine rules so local residents only need to spend three days isolating at home followed by a four-day monitoring period as long as they and their contacts do not test positive.
"As 99 per cent of the local cases are asymptomatic, it would greatly exhaust medical staff and resources if each of these people were sent to hospital or quarantine facilities," Chen said, adding the authorities would also make low-priced rapid antigen test kits easily available to the public, while requiring people to continue to wear masks in public places.
People entering Taiwan from abroad still need to quarantine for 10 days before undergoing a seven-day monitoring period, which Chen said was because they may have been exposed to other variants.
Taiwan has reported 89,579 local cases and 11,120 imported infections, as well as 862 deaths, since the pandemic began more than two years ago.