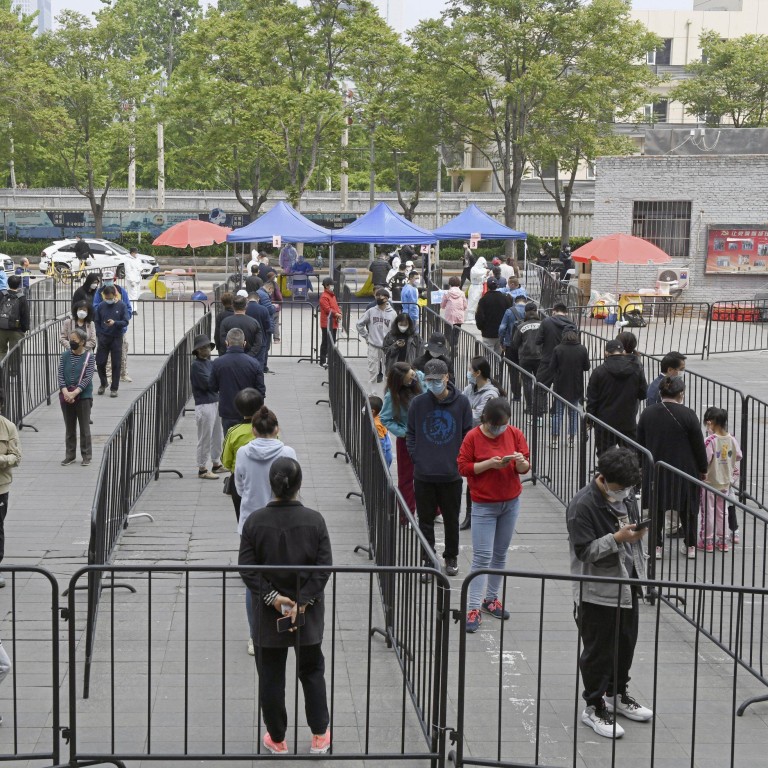 Chinese capital doubles down on testing to keep Covid at bay beyond the Labour Day holiday
Test results will determine whether people can go back to school or work in Beijing
Authorities offer no end date for the requirement, which also covers use of public transport
Negative test results for
the coronavirus
will be required indefinitely to enter public facilities
in Beijing
when residents head back to work and school after the Labour Day holiday.
From Thursday, the end of the five-day break, residents in the Chinese capital will have to provide proof of a negative PCR test result taken within the previous seven days to use public transport and enter office buildings, entertainment venues and sporting facilities.
It would also be needed to go to gyms, shopping malls, supermarkets, hotels, restaurants, libraries, museums and tourist attractions, municipal authorities said on Saturday.
Requirements for visiting hospitals and taking part in bigger gatherings such as meetings will be even tighter, with the testing window narrowed to 48 hours.
A similar requirement will be in place to enter schools and offices after the holiday. But tests cannot be used to bar people needing urgent or critical care from entering hospitals.
The municipal government did not say when the policy would lapse.
The tests will be free from Tuesday "to ensure smooth and orderly testing".
Over the Labour Day holiday, which starts on Saturday, anybody wishing to enter a public facility will have to present proof of a negative result of a test taken within the previous 48 hours.
The requirements are on top of the three rounds of mass testing carried out in 11 out of Beijing's 16 districts in the last week.
Lockdowns were also imposed on a number of downtown commercial and residential areas after several clusters of cases. In all, 295 community cases have been reported in this wave.
The repeated tests are part of the country's "
dynamic zero-Covid
" policy to combat the country's worst wave of Covid-19 infections since the disease was first detected in Wuhan in 2020.
The surge has been driven by the highly transmissible but less deadly Omicron variant, particularly in Shanghai where residents have been in some form of lockdown for more than a month.
However, the strict approach across the country is coming under pressure as more countries ease restrictions and the draconian measures take a high economic toll on the world's second-largest economy.
"Fighting Omicron does not [automatically] mean citywide testing of everybody, let alone citywide or region-wide lockdowns," Liang Wannian, head of the Covid-19 response expert panel under the National Health Commission, said on Friday.
He said if the country could detect and quarantine infected cases at an early stage it could bring the coronavirus under control without mass testing or mass lockdowns.
In a quarterly meeting on Friday, the Politburo, the Communist Party's top decision-making body, said China would maintain the "dynamic zero-Covid" policy.
But it also said containment efforts should be "in accordance with new characteristics in virus variation and transmission" to "minimise the impact of the outbreaks on economic and social development".
More cities across the country are hoping to realise this through more frequent testing.
In the southern city of Shenzhen neighbouring Hong Kong, residents wanting to use the subway or enter an office building have needed to present a negative result of PCR test from within 72 hours since early April.
From Saturday, residents in the eastern city of Hangzhou also must show their test results to enter residential areas, offices, public transport, public venues, and schools. Those who enter the city should be tested 48 hours before arriving.