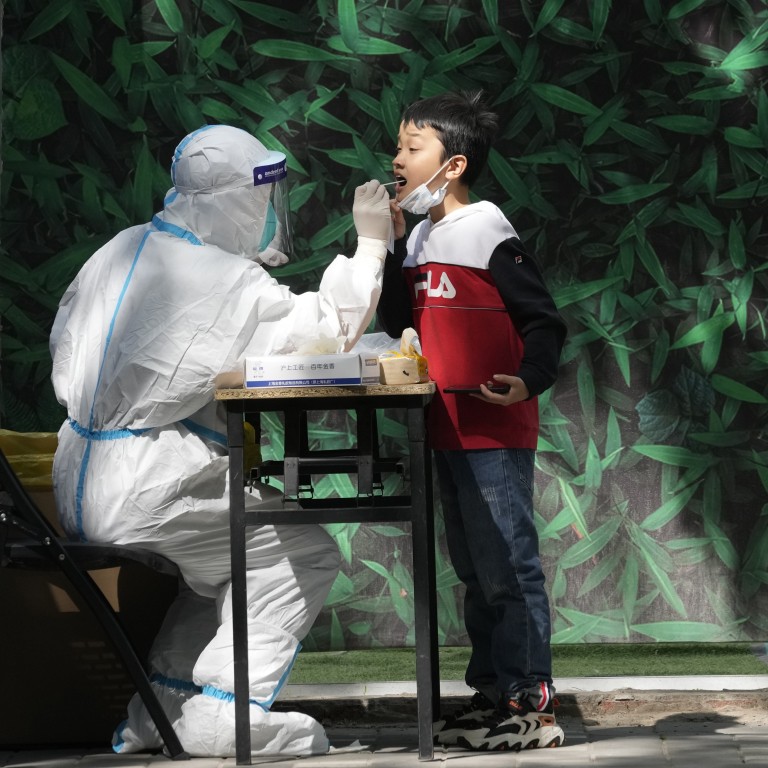 Coronavirus: as Beijing starts rigorous test regime officials name and shame firms breaking Covid-19 rules
20 million residents in 12 districts of the Chinese capital will be tested each day for three days from Tuesday
Restaurants allowing dine-in despite a ban and companies not enforcing health codes, masks, temperature scanning and other measures are listed on social media
The Chinese capital reported 62
Covid-19
infections on Tuesday, 11 of them asymptomatic, as the city started testing its 20 million residents and officials accused companies of flouting pandemic control measures.
Residents in 12 districts in Beijing will be tested for the coronavirus
each day for three days
from Tuesday as authorities rush to contain an outbreak of more than 400 cases since April 22.
The mass testing, covering most of the city's population, follows three previous rounds last week.
Nationwide, the country reported 6,015 infections, with 95 per cent of the cases from Shanghai. Other cases were found across the country, including in Liaoning province in the northeast, Zhejiang in the east, Jiangxi in the southeast and Xinjiang in the northwest.
Some shops were listed because their staff or customers did not scan health codes and have their temperature checked before entering.
The Beijing municipal administration centre of parks said indoor areas at the Summer Palace, the Temple of Heaven, the Beijing Zoo and other parks would close from Tuesday as part of Covid-19 control measures.
Indoor exhibition halls of all museums in the city were closed from Tuesday to prevent crowds gathering, according to the Beijing Municipal Cultural Heritage Bureau.
The closure of attractions, including the Universal Studios theme park and the Palace Museum, came into effect as people in China took a five-day break for the Labour Day holiday.
Beijing education officials said on Monday that students would delay their return to kindergartens, primary, secondary and vocational schools for a week, meaning they would learn from home until at least May 11.
Students, teachers and staff who live on campus are expected to stay there, unless they need to leave for a job search, an internship or medical appointments, according to the authorities.
From Thursday when residents return to work, they will be required to show Covid-19 test results which remain valid for seven days, to enter public facilities and use public transport in Beijing.
Also starting on Thursday, people entering or leaving Beijing must show test results taken in the previous 48 hours. Those from areas deemed mid- or high-risk and from areas under Covid-19 isolation will not be allowed to leave the city, according to local authorities.
Beijing Chaoyang Hospital affiliated with Capital Medical University said that from Wednesday, people wanting outpatient services would need to make appointments and show a test result from the previous 48 hours.
China's strict approach is coming under pressure as more countries ease restrictions and the draconian measures take a high economic toll.