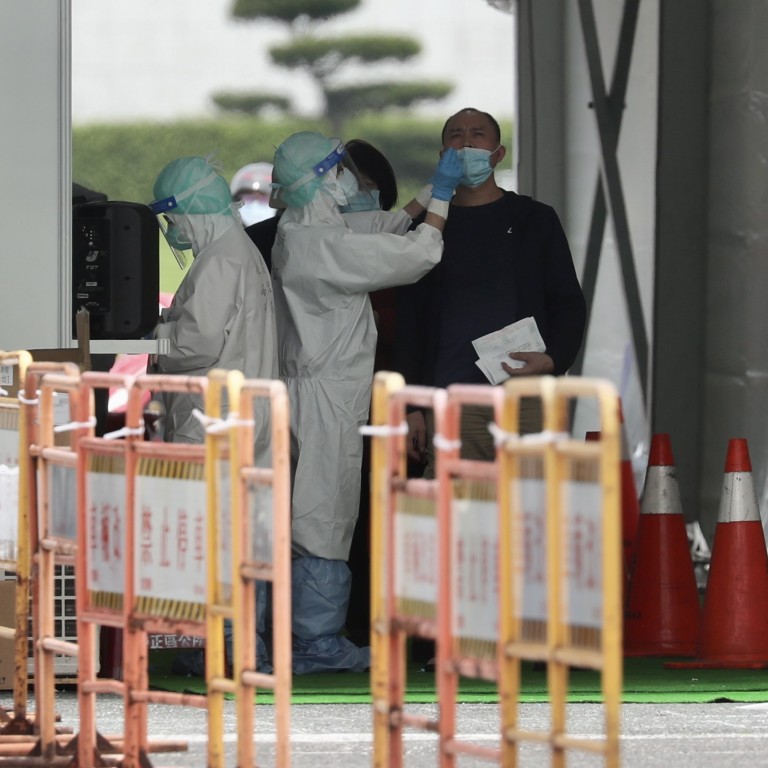 Taiwan sees record coronavirus cases with peak expected in late May
Daily infections have topped 90,000 for the first time, with 59 deaths, after the island abandoned its zero-Covid strategy
Cases have been surging since the end of last month, but health minister says most are mild or asymptomatic
Taiwan
is battling a spike in Covid-19 cases, with local infections topping 90,000 for the first time, after it abandoned its elimination strategy to live with the virus
There were 90,331 new locally transmitted cases, 47 imported infections and 59 deaths reported on Thursday, according to the Central Epidemic Command Centre.
The daily case number was a 6 per cent jump from the previous day, and most infections were mild or asymptomatic, Health Minister Chen Shih-chung told reporters.
Cases have been surging on the island since the end of last month, and medical experts expect that to continue with a peak in late May.
"With a growing number of cases reported in central and southern Taiwan, we expect the pandemic to reach its peak in the next week or so," said Philip Lo, deputy head of the command centre's medical response division.
People in Taiwan were advised to continue to wear masks and observe social distancing and other measures to keep themselves safe, Lo added.
Lee Ping-ing, a paediatric infectious disease specialist and consultant to the command centre, said case numbers were likely to rise and fall in line with the pandemic trend elsewhere.
"After reaching the peak, the pandemic is expected to show signs of easing in June," he said, adding it might take until September before life starts getting back to normal.
The island recorded more than 475,000 local cases in the week to Wednesday – up from over 302,000 the previous week – and 225 deaths, as the virus "rapidly" spreads in the community, according to the health ministry.
An outbreak last year was brought under control with tight border restrictions and quarantine rules. But the government earlier this month said it would
move away from its zero-tolerance policy
and gradually ease restrictions because the Omicron variant – though highly infectious – is relatively mild compared to previous strains. The command centre said 99 per cent of cases reported this year had mild or no symptoms.
Health authorities have warned that Taiwan could see a peak of 100,000 new cases a day in the latest wave, which began on April 1.
However, Premier Su Tseng-chang last month said the island was well prepared for the outbreak and there would be no lockdowns like the one in Shanghai.
On Thursday, Su called on authorities to step up communication with local governments and the public to remind people to protect themselves against the virus.
Medical experts noted that the island's handling of the outbreak was in stark contrast to the approach in mainland China. Beijing is sticking to a zero-Covid policy, imposing tough curbs as it tries to stamp out any cases – a strategy that has stirred resentment and grievances in cities like Shanghai, where millions of people have been locked down.
"Instead of requiring everyone to stay at home, Taiwan has chosen to live with the virus by appropriately loosening its quarantine measures, including shortening the quarantine time for people entering Taiwan or for those who test positive," said Kao Mi-ke, an ear, nose and throat specialist in Taipei.
Under the latest rules, anyone entering Taiwan must spend seven days in quarantine – down from 14 days previously. People who test positive but have mild or no symptoms can self-isolate at home for seven days. And those living with someone who tests positive no longer have to isolate at home provided they have had three vaccine doses.
Kao said easing restrictions helped to reduce anxiety among people in Taiwan as they were able to live a relatively normal life. "This also helps to reduce the overcrowding situation in hospitals, meaning seriously ill patients can get the proper treatment they need," he said.
According to Lee, the infectious disease specialist, people in Taiwan were generally making sensible choices to reduce the spread of the virus by wearing masks and social distancing.
More than 1 million local cases and 1,235 deaths have been reported in Taiwan since the start of the pandemic.