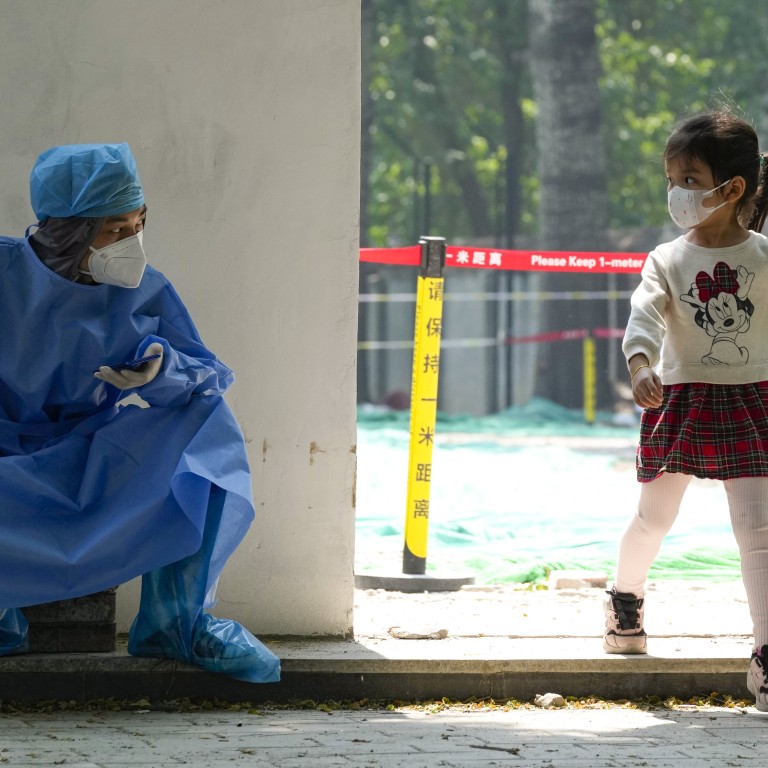 Beijing orders millions more to work from home in targeted Covid containment drive
Residents of Haidian district told to not go out unless necessary, mirroring restrictions in other areas
No flare-up in the capital so far but dozens of new cases continue to be detected each day
China's capital has tightened some controls to contain transmission of
Covid-19
as its run of double-digit new daily cases extends to almost a month.
But it has also relaxed restrictions in at least one part of the city in its efforts to avoid a disruptive,
Shanghai-style lockdown.
On Saturday, Haidian district's 3.1 million residents were told to work from home and avoid going out unless necessary, with some limited residential areas locked down after cases were detected.
Some of those restrictions have since been relaxed in Chaoyang where the number of cases has dropped but authorities are still trying to deter residents from leaving home.
In one case, a neighbourhood committee accused a resident of putting the entire complex at risk by going out to work and visiting his parents after the ban was lifted.
With the Communist Party's national congress on the horizon, Beijing is keen to stop all chains of transmission. But it is also hoping to avoid a repeat of Shanghai's lockdown, which led to food shortages and public discontent.
The capital is banking on repeated testing of its nearly 22 million people and targeted closures to make the difference – once a positive case is found, a residential area is sealed off, and in some cases, everybody in the housing complex is sent for quarantine.
The city has so far avoided a flare-up of cases but after a month of strict measures, it is still reporting several dozen cases a day.
Beijing reported 70 new local cases, including 12 asymptomatic ones, on Saturday.
Health news website jksb.com.cn, a subsidiary of party mouthpiece People's Daily, said more than 1,300 local positive cases had been reported in Beijing since late April.
The news portal quoted Wu Zunyou, chief epidemiologist at the Chinese Centre for Disease Control and Prevention, as saying that some positive cases might have slipped through the cracks and spread the virus.
Wu said this was because it might take a few days before an infected person started shedding the virus, meaning tests might not be able to detect the infections immediately.
He also said the quality of the nucleic acid tests and sampling may have overlooked some positive cases.
The assessment came as six people from Pushi Medical Laboratory, a subcontractor helping to process test samples in Fangshan, were detained on criminal charges on Saturday. The authorities said the data they provided did not tally with the number of samples collected.
The jksb.com.cn report also quoted an unnamed epidemiologist as saying clusters had been found in shopping malls and customers should consider waiting outside such facilities and have staff hand over goods to them.
Meanwhile, the city of Guangan in Sichuan has become the latest hotspot, with more than 100 new local cases reported on Saturday and more than 1,000 cases in less than two weeks.
Shanghai reported 84 symptomatic and 784 asymptomatic cases on Saturday.