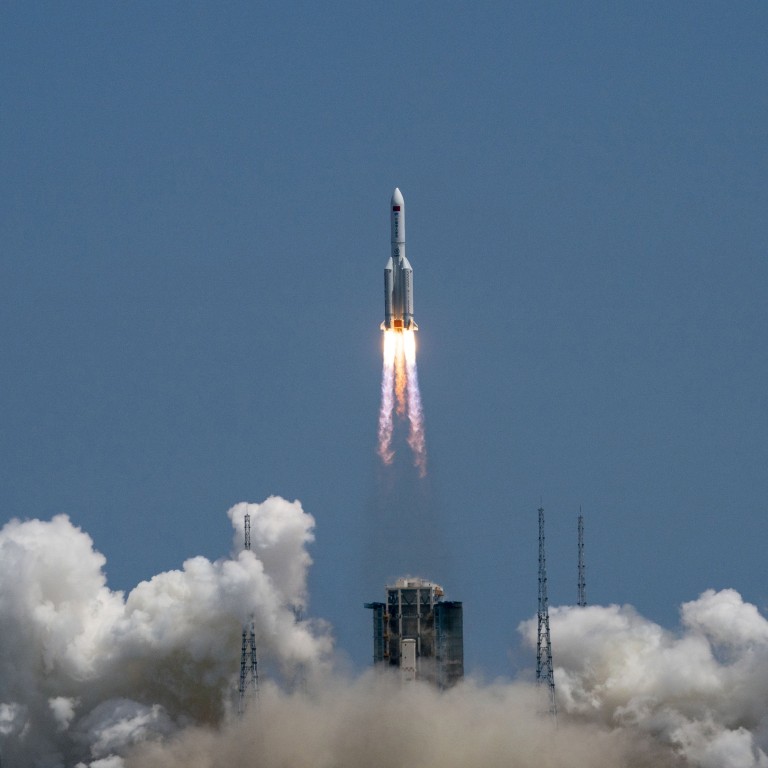 China sends Wentian lab module into space in a first for manned Tiangong station
The Wentian lab module will help carry out cutting-edge experiments in life sciences and biotechnology
This is the first time in China's space history that a docking will take place with astronauts present at Tiangong
China has sent a
huge component
to its space station to carry out cutting-edge experiments in life sciences and biotechnology, in a first for the country's manned
space programme
.
The 17.9 metres (59 feet) tall, 20-tonne Wentian laboratory module, packed inside the Long March 5B heavy-lift rocket, took off on Sunday at 2.22pm Beijing time from the Wenchang spaceport in southern China.
The docking process of the Wentian, the first experiment module of China's space station
Tiangong
, will be overseen by the three astronauts aboard the station. Chen Dong, Liu Yang and Cai Xuzhe arrived at the under-construction Tiangong in early June on a six-month mission.
This is also the first time in China's space history that a docking will take place with astronauts present on board Tiangong.
Wentian contains four fridge-size experiment cabinets and 22 external mounting points expected to support a wide range of research at the forefront of space-based life sciences.
For instance, there will be experiments to investigate how microgravity and space radiation affect the cultivation of cells, the crystallisation of proteins, and the growth of plants, insects, small mammals and microbes.
A third cabin will use centrifuges to create between one hundredth to twice the gravity pull on earth to simulate, for instance, the growth conditions on the moon and Mars.
The maximum capacity for the Wentian is eight experiment cabinets, and 25 for the entire Tiangong station, state-owned China Space News reported on Saturday.
Tiangong will host more than 1,000 scientific experiments over the next 10 years, Wang Ke, a senior member of the experiment cabinet development team, said last month.
On Friday, a whole-system test was carried out at the launch site to assess Wentian's functionality and launch environments, such as wind speed and atmospheric conditions.
"The testing data from Wentian is consistent with our design. We can say that the entire module is working well," Liao Jinlin, Tiangong's deputy chief designer from the China Aerospace Science and Technology Corporation, told state broadcaster CCTV.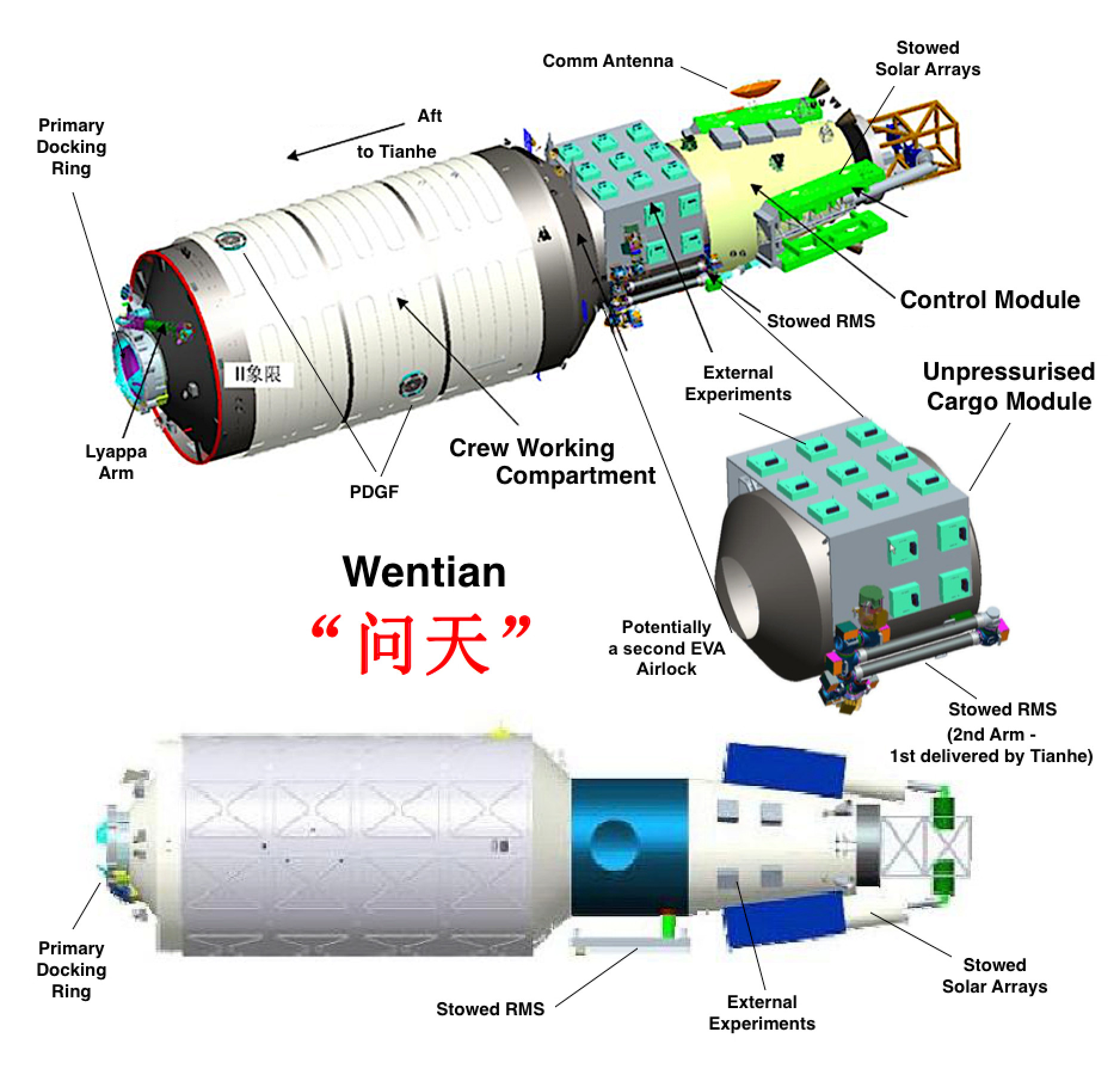 A few hours after lift-off, Wentian will rendezvous with Tiangong from the core module's front docking port. It will be transferred to another docking port in two months to make way for another experimental module – the Mengtian – which is scheduled to arrive in October.
Mengtian will support an even larger number of experiments, ranging from fundamental physics to materials science, including the most precise clock in orbit. The atomic clock developed by Chinese scientists has the accuracy of losing or gaining one second every 30 billion years.
The International Space Station (ISS) – a joint project of the United States, Russia, Canada, Japan and 11 European nations – has hosted more than 3,000 experiments since astronauts began to be permanently stationed there in 2000.
While the ISS and Tiangong are likely to operate separately, "having more than one orbital outpost in operation will lead to more productive research results that can be shared globally," said John Logsdon, a space policy expert based in Washington.
China has also taken measures to make sure that the core segment of the Long March 5B rocket is brought back to earth in a controlled manner
this time
, Xu Yansong, director general of the Asia-Pacific Space Cooperation Organization, said during a live-stream of the launch on China Global Television Network – CCTV's English-language channel.
China was criticised for letting the first stage of the rocket enter orbit in an uncontrolled manner with the previous two Long March 5B launches.