Science
Get more with myNEWS
A personalised news feed of stories that matter to you
Learn more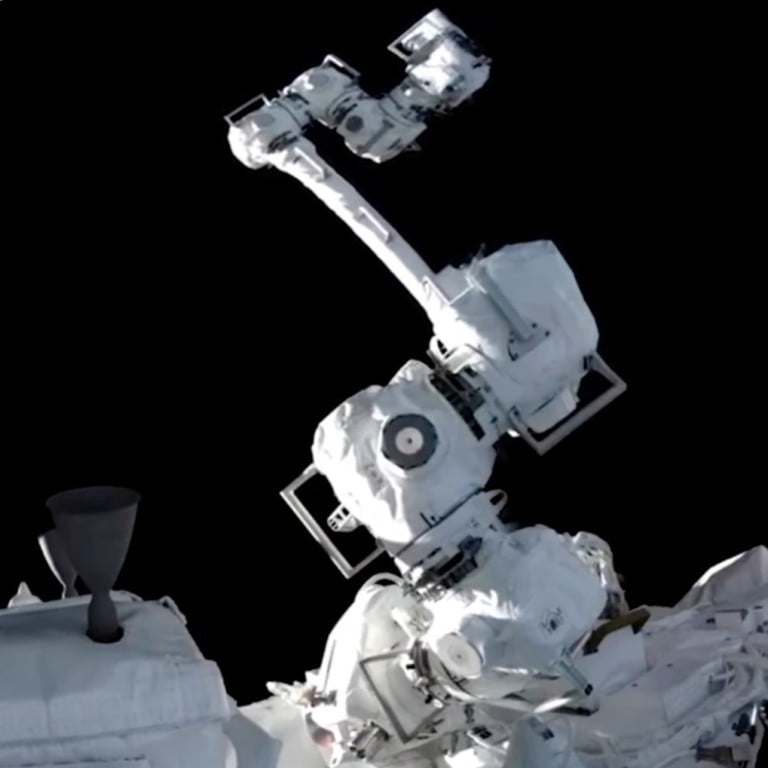 Chinese space station's new robotic arm flexes muscles during in-orbit tests
The arm is suited for tasks that require agility and precision, such as the installation of scientific instruments and repairing equipment
China aims to complete construction of its Tiangong space station by the end of this year
A seven-jointed robotic arm on China's
Tiangong space station
has completed in-orbit tests, allowing for more agility and precision in tasks such as moving supplies and repairing equipment.
While crawling, it docked with and undocked from four adaptors on the space station's surface to make sure they were working. The arm also checked the space station's solar arrays and external mounting points, the agency said.
Though only half the size of the 10-metre robotic arm on Tiangong's core module, the smaller arm is more agile and suited for tasks that require higher positioning accuracy, such as the installation of scientific instruments.
It will be responsible for supporting the
astronauts' extravehicular activities
, moving supplies, and maintaining and repairing the space station's exterior. It will also maintain and repair an optical space telescope named Xuntian, which will share an orbit with Tiangong starting in 2024.
The smaller arm can carry payloads of up to three tonnes (3.3 tons), which is about one-eighth of the large arm's ability. The two arms can work separately or with each other to cover a larger area outside the space station, according to the agency.
The smaller arm was developed by researchers from the Harbin Institute of Technology and the Changchun Institute of Optics, Fine Mechanics and Physics. The large arm was developed by the China Aerospace Science and Technology Corporation, the main contractor for the country's space programme.
With the launch of the Wentian module in July, Tiangong's construction entered its most intense phase as China aims to complete it by the end of this year.
Once complete, Tiangong will be able to host more than
1,000 experiments
in areas ranging from tumour growth to the detection of dark matter, according to the agency.
Mengtian, the space station's other experiment module, is expected to lift off in October. Before that happens, engineers on the ground and astronauts aboard Tiangong will work together to use the large robotic arm to transfer Wentian from the front docking port to a side port to make way for Mengtian.
The
International Space Station
is equipped with several robotic arms: a 17-metre Canadian arm that can handle loads of up to 116 tonnes, a duo of Japanese arms measuring 10 and 1.5 metres and a newer European arm that was mounted on the Russian segment of the International Space Station in July 2021.