Science
Get more with myNEWS
A personalised news feed of stories that matter to you
Learn more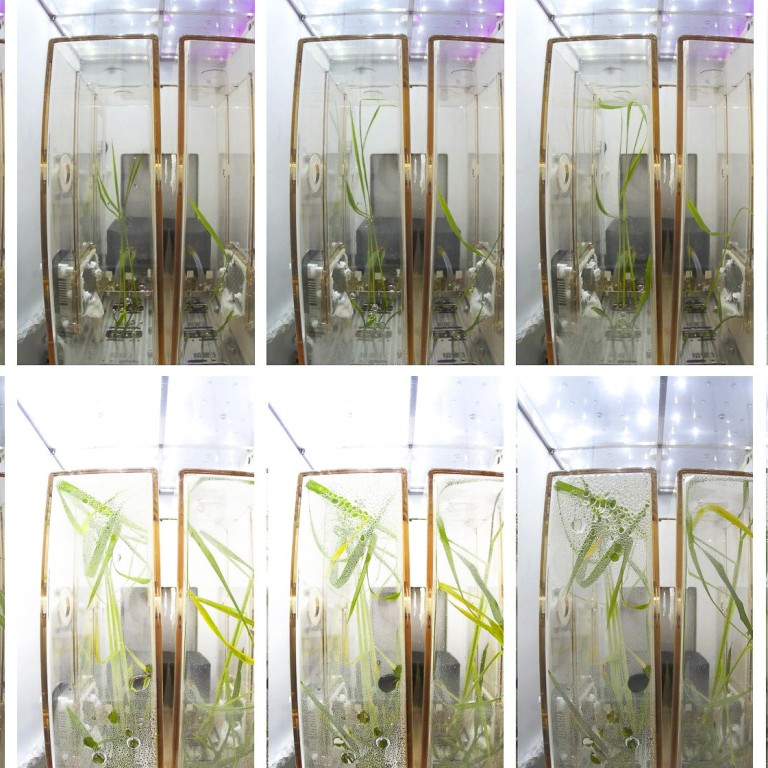 The Chinese space experiment to help astronauts grow food in low gravity
One month after launch, plants on the Tiangong's lab module are thriving, according to the Chinese Academy of Sciences
If the crew's rice harvest is successful, it will be the first time for the grain to survive 'from seed to seed' under microgravity, scientist says
Astronauts on China's
Tiangong space station
are flexing their green thumbs as part of an experiment that researchers hope will shed light on the effects of low gravity on plant growth.
Seeds carried on the space station's
Wentian lab module
have sprouted and are in good condition, the Chinese Academy of Sciences (CAS) said on Monday.
A photo from Monday shows Arabidopsis thaliana plants, also known as thale cress, on the space station have sprouted leaves while long-grain rice plants have reached a height of about 30cm (11.8 inches).
The seeds were sent into space aboard the Wentian module, which launched and
docked with the space station's main module
on July 24. Days later, crew members of the Shenzhou 14 mission began setting up the experiment to see how the plants would fare in space.
"It is hoped that this experiment will be the first in the world to achieve rice cultivation 'from seed to seed' under
microgravity in space
," said Zheng Huiqiong, a researcher at the CAS Centre for Excellence in Molecular Plant Sciences.
In late September,
the astronauts
will harvest seeds and collect samples of the plants, Zhao Liping, chief designer of the Wentian module, said in a television interview.
For more than two decades, Zheng's research team has studied how changes in gravity affect plant growth. They conducted a series of experiments on the Shenzhou 4, Shenzhou 8 and Tiangong-2 missions.
Zheng was also involved in a previous life cycle experiment in 2016 in which Chinese researchers successfully harvested seeds from thale cress grown in space.
Plant cultivation
is critical for China's plans to explore deep space. Food grown on Earth would not be able to meet the long-term
needs of astronauts
on a mission to Mars or beyond, according to Zheng and her colleagues.
A big challenge lies in the environment. Plants must be shielded from the vacuum conditions and cosmic radiation of space, and there is limited room and energy supply for cultivation on the space station.
As a result, space crops must have high yields, grow quickly and consume minimal energy, according to Zheng's team.
"Only a few crops like rapeseed, wheat, and peas have successfully produced seeds in space in experiments," Zheng said.
Challenges to plant growth in space include delayed flowering, reduced seed quality and lower seed setting rates.
On Earth, a longer period of sunlight accelerates flowering in thale cress, but Zheng's team found that long periods of light failed to accelerate blooming under microgravity.
Thale cress belongs to a big family of vegetables, including bok choy and rapeseed, while rice is similar to other grain crops, such as wheat and corn. Research on the two plants may lead to broader solutions to the challenges of growing plants in space.
"This experiment in the Wentian lab module will focus on how microgravity affects bloom and how researchers can control the bloom cycle under microgravity," Zheng said.
"Hopefully, the experiment will provide theoretical guidance for space grain production."