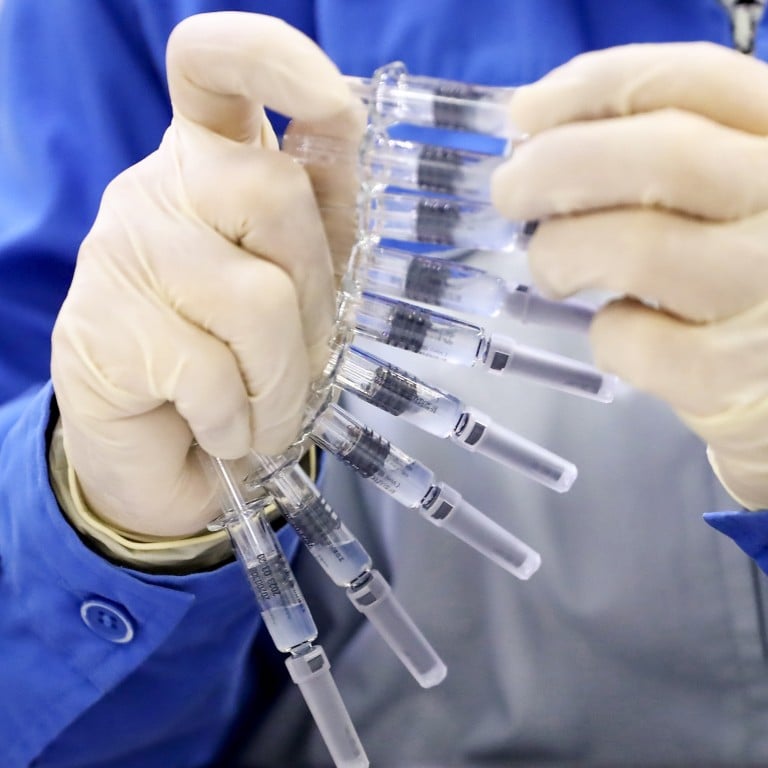 China's Sinovac to test Omicron-targeting vaccines in Chile
Trial in South American country will test the safety and immunity-triggering ability of two Covid-19 jabs
Chinese pharmaceutical company's booster candidate is also being studied in Hong Kong
Sinovac Biotech will hold an initial trial in Chile to test
two of its inactivated vaccines
targeting the Omicron variant, the Chinese pharmaceutical company announced on Tuesday.
The trials, which were just approved by Chilean regulators, will test two candidates: one
targeting just Omicron
and a trivalent vaccine targeting the Delta, Omicron and original variants.
Sinovac said it would be the first trial of an inactivated Covid-19 vaccine targeting multiple variants.
According to the company, the phase 2 trial will test the safety and immunity-triggering potential of the candidates as a booster for adults who have already received
two booster doses
of mRNA vaccines, viral vector vaccines or an inactivated vaccine by Sinovac.
A total of 826 fully vaccinated adults will be recruited for the trial. One trial group will include people who received two primary doses of Sinovac's inactivated vaccines followed by two boosters of
mRNA
or viral vector vaccines. They will be randomly assigned a booster dose of Sinovac's existing inactivated vaccine, its Omicron-targeting candidate or the trivalent candidate.
Another group will include people who have received four doses of the current inactivated vaccines by Sinovac. They will receive either a booster dose of the Omicron-targeting vaccine or the trivalent vaccine.
Three inactivated vaccines targeting the Omicron variant are currently being tested in Hong Kong, with a total of 1,800 participants taking part in the trials. They include Sinovac's Omicron-targeting vaccine and two candidates from subsidiaries of Sinopharm. The Sinovac vaccine is based on strains obtained in December, including one isolated by the University of Hong Kong.
China was once the world's biggest exporter of Covid-19 vaccines to developing countries, but exports plummeted this year because of the
lower efficacy of inactivated vaccines
against Omicron and increased availability of other types of vaccines.
China has been reluctant to use imported vaccines. The country is trying to accelerate vaccine development to target the new variants as it faces increasing pressure to let go of its costly zero-Covid policy.
Chinese regulators recently approved two booster vaccines – an
inhaled vaccine developed by CanSino
and a shot by Livzon Pharmaceutical Group – targeting the original coronavirus strain.
The United States and the United Kingdom have rolled out bivalent booster shots by Pfizer and Moderna that target both the original strain and Omicron's BA.5 subvariant.
While more real-world data is required to determine their effectiveness, a recent preprint study by Australian scientists suggests that updated boosters offer much the same level of protection as an extra dose of existing vaccines – particularly in reducing hospitalisation and severe disease.