Science
Get more with myNEWS
A personalised news feed of stories that matter to you
Learn more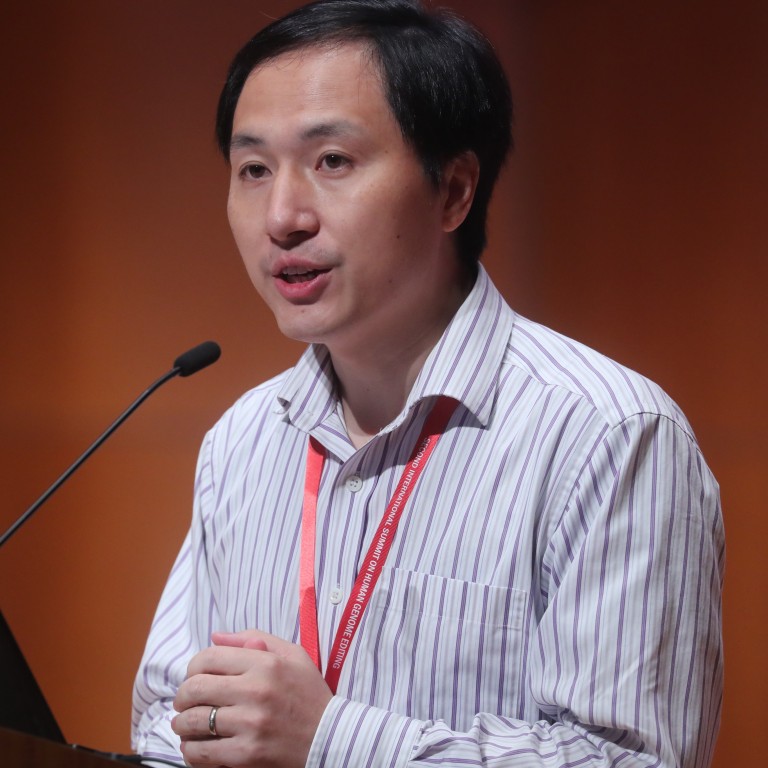 He Jiankui, creator of world's first gene-edited babies, seeks Chinese government funding for DNA synthesiser
Controversial scientist freed this year from jail for illegal medical practices has relocated to Beijing for US$7.2 million project
'Biggest use of the DNA synthesiser I plan to make is for information storage', says former Shenzhen-based professor
He Jiankui, the Chinese scientist who sparked controversy when he created the world's first gene-edited babies, said he has relocated to Beijing and is applying for government funding for a DNA synthesiser project.
"I have come to Beijing for development," He posted last month on
Weibo
, China's Twitter-like microblogging platform.
In a separate post, He said he wanted to research a new DNA synthesiser project and was preparing to apply to the government for funding.
"[I will] continue the scientific research and serve the country," He wrote on Weibo.
When contacted by the South China Morning Post on Wednesday, He declined to elaborate on his plans, saying it was not convenient for him to talk.
The project aims to raise 50 million yuan (US$7.2 million) to develop China's first third-generation DNA synthesis platform in three years, according to the research proposal He posted on Weibo.
"DNA sequencing is like 'reading' data from a computer disk, while DNA synthesis is like 'writing' data from the disk," He wrote.
"The biggest use of the DNA synthesiser I plan to make is for information storage. A fingernail-sized piece of synthetic DNA can store the contents of books from the entire national library."
He added that the DNA synthesiser combined key technologies including DNA synthesis, chip and other electronic component manufacturing, as well as high-end mechanical engineering.
"We … [should] seize the new technological and economic growth opportunities from the synthetic biology sector," He wrote in the research proposal.
He stunned the world in 2018 when he announced that he had created two genetically modified twin girls, "Lulu" and "Nana". A third child, "Amy", was born the following year. The welfare and whereabouts of the three girls have not been made public.
Scientists say genome-editing technologies have the potential to cure a range of genetic diseases in the future but that the technologies are immature. Until now, the use of these tools in embryos has been limited to research.
He was
freed from jail
earlier this year. He was detained and sentenced to three years in jail and fined 3 million yuan (US$432,000) for conducting "illegal medical practices" in 2019.
Before that, He was fired from the Southern University of Science and Technology in Shenzhen, where he had been an associate professor.
In a proposal submitted to the National Health Commission in February, the bioethicists suggested a dedicated "research and care organisation" be set up and funds allocated to look after the children.