Science
Get more with myNEWS
A personalised news feed of stories that matter to you
Learn more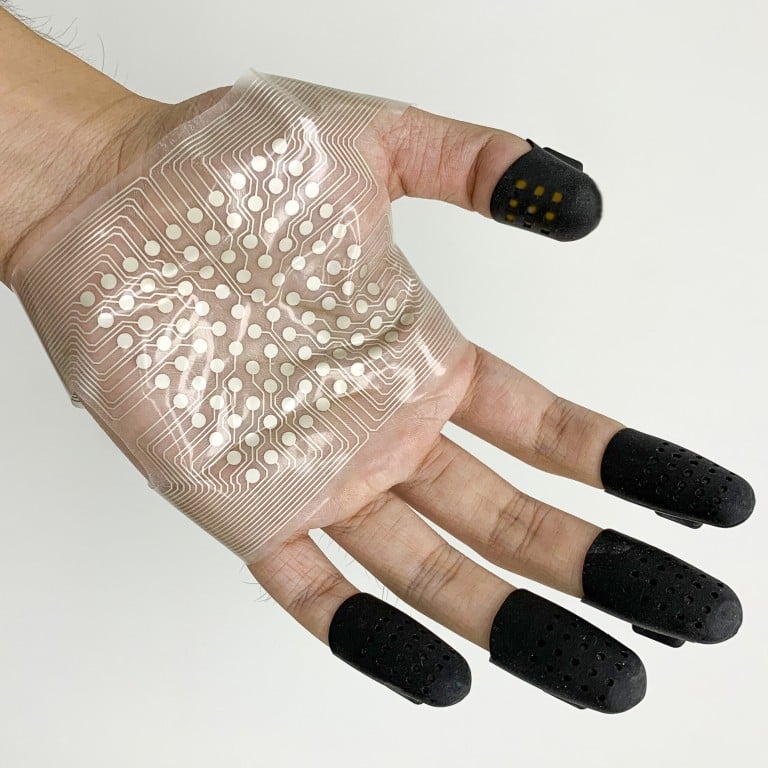 Chinese scientists say new device mimics sense of touch 'in high definition'
Researchers say it could make it easier for blind people to read and write, help astronauts feel through thick gloves and let avatars shake hands in the metaverse
The technology is part of a project by tech giant Tencent to improve user experience in films, gaming and video calls
A team of
Chinese scientists
said they have developed a
wearable device
that mimics the sensation of touch, which could make it easier for blind people to read and write and for astronauts to handle tiny objects while wearing thick gloves.
They said the technology could also transmit clothing textures to the fingertips of
online shoppers
and bring the sense of touch to the
metaverse
.
"We envision that our technology will benefit a broad spectrum of applications such as information transmission, surgical training, teleoperation, and multimedia entertainment," the team from City University of Hong Kong (CityU) and Shenzhen-based
tech giant Tencent
wrote in an article published in the peer-reviewed journal
Science Advances
on Saturday.
Co-lead author Yang Zhengbao, an associate professor at CityU who directs the smart transducers and vibration laboratory, said that the technology is "groundbreaking" for blind people because it does not require much time to learn, unlike the raised dots of the Braille system.
"In the experiments, blindfolded volunteers wearing a rubber finger cot with electrodes attached felt strokes at their fingertips and could write the characters and numbers on paper right away with high accuracy.
"People who lose their sight later in life can read and write alphabetic characters, which they are used to, and do not have to pick up Braille dots from scratch," he said.
First author Lin Weikang, a CityU PhD student at Yang's lab, said that the device realistically recreates the sensation of touch, similar to how technological advances have made lifelike reproductions of sound and images possible.
"We're quite familiar with vibrations from phones and tactile feedback from keyboards these days. With our new low-cost device, people can feel pressure, vibration and texture roughness in high definition," said Lin, who spent a year at Tencent Robotics X Laboratory developing and testing the device.
The "electrotactile" device induces current in the skin to stimulate nerves, leading the brain to interpret them as tactile signals, Lin said.
The team said the flexible, thin and light electrodes could be combined with gloves or expanded to cover more areas, such as the palm, without being too bulky.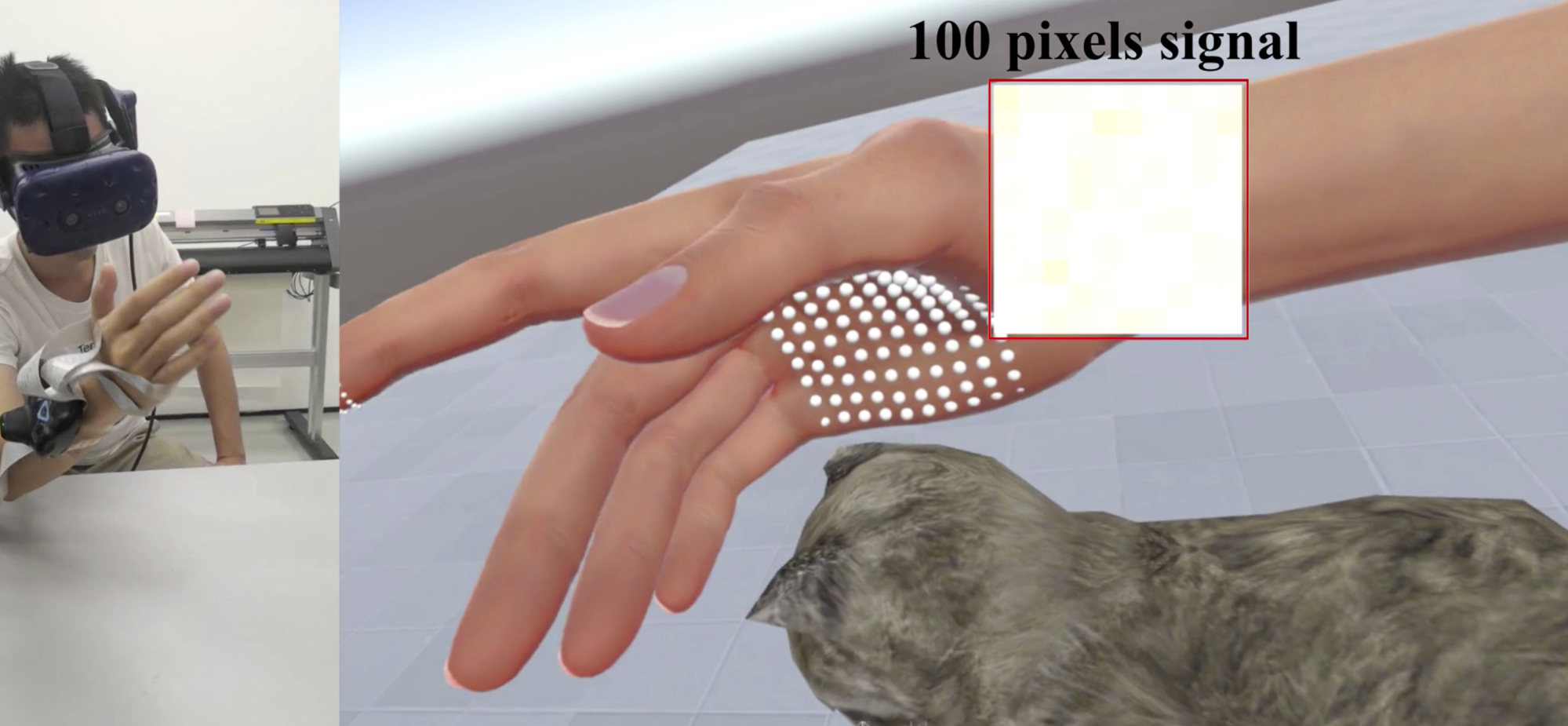 They said electrodes could be added to the thick safety gloves worn by astronauts, firefighters and
deep-sea divers
to help them feel and locate tiny objects.
A sensor array attached to the outside of a glove can sense objects and pressure, while the electrotactile device attached inside renders the tactile information, the scientists said.
In an experiment, a blindfolded volunteer quickly located a tiny steel washer measuring around 2mm (0.08 inches) across using only tactile feedback from the sensor-equipped glove, according to the study.
The team said their glove was the first to allow a user to find tiny objects using only the sense of touch.
The researchers also recreated the experience of petting a cat in virtual reality, letting users feel its fur in their hands and a tickle in their fingertips when licked by the VR animal, according to the study.
Co-lead author Wei Lei, principal research scientist at the Tencent Robotics X Laboratory, said the sensing technology is part of a wider company project to improve online user experience in films, gaming and video calls.
"In the metaverse, for example, when our avatars shake hands, we will be able to feel the sensation in our hands," he said.