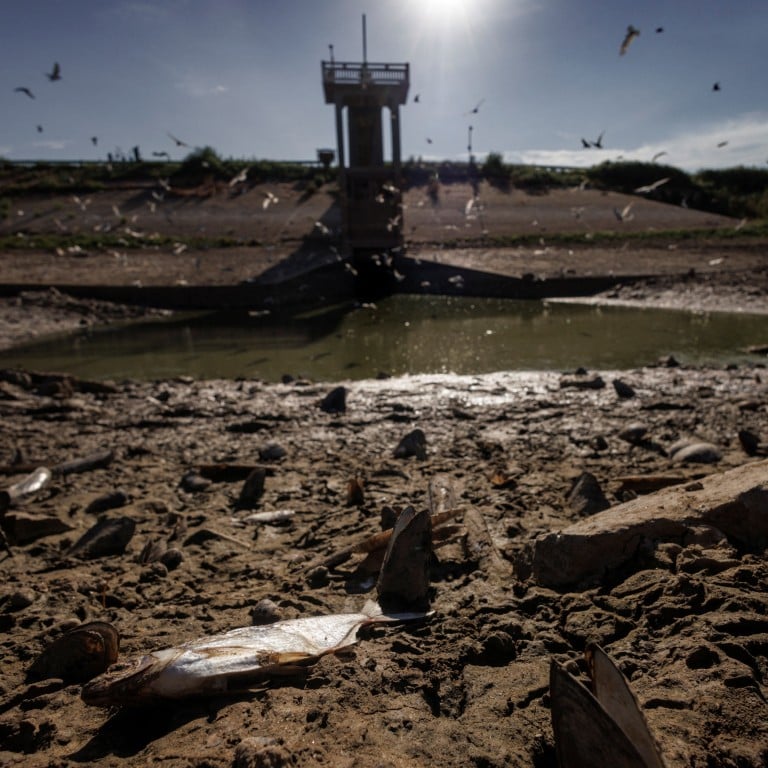 China's heatwave eases but drought far from over, weather watchers warn
Water levels continue to drop in the country's biggest freshwater lake
Production in some energy-intensive industries affected as hydropower reservoirs run low
Water authorities will venture further into the heart of China's biggest freshwater lake to tap supplies as
drought plagues
the Yangtze River, among other parts of the country.
Emergency management authorities in Jiangxi province in the country's east said pipes draining water from Poyang Lake would be extended for another 40 metres (131 feet) by next weekend so that if water levels dropped further, supplies could still be pumped from the lake.
Poyang is connected to the
Yangtze River system
and water levels have been falling in the lake by 15cm (6 inches) per day, according to the Jiangxi Water Group.
"The 227,000 residents in Hukou county [at the mouth of the lake] do not have water to draw on. There's unprecedented pressure on the water supply to urban and rural areas," the company said.
The authorities said the pipe extension would allow water to be draw from 1.12 metres above the lake bed, down from 6 metres.
The water level of Poyang fell below the extremely low level of 8 metres on Tuesday, the fastest fall on record.
China has been in the grip of one of the worst heatwaves and droughts in decades, drying up lakes and rivers throughout the country.
The heatwave has subsided but weather authorities warn that the drought might persist into the autumn in some areas, including in Jiangxi.
In the southwestern municipality of Chongqing, authorities said conditions had eased with rainfall but the drought was far from over and could be severe during autumn and winter.
The drought-affected population decreased from 293,000 before the rain on August 28 to 82,000 on September 8, the authorities said.
The number of dried-up rivers dropped from 245 to 184, while the amount of water stored increased to nearly 2.2 billion cubic metres, or 58.7 per cent of capacity, up from 56.4 per cent.
The authorities said they would continue to store as much water as possible from rainfall but would also be on high alert for sudden floods, without elaborating.
They said they would implement emergency flood control measures for reservoirs and hydropower stations affected by the
magnitude 6.8 earthquake
in neighbouring Sichuan province last week.
Meanwhile, in Yunnan province, which relies heavily on hydropower, aluminium smelters have been asked to cut electricity use by 10 per cent, according to Chinese news outlet Caixin.
Power rationing in the southwestern province has already reduced some production in the energy-intensive industry and will affect an estimated 500,000 tonnes of production capacity.
Sichuan and Yunnan provinces lead the country in hydropower production but the heatwave has lowered water levels in reservoirs used for the purpose.
Dry periods create risks for companies and especially industries that require continuous production, such as Sichuan's speciality, electrolytic aluminium.