Science
Get more with myNEWS
A personalised news feed of stories that matter to you
Learn more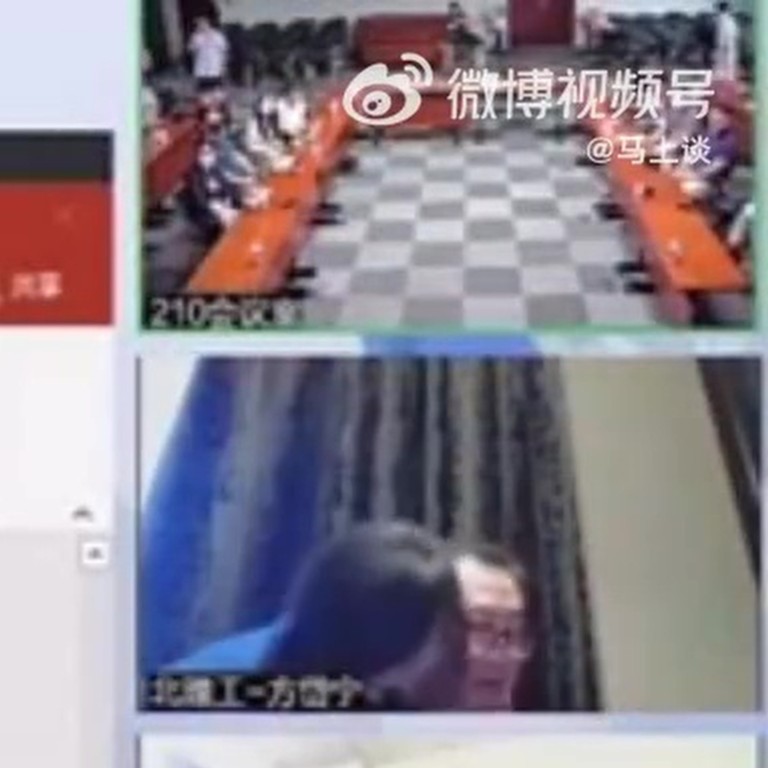 Chinese university investigates hypersonic scientist's on-screen kiss
Inquiry prompted by video upload of former Beijing Institute of Technology vice-president being kissed by a woman during an academic conference
The woman is believed to be a postdoctoral researcher, but her identity has not been independently verified
An elite Chinese university is investigating a top scientist involved in the country's
hypersonic weapons programme
after footage of him being kissed by a woman was uploaded to the internet.
"The school is paying extra attention to this incident and has launched an official investigation," Beijing Institute of Technology said on Monday.
"The relevant situation is being verified. The investigation result will be announced at a proper time to respond to social concerns."
The announcement came after footage of Professor Fang Daining, 64, a senior member of the Chinese Academy of Sciences and former vice-president of BIT, being kissed by a woman during an online academic meeting was posted online.
It is not clear when the meeting took place, but the video started to be shared widely on Sunday.
The woman is believed to be a postdoctoral researcher, but her identity has not been independently verified by the South China Morning Post.
The official site of BIT's Institute of Advanced Structure Technology, where Fang is an honorary president and chair scientist, was taken offline on Monday.
Fang could not be contacted for comment.
BIT is one of a number of Chinese universities sanctioned by the United States for involvement in military research.
Fang is a leading specialist in hypersonic research and ultra-high temperature materials, and became a member of CAS in 2013.
He was BIT's vice-president from 2015 to 2018.
His team has long been involved in the testing of high-temperature mechanical properties of materials and his contribution relates to the design, preparation, mechanical theory and numerical analysis of materials and structures in extreme heat.
Fang was the first in China to independently develop a series of ultra-high temperature testing instruments, which became one of the main testing platforms for China's aerospace industry, according to international publisher Springer. Much of the material in his research could be applied to hypersonic vehicles and liquid rocket motors.
In an article published on Springer's WeChat account, Wei Yujie, from CAS's Institute of Mechanics, said: "Their work provides forward-looking insights for further improving the application, design, reliability evaluation, and equipment development of ultra-high temperature materials and structures."
Fang was elected as an academician of the US National Academy of Engineering for his contributions to materials and lightweight multifunctional structural mechanics under extreme conditions in February. Of the 133 elected members, which includes entrepreneur Elon Musk, he is the only academic from a mainland Chinese university.
"His research results have been applied in high-end equipment structures such as the first additive manufacturing satellite in the world and the first special-shaped composite suspension frame structure of rail transit equipment in China," according to an article on the BIT website.