Science
Get more with myNEWS
A personalised news feed of stories that matter to you
Learn more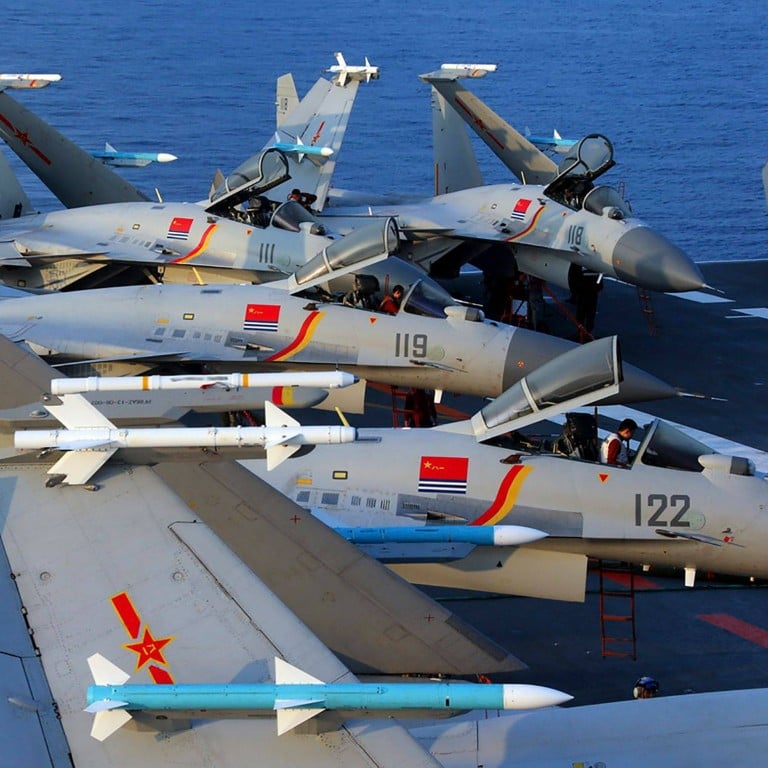 Could this breakthrough by Chinese scientists put hypersonic weapons on PLA aircraft carriers?
PLA research team says new seal simplifies and speeds up the repair and maintenance of hypersonic weapons
Innovation would help lengthen lifespan of hypersonic weapons, which are required to last at least a decade
These weapons are designed to be launched from aircraft, not a carrier. They can go after a wide range of high-value targets in the air or on the surface and can be used as anti-satellite weapons, according to the team led by Xiao Jun, researcher with the China Airborne Missile Academy in Luoyang, Henan province.
China's air-launched hypersonic weapons, which have not been revealed to the public, have similarities to Russia's
Kinzhal missile
, which can reach 10 times the speed of sound over a range of 1,000km (621 miles), the team wrote in a paper published in the domestic peer-reviewed journal Aero Weaponry on October 1.
They could increase the combat range of China's carrier fleet to more than 2,500km – about the distance from the east of Taiwan to Guam – with ultra-fast air strikes that could penetrate most air defence systems.
But hypersonic weapons are more difficult to maintain or repair than traditional missiles, especially at sea. To date, there have been no reports of hypersonic technology being used on an aircraft carrier.
Xiao and his colleagues said their innovation for the quick repair and service of hypersonic weapons had passed stringent field tests conducted by the military in an aircraft carrier environment and other challenging combat settings.
The technology, which is not available in other countries, would serve "a large number of airborne missile equipment that are distributed widely in inland military bases, coastal airports and aircraft carriers in the far sea", the team said.
The researchers reported that when cruising in the atmosphere at high speed, the surface temperature of a hypersonic weapon could rise up to several thousand degrees. During extreme flight conditions, advanced materials on some of the missile's critical surface areas are absorbed or shielded against heat while allowing communication signals to go through.
But the hi-tech coating material was susceptible to damage during transport, storage or mounting to an aircraft, the team said.
"When the damaged part is exposed to the ocean humidity with salt and mould, failures such as moisture absorption, expansion, deformation, blistering, debonding or peeling can occur to the heat-resistant coating," the researchers said.
In the past repairing these defects required a clean ground-based room with cutting-edge equipment, and an experienced service crew slowly and carefully ensuring there were no bumps or leaks on the finished surface.
Xiao's team said they had developed a method using a unique sealing material to simplify the process. It required only a single worker to remove the damaged component, put in a replacement, filled the gaps with the sealing gel and smooth the surface of the hypersonic missile with a scraper.
In the field tests, including some conducted in "poor conditions" on aircraft carriers, the new method reduced the average service time to a tenth of the traditional approach, according to the researchers.
The new technology would also help improve the lifespan of hypersonic weapons, which were required by the military to last at least a decade, according to Xiao's team.
During the long period of service, technicians would routinely inspect the weapon's status, sometimes opening it to replace critical components, such as infrared sensors, for a performance upgrade.
"The body heat seal needs to be restored after each disassembly, assembly or replacement. The repair and sealing not only need to withstand high temperature ablation and erosion, but also wind, frost, rain, snow, hail, tropical heat, salt spray, sand dust and mould in the ocean for more than 10 years while remaining convenient for field maintenance operations under rough conditions," Xiao's team said.
"Such a product is currently unavailable in the market."
China has built three aircraft carriers and has more under construction. The newest, Fujian, is equipped with an
advanced catapult system
powered by electricity that could launch an aircraft carrying a heavier load.
China's carrier aircraft
J-15, or Flying Shark,
is the heaviest sea-launched fighter jet in service capable of carrying a large missile. With a top speed of Mach 2.4 and combat range over 1,500km, the J-15 can fly faster and further than the F/A 18, its American counterpart.
Hypersonic weapons were initially developed to penetrate missile defence systems and attack large, immobile targets on land.
But Chinese military researchers said recent technological breakthroughs would allow a new generation of hypersonic weapons under development to go after stealth aircraft, or a moving target as small as a car.
In April, the Chinese navy released video of the YJ-21 anti-ship hypersonic missile being launched from a destroyer. Some military experts say the weapon could have a range of 1,500km with top speed reaching Mach 12, and its smaller variant could also be launched by an aircraft.
On May 14, the US military conducted the first successful test flight of an AGM-183 ARRW. The hypersonic air-to-ground missile was launched from a B-52H Stratofortress and reached Mach 5 during a boosted glide, according to the US Air Force. The top speed of the ARRW project is expected to reach Mach 20.