Science
Get more with myNEWS
A personalised news feed of stories that matter to you
Learn more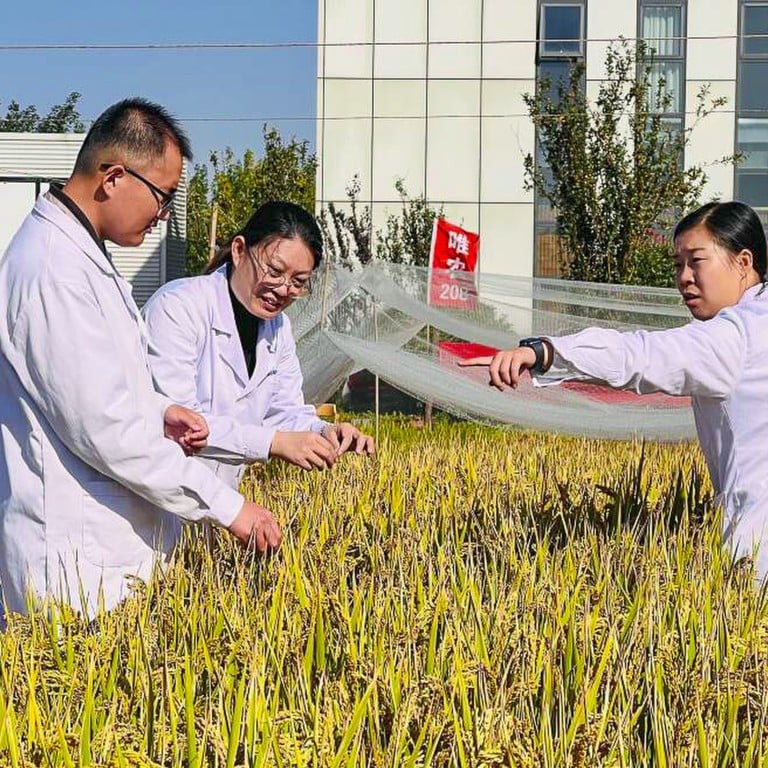 Another record for China's seawater rice with doubled yield in 3 years
Researchers are planning to have nearly 7 million hectares planted with the salt-tolerant rice in the next 8-10 years, enough to feed 80 million
The hybrid species can be grown in normally barren areas and is a boost to the country's food security ambitions
Chinese scientists have achieved another record in the production of salt-tolerant rice, an essential move as China strives to ensure
food security
.
The output of the
"seawater rice"
– a new species that grows in salty, alkaline soil – more than doubled in three years, according to researchers from Qingdao Saline-Alkali Tolerant Rice Research and Development Centre in the eastern province of Shandong.
It nearly doubled to 8.8 tonnes per hectare last year and further increased to more than 10 tonnes per hectare in 2022, the state-run Science and Technology Daily reported on Wednesday.
The results broke previous years' records and set a new mark for salt-tolerant rice that grows in an environment with a salt concentration of four grams per 1 kg, the report said.
The breakthrough is good news for China, which is aiming to safeguard its food security in the midst of rising geopolitical tensions and disrupted global food supply chains.
Wan Jili, a manager at the research centre in Qingdao, said hybrid rice yields were generally higher than the conventional crop, with one hybrid species reaching 10 tonnes per hectare in 2017, under a 6 per cent saline irrigation.
"The two conventional rice species tested today are very representative … and they have huge potential for growth," Wan told the newspaper.
"The centre will continue to innovate and develop more high-quality seed resources to help safeguard food security and hold China's rice bowls."
China has roughly a sixth of the world's population to feed and about 100 million hectares of barren land, of which 6.7 million to 13 million hectares could be improved for rice cultivation.
Thanks to the discoveries of the late Yuan Longping, the "father of hybrid rice", annual rice output in China has more than tripled since the 1970s.
Yuan and his colleagues began researching salt-tolerant rice in 2012 and selected six locations across the country with different soil conditions for testing in 2016.
"If the area planted with seawater rice can be expanded to 100 million mu [6.7 million hectares], it can produce an additional 30 billion kg of rice per year, which is equivalent to the total annual grain production in Hunan province," Yuan said in 2018.
"We could feed 80 million more people."
As of last year, the planting area for "seawater rice" in China had reached 400,000 hectares, covering more than a dozen provinces, from Heilongjiang in the northeast and the northwestern region of Xinjiang, to southern China's Zhejiang province, Science and Technology Daily reported.
Yuan died last year, aged 90, but the work continues, with his team aiming to expand the planting area to more than 667,000 hectares this year, rising to 6.7 million hectares of currently barren land in eight to 10 years.
China has also been promoting its "seawater rice" technology overseas, following a successful trial in 2018 by Yuan's team, who grew rice in the desert outside Dubai with a yield of 7.5 tonnes per hectare, doubling the global average.
Science and Technology Daily said the Qingdao researchers have been cooperating with a number of countries – including Saudi Arabia, Qatar, Pakistan, Indonesia and Egypt – to promote the salt-tolerant rice.