Science
Get more with myNEWS
A personalised news feed of stories that matter to you
Learn more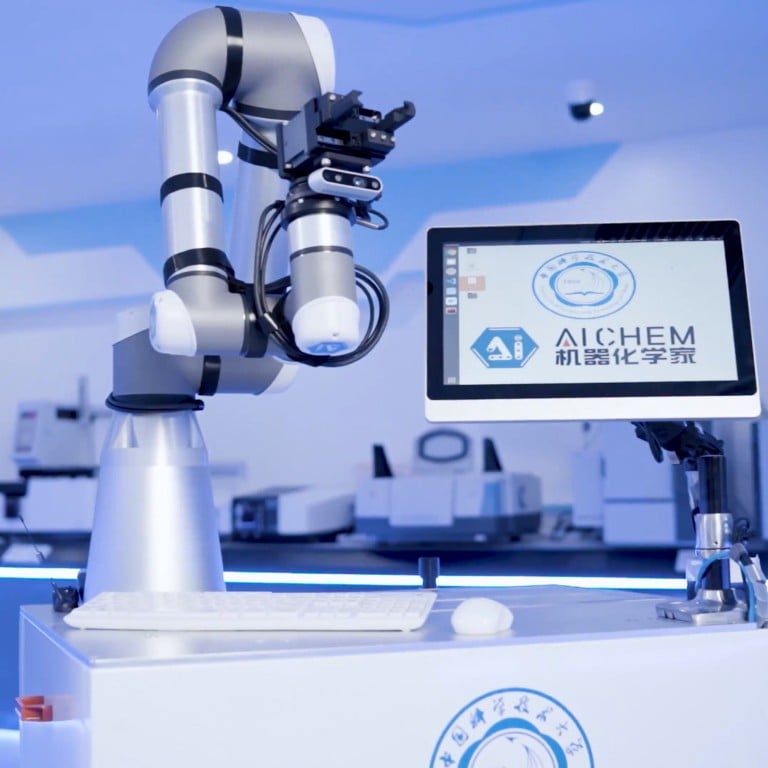 Chinese-made robot is pushing the boundaries of chemical and clean energy research
Robotic chemist uses latest artificial intelligence to help scientists make big strides in battery tech and new materials
Experts say technology could cut research time from hundreds of years to just weeks
A new researcher at a chemistry lab in China is already conducting leading edge investigations with breathtaking speed – and he does not take coffee breaks.
Xiaolai is the world's first data-driven, all-round AI-chemist robot. Its creators say it can basically do anything that needs to be done in a lab: from testing and synthesis, to identification and isolation of chemicals or materials, known as characterisation.
But Xiaolai does not just take orders. Like its human counterparts, researchers say the robot is capable of conducting its own experiments and
inventing materials
.
The robot was created by researchers at the University of Science and Technology of China (USTC) in Hefei, Anhui province: professors Luo Yi and Jiang Jun with the School of Chemistry and Materials Science, and Professor Shang Weiwei with the School of Information Science and Technology.
Their research paper appeared in National Science Review under the Chinese Academy of Sciences (CAS) on September 8.
The robot was designed to move freely in a lab, with an arm that can hold test tubes or handle instruments at various types of workstations. Researchers say Xiaolai can read scientific papers, design new experiments, peer into microscopes, and even analyse results to
create useful new chemicals
.
But researchers are particularly excited about the contributions Xiaolai could make to the study of high-entropy materials, a vitally important field in
the energy industry
.
Scientists have recently focused on identifying catalysts for such materials, which could improve the stability of hydrogen batteries,
among other applications
.
According to the research group's website, the robot is being used to find the best recipe for such catalysts to improve the efficiency of
electrochemical energy storage
.
"All workstations in this trial are interchangeable and more instruments can be introduced if needed," said professor Shang in a phone interview with the Post on Wednesday.
According to Shang, the modular design makes the robot extremely versatile by adding more experimental workstations or computational mechanisms as needed.
Xiaolai actually consists of two mobile robots and 15 workstations. "With a service platform and an independent computational brain, it equals a group of well-organised human chemists," the researchers said in the paper.
The robot's artificial intelligence consists of three modules: a machine reading module that can automatically read massive amounts of literature, a mobile robot module to conduct various chemical experiments, and a computational brain module to generate predictive models based on theoretical calculations.
A demonstration video by one of the research groups showed the complexities the robot must navigate to create a catalyst for a high-entropy material.
First, Xiaolai scanned all existing related literature, which included 16,000 papers.
A catalyst was then structured using five component metals. In this case, Xiaolai chose manganese, copper, cobalt, nickel and zinc as candidate elements from 118,000 possible combinations.
After selecting the components, the next task was to determine the proportion of each element.
To achieve this, Xiaolai first performed calculations in molecular dynamics to obtain all possible configurations. Then, Xiaolai evaluated the
theoretical catalytic performance
for each configuration.
After all viable simulations were listed, the robot conducted synthesis, characterisation and performance lab tests for each configuration.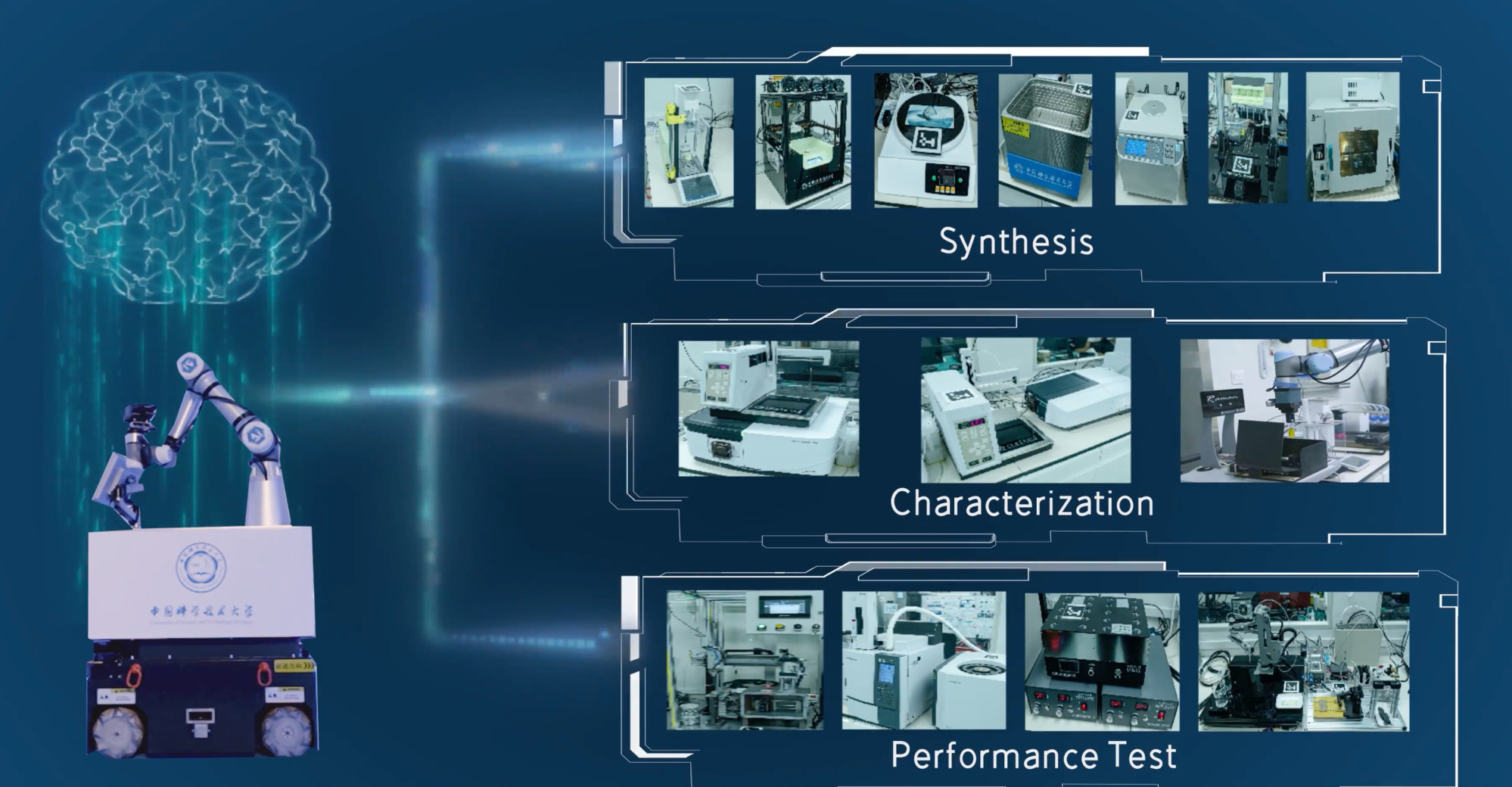 After 207 trials were conducted, the data was uploaded to a cloud server where the robot's computational brain summarised and analysed the results.
Using traditional research methods, researchers said this study would have taken hundreds of years to determine the best catalyst formulations. Xiaolai did it in five weeks.
"Aside from the development of high-entropy catalysts, Xiaolai can also solve other problems and accurately create useful chemicals. Such as changing the hydrogen doping concentration of materials to improve photocatalytic performance, optimisation of luminescent materials and searching for optical film materials," the official release on the USTC website said.
"The AI-chemist may have advantages in developing the synthesis path of natural products, because the reaction path is always long and complicated in such scenarios. Computers outperform human brains in complicated calculations like that," said a researcher with the CAS' Institute of Chemistry, who was not involved in the study.
Researchers have also developed a corresponding virtual service platform for Xiaolai. The computer program can communicate with the robot or customise experimental protocols. The results can then be visualised on the platform.
"The robotic systems, modular workstations and computational brains of the AI-chemist are all state of the art," an anonymous peer-reviewer was quoted as saying in a press release. "All-round AI-chemists with a scientific mind may dramatically change the landscape of the chemical laboratory in the future."
However, one of the USTC researchers noted the limitations of the robot. "AI-chemists can only acquire information from existing knowledge and conduct experiments within known techniques. Future discoveries still largely depend on human scientists to develop new theories and invent new technology," said Zhu Qing in the paper.