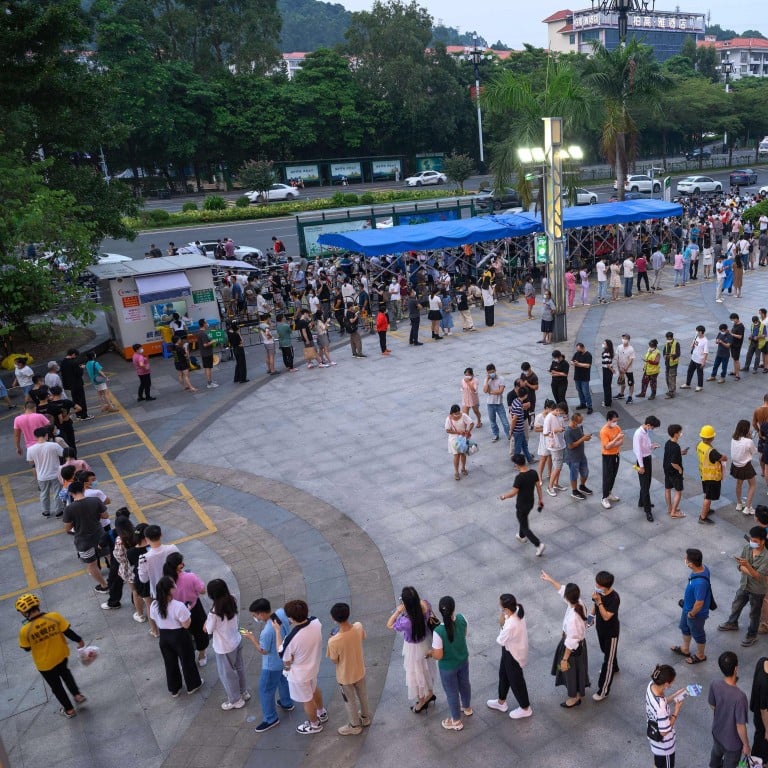 Chinese manufacturing hub Guangzhou starts citywide Covid-19 testing
Districts warn residents that missed tests could result in 'a lot of inconvenience' and 'legal consequences' as city faces 'very critical period'
The city's Haizhu district, a textile and garment industry centre, emerges as hotspot in latest outbreak
The southern Chinese city of Guangzhou started citywide
Covid-19
testing on Wednesday as infections rose in the manufacturing hub.
Some districts sent notices warning residents that missed tests would "bring a lot of inconvenience to your life" and could even have "legal consequences", and residential areas urged people to complete tests before heading to work in the morning.
The Covid-19 situation in the
southern Chinese factory base
is "in a very critical period", the Guangzhou Municipal Health Commission said on Wednesday.
Guangzhou reported 27 confirmed and 46 asymptomatic cases on October 25, with five local confirmed cases and 21 asymptomatic cases found in the city's Haizhu district.
Since Sunday, the district has issued three notices escalating pandemic control measures.
The first suspended cinemas, gymnasiums, swimming pools and other entertainment venues and encouraged employees to work from home. It also required people entering residential compounds, workplaces and other public places to show negative test results from the previous 48 hours.
The third notice, effective from October 24 to 26, suspended the district's kindergartens, primary and secondary schools and banned dine-in services at restaurants.
Cindy Liu, an office worker from Guangzhou's Yuexiu district, said she felt the situation had become more severe since last week, when local infections started to jump to over 20 a day and tighter controls were put in place.
"Yesterday I went to lunch and everything was fine, but when I came back the office building refused to let me in because they imposed a new rule for entry requiring a negative PCR test from within 48 hours. I eventually slipped in from an entrance in the car park."
Residents in Xining, capital of the northwestern Qinghai province, have complained online about prolonged lockdowns since the end of August and a shortage of food supplies.
The Xining government responded to the complaints on Wednesday, saying that the food shortage was because of the closure of a distribution centre believed to be the source of outbreaks. Many fruit and vegetable vendors were considered medium- or high-risk for Covid-19, which has made it difficult to secure supplies, the Xining Municipal Health Commission said on Wednesday.
Chen Xiaoping, director of the Xining Municipal Bureau of Commerce, said most urban vegetable and fruit vendors get their produce from distribution centres, putting them at higher risk and requiring them to complete three to five rounds of testing before their stores could reopen.
Xining reported three asymptomatic local cases on October 20. As of Tuesday, a total of 92 asymptomatic infections had been reported, according to the municipal health commission.
Cities such as Zhengzhou, capital of Henan province, and Lanzhou, capital of northwest China's Gansu province, have also faced lockdowns in residential areas, with social media users posting complaints on Weibo.