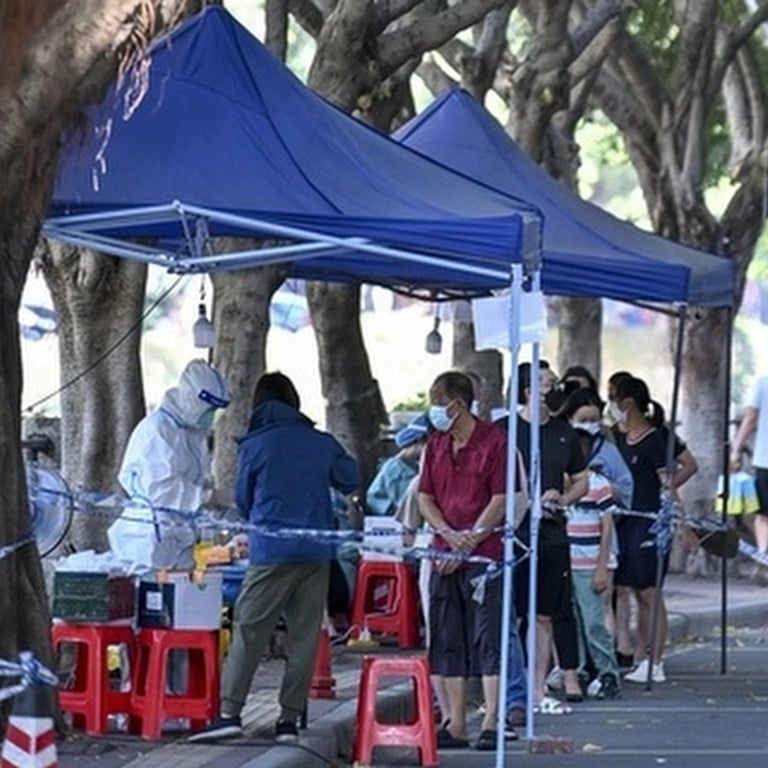 China will 'hold fast' to zero-Covid, as central health officials cite winter surge fears
China's Covid-control strategy is 'completely correct', health official says, while promising to adapt measures to changes in the virus
Public anger over the human cost of excessive Covid-19 curbs is on the rise, especially after a three-year-old died without access to medical care
China will
persist with
"dynamic zero-Covid", national health authorities said, despite rising public and local government pressure to
move on
from the costly and disruptive policy.
But officials also pledged to avoid excessive interruptions to public life, and to refine the approach as the pattern of the disease changed.
"Winter will see a new wave of Covid-19 globally. In China,
coronavirus outbreaks
have rebounded in some parts of the country as the risks of flu grow," Hu Xiang, an official from the National Administration of Disease Control and Prevention, said in Beijing on Saturday.
"We will hold fast to 'dynamic zero-Covid' and continue to improve control measures to adapt to changes in the virus.
"Practice has proved that our control strategy and strategic measures are completely correct, most economical and effective," she said when asked at a press conference if the relaxation of coronavirus curbs in some parts of the country signalled subtle changes in implementation of the policy.
This has further fuelled hopes of the imminent easing of a policy that has severely disrupted economic and social activities across the country.
Health authorities in Fuzhou, capital of southeastern Fujian province, have stopped collecting and publishing the location history of asymptomatic patients.
Also, PCR tests are no longer required for some airports and high-speed train routes, though official announcements to this effect were deleted soon after they were posted online, according to Chinese news reports.
While health officials said on Saturday that dynamic zero-Covid remained the best policy to protect the public, they reiterated their pledge to improve its implementation to avoid massive and protracted lockdowns.
They also censured the government of Zhengzhou for replacing control measures with a snap lockdown, and local authorities in provinces including Guizhou and Sichuan for charging for quarantine facilities.
Local authorities should rectify these malpractices or they would be held accountable in accordance with the laws, the health officials warned.
A three-year-old boy in a locked down district in northwestern Lanzhou died of suspected gas poisoning on Tuesday, as his anguished father pleaded with authorities in vain for help to get him to hospital.
The tragedy, which came to light after the father made a series of online posts, sparked public outrage both locally and on social media.
Officials in Beijing said the current strategy was still capable of effectively controlling the spread of new coronavirus subvariants that may be more contagious than the Omicron strain.
Wang Guiqiang, director of the Peking University First Hospital's infectious diseases department, said mask-wearing, hand hygiene and social distancing should continue.
Wang said anyone running a fever should get tested in hospital to find out whether it was the flu or Covid-19.
He also asked people aged over 80 to get vaccinated against the coronavirus to reduce the risk of severe disease or death. While 90.2 per cent of China's population is fully vaccinated, for over-80s the rate is just over 86 per cent.
Other provinces reporting infections include Inner Mongolia, Xinjiang, Hunan, Heilongjiang and Shanxi.
The city of 18 million reported 746 new local cases, out of 888 logged across the province. Haizhu district, a textile and garment industry hub, remains the hotspot in the Guangzhou outbreak, accounting for almost 85 per cent of the new cases.
The city has reported around 3,700 local coronavirus infections in the two weeks since October 22, nearly two-thirds of which were detected in Haizhu.
Guangzhou has marked several locations in Haizhu and Baiyun districts as medium or high risk, with public movement restricted. Non-essential businesses, dine-in services and some transport services have been suspended, and repeated citywide testing is being carried out.
"It is hoped that Guangzhou can make full use of these few days to achieve the greatest control effect at the least cost while minimising the impact of Covid on economic and social development," said Zhang Yi, deputy director of the Guangzhou Municipal Health Commission.