Science
Get more with myNEWS
A personalised news feed of stories that matter to you
Learn more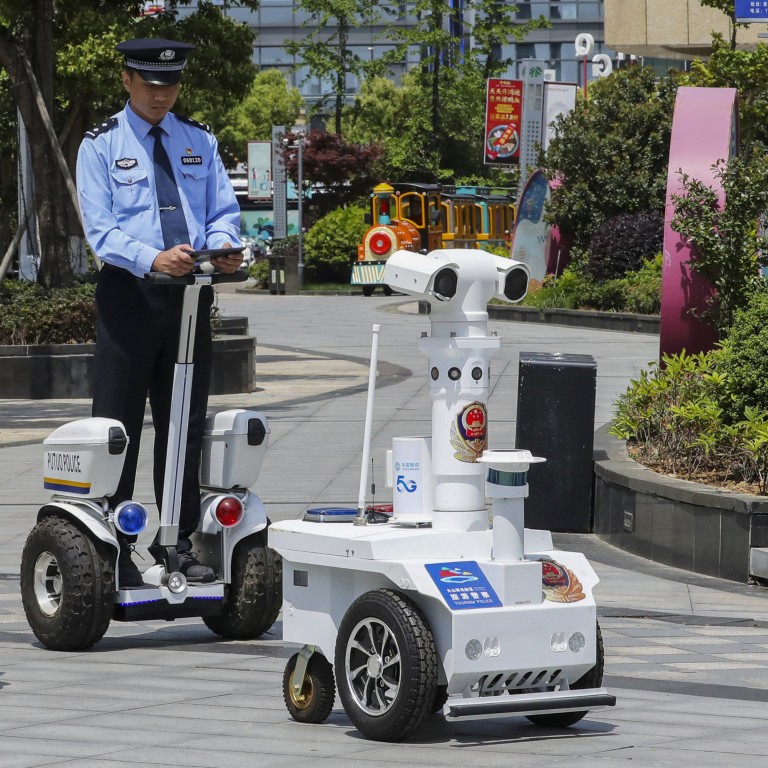 Chinese robocop can boost police patrol resources tenfold, study finds
Beijing gauges demand for AI-powered machines that can identify and follow suspects, raise a fire alarm and detect unlawful gatherings
Paper comes after law researcher warned police robots are not covered by Chinese law and overreliance could lead to public 'crisis of trust and rights'
Robots could boost the power of Chinese police patrols tenfold, the country's top police academy has found, in a study that has implications for how law enforcement and tech could collaborate in China.
The study, which was funded by the Chinese government to evaluate the nationwide demand for
police robots
, found that a typical machine could patrol 80km (50 miles) of streets and check over 200 suspects per day – more than 10 times the average workload of a policeman or woman in China.
Although the estimate was based on field data collected in Hangzhou, a city in the eastern province of Zhejiang, law enforcement elsewhere can benefit significantly from the technology, according to the police study.
The research emerges after an earlier warning that a lack of regulation around the technology and worship of tech over human policing could risk damaging trust in law enforcement officers and alienating the public from police.
China launched a plan last year to deploy
artificial intelligence
-powered robotic cops in most cities by 2025, but the exact number and performance of these machines has remained mostly classified, with national security concerns cited.
The new study, led by professor Li Weiqing of the People's Public Security University of China, found that new technologies – including 5G, large data centres and high-precision satellite positioning – have significantly increased the real-world performance of robotic cops and paved the way for massive use of the technology.
China has 1.8 million police officers, twice as many as in the United States, and on average, more than one Chinese police officer dies on the job each day – three times as many as their American counterparts, according to Li's team.
In a paper published in the Journal of Beijing Police College on November 17, Li and her colleagues said police deaths occurred most frequently at grass-roots stations because of heavy workloads and street patrols that consumed much time and energy. When working in extreme weather or on long night patrols "the psychological and physical pressure on the patrol officers can increase exponentially".
"This often leads to depression or dissatisfaction, and the need to motivate and manage the police officers increases the management cost," the researchers said.
"The patrolling robot is a critical part of police reform. They will certainly become a pillar of support for the frontline police force in a complex social environment."
Some rugged prototypes of police robots appeared as early as the 1980s, using mostly military technology designed for battlefield surveillance and combat.
In recent decades, South Korea, Saudi Arabia and the US are among countries to have fielded various types of machines that are more tailor-made for civilian use, with capabilities such as reading car number plates and facial recognition.
But these applications have been minor in scale, all restricted to a small area or event.
These police robots used mobile phone networks with relatively slow speeds or Wi-fi for communication, making citywide deployment in some rapidly changing environments difficult, according to Li's team. Mainstream technology on the international market also required these robots to rely heavily on their own chips, limiting performance and raising their cost.
China is in a world-leading position to launch a large-scale police robot force because most Chinese cities have had a
5G upgrade
, boosting bandwidth up to 100 times 4G and cutting the cost of data transmission, according to Li's field research.
The research team said robotic policing in China stood to gain significantly from the 5G upgrade because the machines' wide range of sensors generated a huge amount of data to be shared and stored. The low-latency of 5G communication, which usually came under 5 milliseconds, enabled the robots to pass most real-time calculation jobs to a cloud, they said.
China has built the world's largest information infrastructure with some of the most powerful supercomputers and data centres.
The
BeiDou system
, which surpassed GPS as the largest global satellite positioning network in 2020, had strengthened the Chinese government's confidence in a robotic police force once they no longer needed foreign satellites to know or plan their movements, according to Li's team.
In the past, China's robot cops were more or less the same as their peers in other countries, deployed mostly in a restricted capacity.
Now, large cities in provinces across the country, from coastal Zhejiang in eastern China to landlocked Xinjiang in the west, are putting robots on the streets to assist human police patrols.
They are mostly equipped with a variety of sensors, such as a parametric-view camera and heat imaging device. They can connect to AI-powered data centres to execute a wide range of tasks – such as identifying and following suspects, raising a fire alarm and detecting unlawful gatherings – with unprecedented speed and accuracy, according to local media reports.
Eventually, when the technology becomes more mature and costs less, it will be extended to smaller cities and even some county headquarters, according to Li's paper.
But the researchers said the government would need to work with big tech to solve lingering technological hurdles, including installing effective measures to protect against data hacking and other attacks. Chinese tech giants such as Huawei and ZTE were suggested as having the talent and resources to help solve these issues.
The researchers said police departments were likely to work with tech firms to develop new features that would meet the demands of frontline police patrols. The Chinese government was expected to push conformity by manufacturers so robot components were interchangeable to reduce cost and speed up adoption of the technology.
Li Feida, a law researcher at the same police academy as the study team, has warned that excessive use of police robots could lead to serious problems, including "a crisis of trust and rights, with decreasing participation of the public in the process".
In a paper published in the Journal of Beijing Police College in March, Li said robots with strong learning ability had grown as a tool to "govern society on behalf of public security organs" but that China had no law to regulate police robots.
"Grass-roots police regard intelligent policing with big data as their sustenance to combat crime, and excessive reliance on intelligent information technology often directly leads to a blind worship of the scientific results of police data analysis," she said.
"The artificial intelligence system is not created and designed by the staff of the public security organs, but developed by the market players.
"To some extent, artificial intelligence systems or machines will become the main body of administrative law enforcement, and police officers are only responsible for recording and implementing the final results according to the screen display."