Science
Get more with myNEWS
A personalised news feed of stories that matter to you
Learn more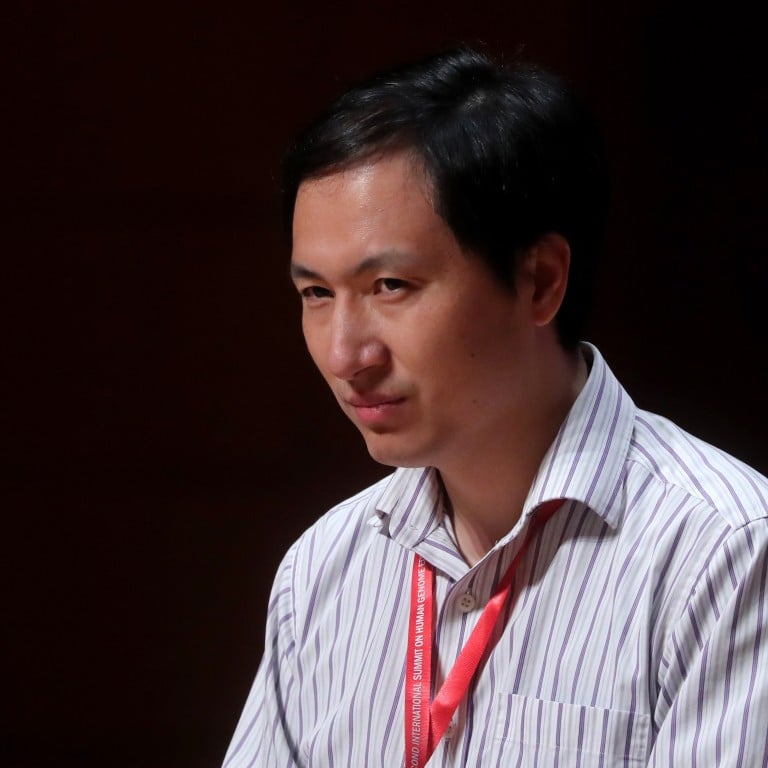 Chinese scientist behind gene-edited babies to speak at Oxford University
The academic who invited He Jiankui to Britain says they will discuss the ethics of his research in a series of public talks in March
He, who was released from prison earlier this year, says he is now looking at how CRISPR technology can help treat genetic diseases
The Chinese scientist responsible for the world's first gene-edited babies says he will be visiting Britain to speak at Oxford University early next year.
He Jiankui
,
who was released from prison
after serving a three-year sentence for illegal medical practices in April, said he will be giving a series of public interviews at the university in March.
The scientist stunned the world in 2018 when he announced that he helped produce the babies, whose genes had been modified with the aim of increasing HIV resistance.
In a post on Weibo, he thanked Professor Eben Kirksey, a fellow of St Cross college, for inviting him to give the talks about the use of
CRISPR gene-editing technology
in reproductive medicine which will be broadcast online.
On Friday he confirmed that he would be making the visit but did not elaborate further.
Kirksey, who has written a book on the gene-editing experiment, said the talks had been approved by the university's research ethics committee and would explore the circumstances that led to the
birth of the gene-edited twin girls
, nicknamed Lulu and Nana, in 2018. A third child, known as Amy, was born the following year.
Kirksey said they would discuss the values that drove He's research and he wanted to explore questions such as: "What is at stake as biological scientists remake the facts of life itself?" and "Can society shape future gene editing research agendas to promote an ethical and fair society?'"
In a separate post on Weibo, He said he had set up a team to work on gene therapy for genetic diseases, and the first rare disease they wanted to tackle was Duchenne muscular dystrophy (DMD)-a deadly muscle disease that mainly affects teenage boys and young men, many of whom die in their late teens or early 20s.
He posted on Twitter that three weeks ago he had established a new laboratory in the southern suburbs of Beijing dedicated to developing affordable drugs for rare genetic diseases.
"The gene therapy often costs one million USD in America and Europe, and many genetic disease families take the risk of financial bankruptcy to get the treatment. I will make the gene therapy affordable for most families," he wrote on Twitter on Wednesday.
DMD is caused by a genetic mutation that prevents the body from producing a crucial muscle protein called dystrophin. Without the protein, patients will develop problems with their hearts and with breathing and walking.
The gene-editing tool CRISPR has the potential to treat rare diseases as such treatment usually needs to fix one gene. Although the number of CRISPR clinical trials grows every year, most of them are in the early stages.
Kirksey said he was sceptical that the gene-editing technology would produce a quick cure, but added: "CRISPR is just one molecular biology tool, among many others, that can be used edit or engineer genes … New research on these genetic diseases is indeed promising, but such experiments contain many risks along with possible benefits.
"Dr He is talking about disrupting the field of gene therapy by developing more affordable treatments … I think that his ambition to address medical inequality in the design of these new medicines should be lauded."
Oxford University has been contacted for comment.
Many patients with rare diseases and their family members reacted to He's comments on Weibo by expressing support for his efforts.
"Thank you Professor He for giving hope to the DMD community. The children hope they can have access to the drug soon," one posted.
On Wednesday, He posted a petition signed by over 600 DMD families on Twitter. The letter called for Chinese entrepreneurs to fund research into gene-editing drugs for rare diseases.
In specific, it urged Chinese billionaire Jack Ma, the founder of e-commerce giant Alibaba, to donate a billion yuan (US$141 million) to establish a not-for-profit institute to support the development of gene therapy treatment for rare diseases. Alibaba owns the South China Morning Post.
He wrote on Twitter that if he received a billion yuan "I will cure DMD".