Science
Get more with myNEWS
A personalised news feed of stories that matter to you
Learn more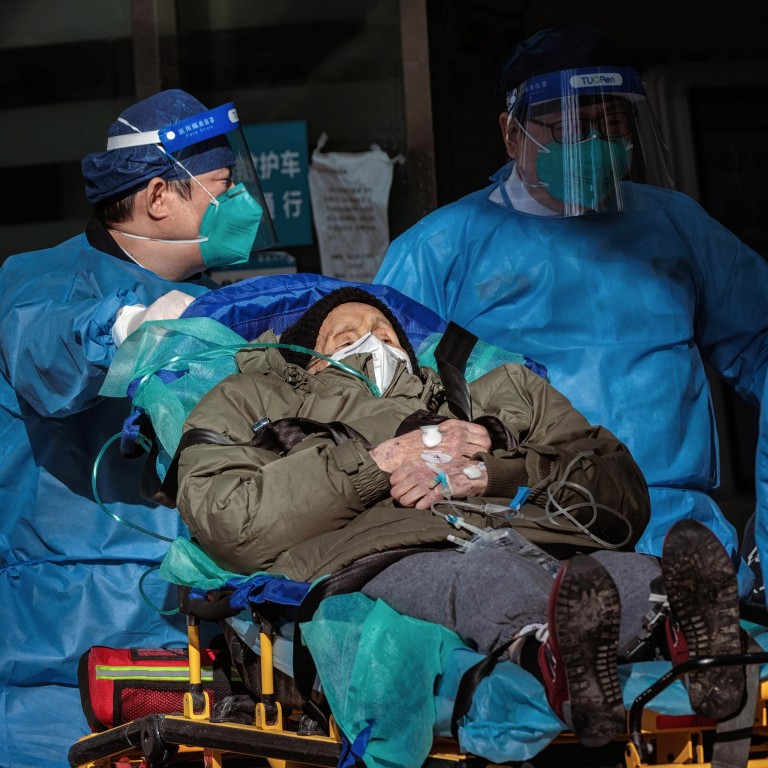 China's potentially grim Covid death toll is avoidable, new study says
China's pivot from zero-Covid could result in 1.5 million deaths in 6 months, researchers say
"Flatten the curve" measures could avoid case spikes, ease healthcare system pressures
As China abandons three years of harsh zero-Covid restrictions aimed at stamping out the coronavirus, as many as 1½ million people could die from
Covid-19
over the next six months, according to a new study.
However, the study, which was posted on preprint service medRxiv by researchers from the
University of Macau
and Harvard Medical School on December 22, said the number of deaths could be cut to less than 200,000 if Chinese authorities implemented public health measures to help slow the spread of Covid-19, increase vaccination rates and ensure adequate supplies of medicines.
Public health measures include nonpharmaceutical interventions such as quarantine, maintaining social distancing and wearing masks.
Over the past three years, China has been able to keep infection rates low largely due to these measures. The country has had one of the lowest death rates per capita in the world, according to a Johns Hopkins University calculator.
However, as the highly transmissible Omicron variant became dominant, China's zero-Covid strategy became unsustainable.
Earlier this month, authorities announced a policy U-turn to ditch pandemic curbs amid growing numbers of outbreaks and nationwide protests against restrictions. Those changes could see Covid-related deaths soar, according to previous modelling studies.
The new study, which has not been peer reviewed, aimed to evaluate the overall effectiveness of China's prevention measures by establishing an Omicron transmission model based on pandemic data from Macau, Hong Kong and Singapore in 2022.
Specifically, the researchers wanted to evaluate the "flatten the curve" strategy – a range of milder, non-pharmaceutical mitigation measures that can reduce infection rates. The idea is to avoid a spike in new cases so that a healthcare system is not overwhelmed.
The researchers found that with China's current immunity level, and with no "
flatten the curve
" strategy applied, more than 1.27 billion people would be infected within three months and
1.49 million people would die
within half a year.
If, however, the "flatten the curve" strategy was implemented, the number of deaths could be reduced by 37 per cent within one year, according to the study's authors.
Moreover, in addition to the mitigation measures, in a model where 90 per cent of the population received three doses of
mRNA vaccines
, and 75 per cent of those infected with Covid-19 were prescribed Paxlovid – an antiviral treatment for highly vulnerable patients that reduces the chances of severe symptoms – the projected number of deaths was 190,000, the researchers said.
China gave conditional approval for Paxlovid in February, making it the first oral antiviral treatment available in the country, but mRNA vaccines are not available for Chinese. On Thursday, China announced it would allow German nationals in the country to receive the BioNTech vaccine following a visit by German Chancellor Olaf Scholz's to Beijing last month.
The authors also compared the impact of the "flatten the curve" strategy with – and without – drug treatment.
The total number of deaths for Covid-19 patients who did not receive Paxlovid was predicted to be 940,000 within one year, but that number fell to 580,000 if 75 per cent of patients received the antiviral drug.
"'Flatten the curve' can decrease deaths as an anti-pandemic, precise prevention method targeting the older population during the initial outbreak of Omicron and could be a cost-effective strategy, along with enhanced immunity level and drug use," the authors concluded in the study.
The measures, if implemented, would play an important role, especially in certain periods, such as the coming
Spring Festival
, the researchers said.
China has been racing to vaccinate its elderly population. On December 14, the National Health Commission announced that people aged 60 and older, and other high-risk groups, should get a fourth dose of vaccine.
In China, only 69 per cent of people aged 60 and above and 40 per cent of those over 80 have received booster shots.