Science
Get more with myNEWS
A personalised news feed of stories that matter to you
Learn more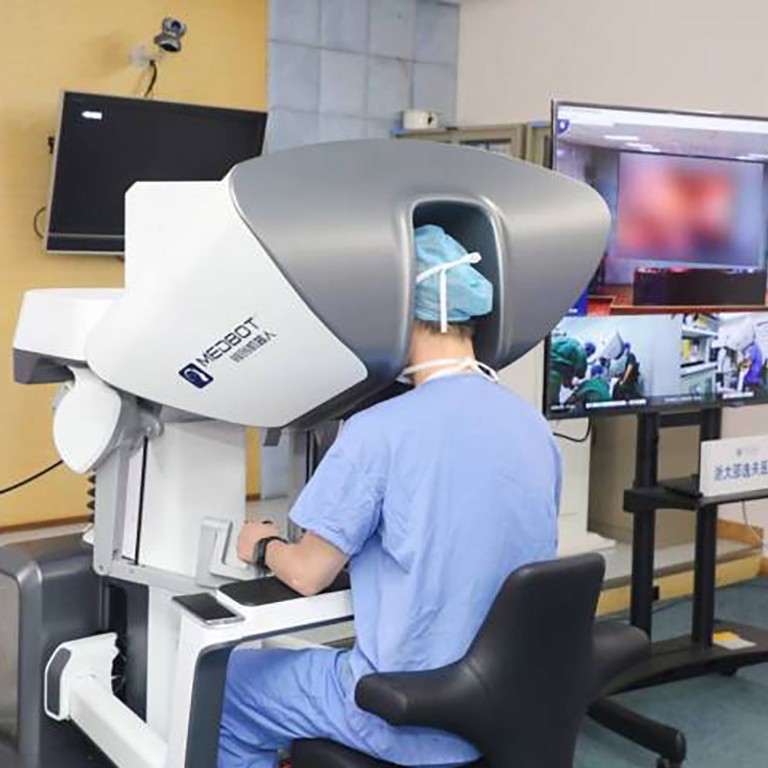 How 5G and remote robot arms are extending China's surgical reach
In a national first, a Chinese surgeon in Hangzhou removes the gallbladder of a woman in Xinjiang
Advanced telecommunications and robotics promise to open up medical care to people in the furthest parts of the country
A 30-year-old woman in China's far west has become the first person in the country to have her gallbladder removed through remote surgery, in an operation orchestrated from more than 4,500km (2,800 miles) away.
State-run Science and Technology Daily reported on Friday that a surgeon in the eastern coastal city of Hangzhou manoeuvred a four-arm laparoscopic robot to carry out the half-hour procedure on the patient in a hospital in Xinjiang on Thursday.
Liang Xiao, chief physician of the Sir Run Run Shaw Hospital in Hangzhou, said he carried out the surgery using 5G technology, and the success of the operation "indicates that robot-assisted remote surgery can be used widely", the newspaper reported.
He added that remote surgery could not only improve the quality of local medical services, it could also be a valuable teaching aid, giving doctors in remote areas access to live demonstrations of operations.
Under its five-year plan from 2021, China aims to accelerate use of robotics and other advanced technology not just in medical care but also in areas such as
manufacturing
, agriculture and
construction
.
It aims to become a world leader and a global centre for innovation in these areas, from artificial intelligence to 5G telecommunications.
The robotics industry is already expanding rapidly, growing by about 15 per cent per year between 2016 and 2020, with the sector's operating income exceeding 100 billion yuan (US$14.55 billion) in 2020, according to the 14th five-year plan for the robotics industry.
Last month, government departments including the National Health Commission and the Ministry of Industry and Information Technology released guidance for robotics development and application in 10 sectors.
In it, the agencies said they encouraged "hospitals with conditions and need to use robots to conduct minimally invasive surgery, build standardised operating rooms for robotic applications, and develop standards and specifications for clinical robotic use".
China would also develop medical robot products for intensive care, first aid and rehabilitation, among other areas, the agencies said.
The process is being accelerated with the countrywide roll-out of the 5G network, a technology that offers extremely high network reliability but low latency – something essential in remote medical applications.
In 2019, staff from Fujian Medical University's Mengchao Hepatobiliary Hospital and Suzhou Kangduo Robot teamed up to perform the world's first surgery on an animal using 5G, according to Huawei Technologies, the network provider for the operation.
Similar technology has also been applied in other medical specialities such as orthopaedics, with a surgeon at Shanghai Ninth People's Hospital performing remote knee replacement operations for the first time in 2021.
With synchronised image and sound provided by 5G technology, the Shanghai-based surgeon was able to replace knee joints of patients in the southwestern city of Kunming and Huizhou in the southern province of Guangdong.
Doctors in separate hospitals have also worked together to perform operations, with a cardiologist in Kunming providing real-time instructions to surgeons in a rural hospital in Yuxi, Shanghai-based news site The Paper reported.