Science
Get more with myNEWS
A personalised news feed of stories that matter to you
Learn more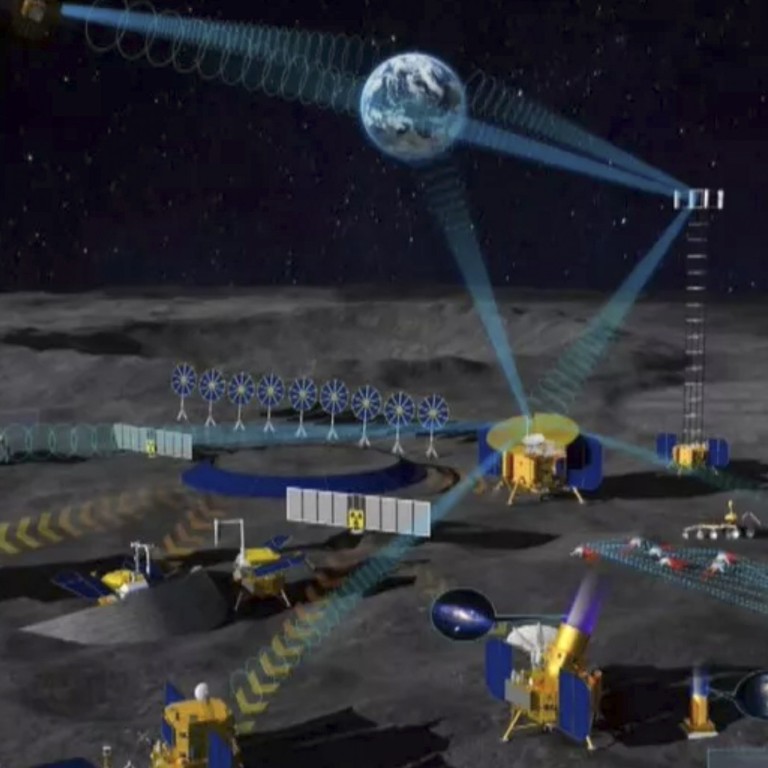 China's moon ambitions take shape with construction road map for research station
Long-term, three-stage project aims to have moon base fully operational by 2050, according to space agency
Project shows China's responsibility as a 'world space power', lunar exploration chief says
A "basic version" of the research station is expected to be completed by 2028 over the course of seven launches – namely China's Chang'e 4, 6, 7 and 8 missions, as well as three international launches, said Wu Weiren, chief designer in charge of the country's lunar exploration programme.
Those missions will be focused on exploring the lunar environment and its resources, as well as testing technological applications.
Another six missions, including ILRS 1-5, will be carried out between 2030 and 2040 to build a "full version" of the station, Wu told the first International Deep Space Exploration Conference in Hefei on Tuesday.
Wu said that the ILRS 1 and 2 missions will set up long-term energy sources on the moon and deploy various robots to collect rock samples.
ILRS 3 will use a ground penetrating radar to investigate the lunar subsurface structure. It will also collect the rock samples obtained by ILRS 1 and 2 and return them to Earth.
"It will not only demonstrate China's responsibility as a world space power, but also serve as a good example to build a community with a shared future for mankind."
Meanwhile, a constellation of satellites named Queqiao, or Magpie Bridge, will be placed in orbits to support communication, navigation and remote sensing during construction of the ILRS, as well as help China land astronauts on the moon and support future missions to Mars, Venus and beyond, Wu added.
In the final stage of construction, China and its partners will build more infrastructure and expand the ILRS into an "application-oriented version", Wu said.
Since the China National Space Administration (CNSA) released its first road map for the ILRS in 2021, it has signed cooperation agreements or letters of intent with a number of countries and international bodies, including Russia, Argentina, Pakistan, the United Arab Emirates, Brazil and the Asia-Pacific Space Cooperation Organization, Wu said.
CNSA is also negotiating with 10 other countries as potential participants. "Partners are welcome to join at any stage and any level," Wu added.
Wu said a new body called the International Lunar Research Station Cooperation Organization (ILRSCO) would be established to coordinate the construction and management of the project.
All space agencies, NGOs and individuals were welcome to join ILRSCO, while founding members were expected to sign the agreement before June, he said.
According to Wu, the Chang'e 6 mission will launch later next year to return samples from the far side of the moon for the first time ever. The probe will be equipped with instruments from France, Italy, Sweden and Pakistan.
Chang'e 7, which will carry a hopper, is expected to lift off in 2026 to look for water ice at the bottom of lunar craters. CNSA has received proposals for 18 instruments from 11 countries to ride aboard Chang'e 7.
It will also carry two other satellites that will work together to test key technologies involved in communications and navigation in lunar orbits.