Science
Get more with myNEWS
A personalised news feed of stories that matter to you
Learn more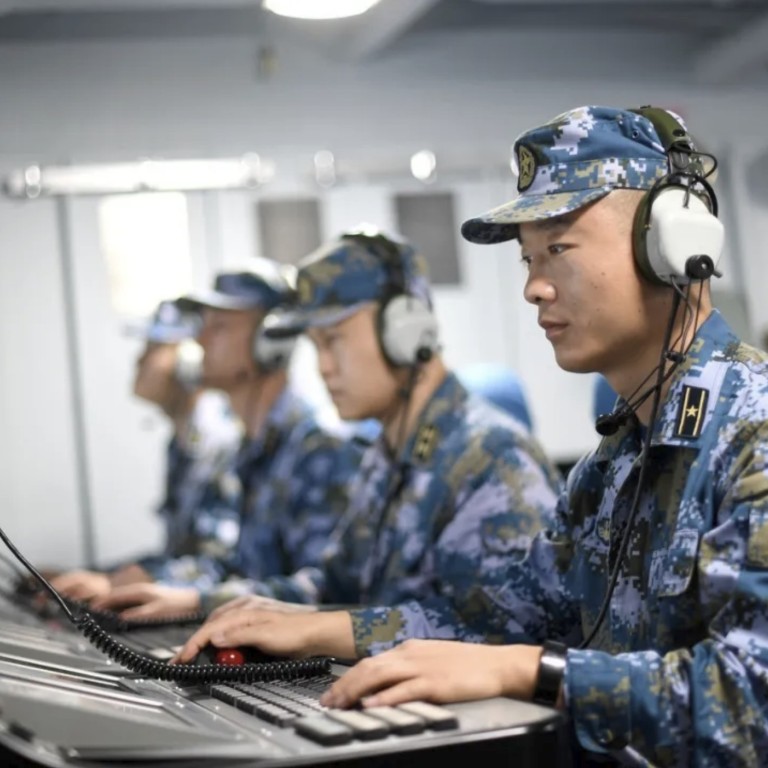 China is building the most powerful warship radar on record: scientists
Peer-reviewed paper says Earth's curve can affect the line of sight but boost in capability could give PLA major advantage
New-generation system can suppress adversaries with output power peaking at 30 megawatts, the researchers said
Chinese scientists
have revealed that construction has begun of a radar system that could
shift the balance
of naval power in the world's oceans with its ability to detect incoming missiles from thousands of kilometres away.
A
Chinese military
vessel equipped with the radar would be able to detect a ballistic missile from up to 4,500km (2,800 miles) away – about the distance from southern China to northern Australia, according to scientists involved in the project.
The radar can also track multiple targets within 3,500km, or about the distance to Guam, the researchers said, in a peer-reviewed paper published on May 31 by the Chinese-language journal Electric Machines and Control.
The team of scientists and engineers, led by associate professor Sun Donyang from the Harbin University of Science and Technology, said the radar is suitable for installation on new Chinese warships, with the first system already in construction.
While the line of sight can be affected by the Earth's curve, the unprecedented boost in search and tracking capabilities could give the PLA Navy a major advantage, the researchers said.
Radars in most military vessels have a working range of a few hundred kilometres, limited by the immense power required to extend their capability. The researchers said they overcame the problem, making the system suitable for newer ships with electric propulsion systems.
According to the paper, the new-generation active phased array radar is made up of "tens of thousands" of transceivers, an order of magnitude far greater than featured in more usual devices, the researchers said.
Each transceiving array unit can send and receive signals as an independent radar. When working together, these units can generate pulse electromagnetic signals as powerful as 30 megawatts – enough to wreck the electrics of any warship in existence.
A Beijing-based radar scientist who was not involved in the project said that until recently the idea of putting a 30 megawatt radar on a battleship was "more or less science fiction".
But China is under enormous pressure to develop better radars for its warships because of the increasing US military activities in Asia, said the scientist, who asked not to be named due to the issue's sensitivity.
"The more powerful our naval radar becomes, the more likely it is that we can suppress the US in the South China Sea."
Size can be a problem when developing long-range radar systems. For instance, Florida's 32-megawatt AN/FPS-85 radar – the world's most powerful, according to its owner the US Space Force – takes up more than 23,000 square metres (250,000 sq ft) of floor space, or three soccer fields.
Technological advances have significantly reduced the size of high-power radars, with some critical components available in larger quantities and at lower prices than ever before, thanks to the mass application of 5G technology.
But the power supply for their groundbreaking radar remained a challenge for Sun and his colleagues, who had to overcome the radar's tendency to produce extremely strong electric shocks when generating its powerful signals in rapid pulses.
To prevent damage to the other electronic devices within the confined space of a vessel, Sun's team had to separate the radar from the ship's power network. This would require some large, high-performance capacitors to act as a buffer, they said.
The researchers turned to high-speed train manufacturer China Railway Rolling Stock Corporation (CRRC), the world's largest maker of bullet trains that built the world's first mass production line for super capacitors in 2013.
High-speed trains in China are driven by high-voltage current to reach an operational speed of up to 350km/h (217mph), with powerful and reliable capacitors ensuring a smooth and stable energy supply over long distances.
Sun's team said test results suggested that customised capacitors made by CRRC for the radar could almost eliminate the power shocks it generates. And at slightly over 1 tonne, the entire power supply system with capacitors and other components is small enough to fit in a ship, they said.
It is also surprisingly efficient, according to the researchers. Even at full capacity, the radar would only impose a constant load of 235 kilowatts on the ship's power supply network, which could be handled by the generators on mainstream warships, they said.
Electromagnetic radiation is also a major concern when developing large-scale radar systems. It remains unclear from the paper what effect the device could have on the sailors on board or marine life.
The radar's development is unusual, in that cutting-edge technology is more commonly applied first in the defence industry before trickling down to civilian manufacturing sectors.
"It can also work the other way around, especially when we need to produce a large number of advanced weapons at a low cost," the Beijing-based radar researcher said.
China has built more than 40,000km of high-speed railways – enough to circle the Earth – in less than 15 years, providing the industrial expertise that Sun's team were able to draw on for their project.
The researchers were also able to take advantage of China's embrace of 5G. By the end of last year, the country's telecommunication companies had deployed 2.3 million base stations nationwide – significantly ahead of the US, which has about 175,000, according to some industry estimates.
China also dwarfs the US in shipbuilding capability, with 13 naval shipyards producing some of the world's largest and most advanced warships.
US Navy Secretary Carlos Del Toro said in February that one of these shipyards has more capacity than all of the United States' seven facilities combined. "That presents a real threat," he said.