Science
Get more with myNEWS
A personalised news feed of stories that matter to you
Learn more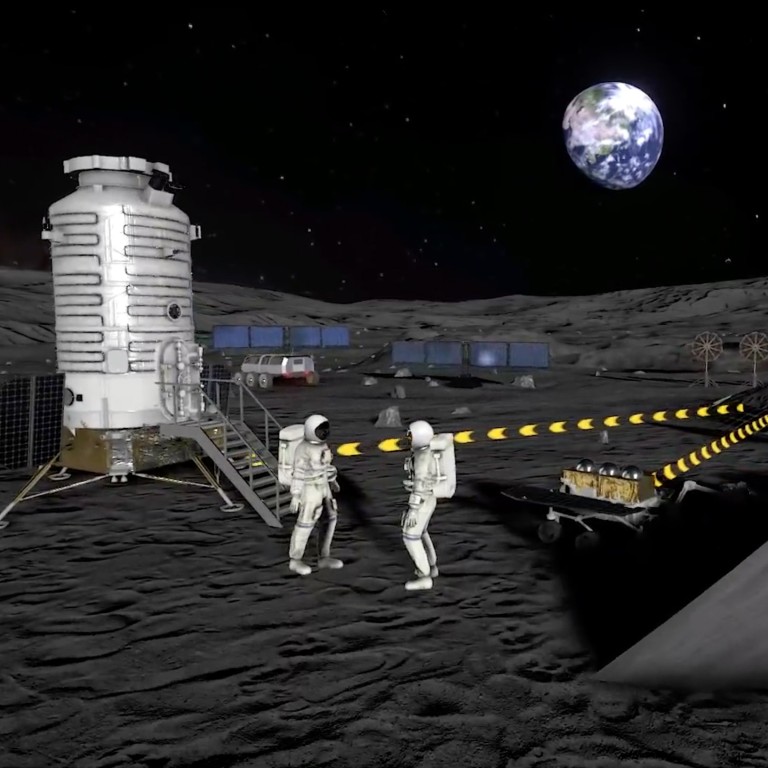 Western companies drawn to China's lunar research station project
Hawaii-based organisation and Swiss aerospace start-up reach agreements with Deep Space Exploration Laboratory in Anhui province
The lab is leading the Chinese space agency's programme to build a permanent base at the moon's south pole
The Deep Space Exploration Laboratory in southeast China said it reached agreements last month with a company based in Hawaii as well as a Swiss start-up.
The two companies, which are also involved in the US-led
Artemis
programme, showed great interest in taking part in China's deep space exploration projects, the laboratory said on its official WeChat account.
The lunar research station and Artemis programmes both intend to land people on the moon by the end of this decade, though the US Congress has restricted bilateral collaboration between Nasa and its counterpart
the China National Space Administration
.
Steve Durst, chairman of the International Lunar Observatory Association (ILOA), signed a letter of intent for ILRS-related collaboration with the lab in Hefei, Anhui province, during a visit to Beijing on June 28, said the announcement on WeChat.
Durst spoke highly of China's achievements in lunar exploration and thanked the lab for its open attitude and invitation to join the Chinese lunar project during a meeting with deputy director Hu Chaobin, the laboratory said.
The Hawaii-based non-profit ILOA has already conducted joint astronomical observations with Chinese scientists using the ultraviolet telescope on board the Chang'e-3 lander, which touched down on the near side of the moon in 2013.
The ILOA will have a small telescope delivered to the moon later this year – via Nasa's Commercial Lunar Payload Services initiative – as a pilot for its planned astrophysical observatory at the lunar south pole.
Also last month, lab director Wu Weiren signed a memorandum of understanding with nanoSPACE AG, based in Lyss, Switzerland, the laboratory said in the WeChat announcement.
Wu, who was visiting the Paris air show, outlined China's lunar exploration achievements over the past 20 years for the aerospace company's co-founder Philippe Hersberger.
He also stressed that China welcomes the Swiss government, companies, universities and research institutes to be part of the International Lunar Research Station programme, the laboratory said.
The company, established in 2008, is a global supplier of space instruments to the European Space Agency, the Artemis programme's lunar-orbiting Gateway space station, and joint projects with the Chinese Academy of Sciences, according to the lab.
While in Paris, Wu and his team also had in-depth exchanges with officials from France's Thales Group, including its vice-president Pascale Sourisse and Vincenzo Giorgio, vice-president of Thales Alenia Space.
The lab statement said the Thales officials expressed their willingness to promote cooperation with the CNSA under the cooperative framework of the European space agencies.
Meanwhile, India became the 27th country to sign the Artemis Accords – a US-led framework for the peaceful use of space that aims to govern behaviour on the moon's surface.
India's Prime Minister Narendra Modi signed the accords on June 21 during his visit to Washington.