Science
Get more with myNEWS
A personalised news feed of stories that matter to you
Learn more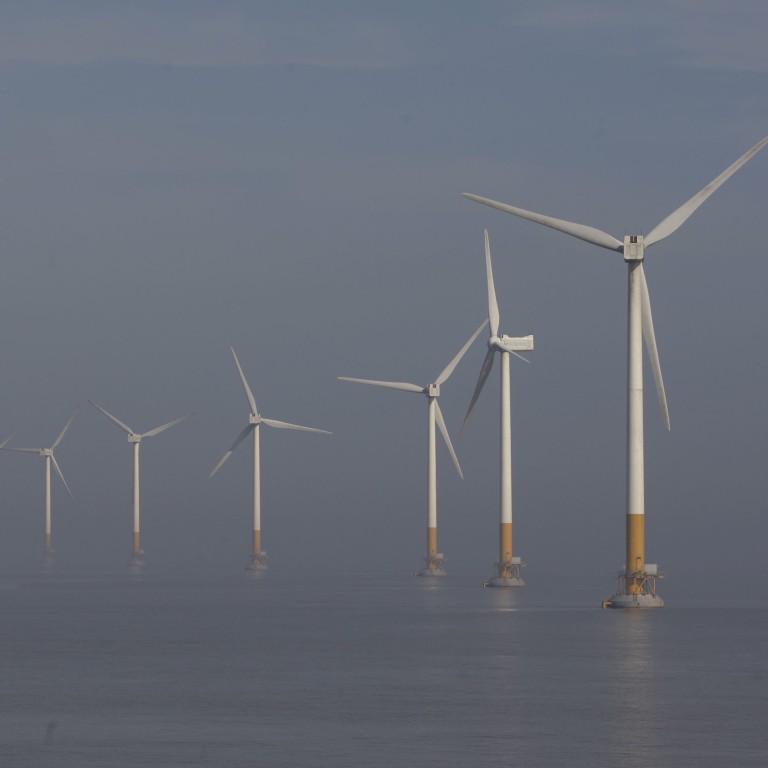 Chinese offshore turbine sets record for electricity generated in 1 day, aided by Typhoon Haikui's strong winds
Turbine built by the Three Gorges Corporation produced 384.1 megawatt hours, or enough to power nearly 170,000 homes, on Friday
Innovative design allows intelligent unit to adjust blades in real time, continuing to generate electricity, even in wind speeds greater than 25 metres per second
A Chinese offshore wind turbine built by the
Three Gorges Corporation
broke the world record for single-day electricity generation on Friday when it produced 384.1 megawatt hours – enough to power nearly 170,000 homes – in the wake of
Typhoon Haikui
.
It surpassed the previous record set in August by Danish company Vestas with its prototype offshore wind turbine V236 at the Osterild national test centre for large wind turbines in northern Denmark.
The Danish prototype had a 15MW capacity and reached an output of 363 megawatt hours (MWh) over 24 hours, a record it held for just two weeks.
The latest record-breaking offshore turbine was built by China's Three Gorges Corporation (CTG) and installed off the coast of Pingtan, Fujian province, in late June. The unit began supplying electricity to the grid on July 19, according to an official report by CTG on September 2.
It boasts several world firsts: to date, it remains the wind turbine with the largest single-unit capacity, the largest rotor diameter and the lightest weight for its output.
It has a 16MW capacity with each of its blades reaching 123 metres long. Even though the blades are made of lightweight, high-strength carbon fibre, each blade weighs more than 54 tonnes.
When operating at full speed, the edge of the blade can reach up to 70 per cent of the speed of sound, more than double the speed of a high-speed train.
The typhoon – with an average wind speed of 16.97 metres per second on Friday and peaking at 23.56 metres per second – helped break the record. The turbine ran at full capacity for 24 hours aided by Typhoon Haikui.
The innovative design was also a factor in the turbine's record-breaking speed. While traditional wind turbines automatically lock their blades to avoid overload when wind speeds exceed 25 metres per second, this intelligent unit can adjust its blades in real time, continuing to generate electricity, even in wind speeds greater than 25 metres per second, maximising its potential to generate electricity.
To ensure the safety of the wind turbine, Three Gorges Corporation collaborated with Goldwind Technology's wind turbine research and development team to form a specialised task force.
"We are closely monitoring critical components like the main control programme, pitch system and generators to gradually lift power restrictions while ensuring operational safety," the team said.
As the typhoon made landfall, the Three Gorges Corporation said it would "coordinate with the running team and confirm typhoon-resistance protocols" and ensure safe and stable operation of the turbine in extreme weather.
"From the manufacturing of core components like main bearing, to the breakthrough use of carbon fibre materials in the blade, 95 per cent of the turbines are made in China. Key components such as generators and gearboxes are almost 100 per cent domestically produced," Lei Mingshan, chairman of CTG, said in an official report last month.
According to the Chinese Wind Energy Association under the China Renewable Energy Society, China added 11,098
wind turbines
last year, with a total capacity of 49.83 million kW, of which 10 per cent were offshore.
By the end of 2022, the total onshore wind capacity stood at 360 million kW, while the offshore capacity was 3.05 million kW.
This means China accounts for more than a third of the world's installed wind capacity.