Science
Get more with myNEWS
A personalised news feed of stories that matter to you
Learn more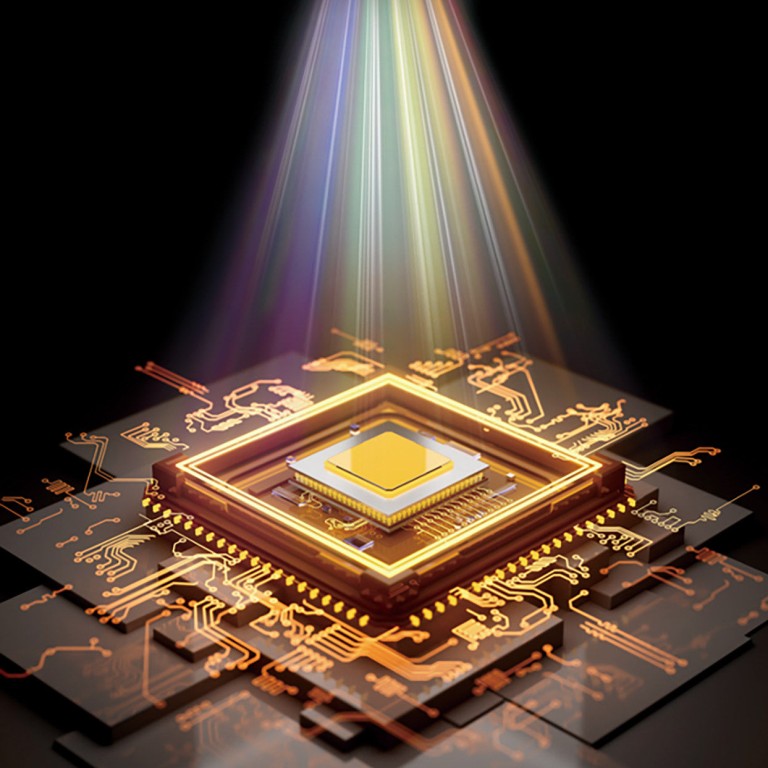 Chinese scientists create chip that can perform AI task 3,000 times faster than Nvidia's A100: study
The light-based chip can only perform selected tasks at present such as image recognition, but can operate much faster than current products on the market
China is currently scrambling to catch up with the US in the AI race after being denied access to some key pieces of technology
Chinese scientists have produced a chip that is significantly faster and more energy efficient than current high-performance AI chips when it comes to performing some tasks such as image recognition and autonomous driving, according to a new study.
Although the new chip cannot immediately replace those used in devices such as computers or smartphones, it may soon be used in wearable devices, electric cars or smart factories and help boost China's competitiveness in the mass application of
artificial intelligence
, researchers wrote in a paper published in the journal Nature.
The new chip – known as the All-Analogue Chip Combining Electronics and Light (ACCEL) – is light-based and uses photons, a type of elementary particle, for computing and transmitting information to achieve a faster computing speed.
The idea of a light-based chip is not new, but the chips currently in use rely on electric current for calculation because photons are more challenging to control.
In a laboratory test, the new chip reached a computing speed of 4.6 PFLOPS (peta-floating point operations per second), 3,000 times faster than one of the most widely used commercial AI chips,
Nvidia
's A100. The Chinese chip also consumes 4 million times less energy, researchers found.
The A100 is subject to US sanctions on China and it, along with other advanced AI chips, are produced with advanced lithography machines to which China does not have access.
The new chip was instead built by China's Semiconductor Manufacturing International Corporation using a cheap 20-year-old transistor fabrication process
"The performance [of the chip] could be further optimised through improvements in the building process or by adopting more expensive fabrication processes under 100 nanometres," the research team from Tsinghua University's automation and electronic engineering departments wrote in the paper published last week.
Unlike semiconductor chips, photonic chips use the intrinsic physical properties of light by replacing transistors with ultramicroscopes and electrical signals with light signals.
"Deployment of photonic computing systems used to be a challenge due to complicated structural design and vulnerability to noise and system errors. The team innovatively introduced a computing framework that fuses photonic and analogue electronic computing," Tsinghua's website said in an article on Tuesday.
Tsinghua also said that using light signals greatly increased energy efficiency and "the energy required to operate existing chips for an hour could power ACCEL for over 500 years".
Its low power consumption may also help overcome the problem of heat dissipation, which currently places a significant barrier in the way of further miniaturising integrated circuits.
However, the chip's analogue computing architecture limits its application to solving specific problems and it cannot run various programs or compress files like general computing chips in smartphones.
The tasks it can perform include high-resolution image recognition, lowlight computation and identifying traffic, according to Tsinghua's website.
It also has certain advantages when it comes to AI vision tasks because passive light from the environment carries information itself allowing it to compute directly during the sensing process.
The project was funded by the Chinese science ministry's National Key Research and Development Programme and the National Natural Science Foundation of China.
MakeSens, a Beijing-based chip design company co-founded by one of the researchers involved in the project, was also involved in the development of the chip. The company launched a low-powered chip using analogue computing this May.
According to Tsinghua, Dai Qionghai, one of the co-leaders of the research team: "Developing a new computing architecture for the AI era is a pinnacle achievement. However, the more important challenge is to bring this new architecture to practical applications, solving major national and public needs, which is our responsibility."
The research team has yet to respond to questions about the chip's commercial prospects.