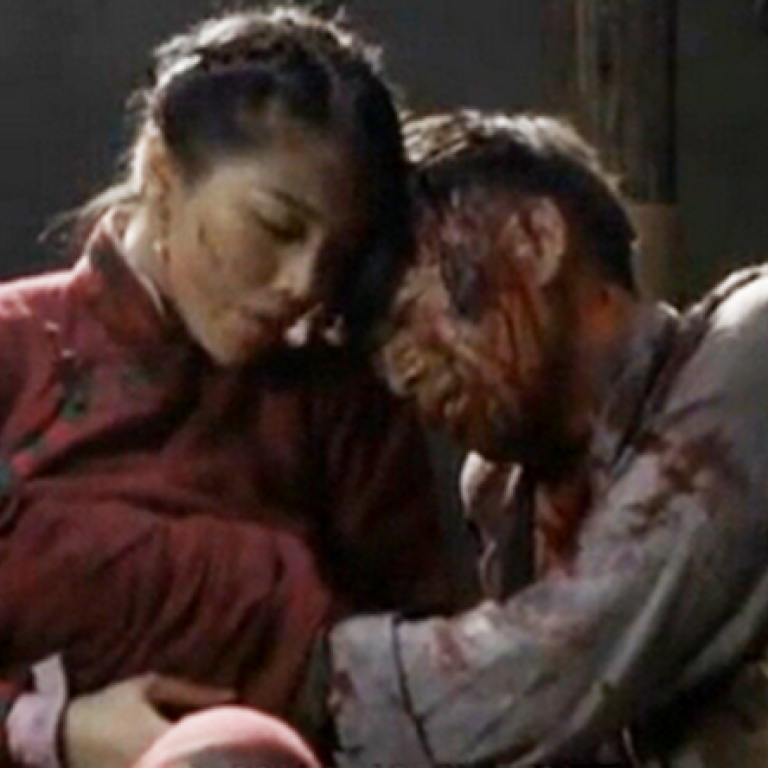 'Crotch bomb' scene in anti-Japan war drama is blasted by Chinese online users as 'lewd, bizarre'
China's anti-Japanese television war dramas, long known for having outlandish plots, reached a new level of "bizarre" when one show recently featured a scene – starring Ge Tian, the wife of China's most celebrated athlete Liu Xiang – hiding an explosive in her crotch.
In the show , a long-running period drama on state-run TV centred on the Japanese occupation, Ge played "sister Yin", the lover of an imprisoned communist.
It is one of many war dramas flooding China's TV screens, featuring brave communist heroes, sometimes with supernatural powers, who stand up against Japanese oppression.
In the bomb scene
, which provoked strong reactions and criticism from Chinese online users, Ge visits his jail cell, where he has been left bloodied and badly bruised by his captors. Wearing a red traditional outfit, Ge is fondled and passionately kissed by her lover in plain view of the guards.
Ge says: "Earlier, the little Japanese wanted to touch my groin. How can I let them? That place only belongs to you."
When the jailed lover pulls his hand from underneath her dress, he is shown holding a bomb – which Yin then detonates, destroying the cell and everyone in it.
Commenters on social media found the scene "very bizarre". "Why do I feel this is very lewd?" wrote a user with the moniker Crab Xing.
Another user expressed disgust. "The outlandish drama is horrifying. The authorities have banned foreign TV shows – only to let us see this?" the user wrote.
Others called on China's state censors to "ban the drama".
In response to the online comments, actress Ge told Chinese media in an interview that she "was very satisfied with the scene" and was "happy to get the recognition of the director and screenwriter".
Most of these dramas portray the Japanese as devils and trumpet the heroism of the Communist Party, while minimising the crucial role played by the Chinese Nationalists.
Some shows have courted controversy, such as , which in one sequence showed a Communist Party member tearing a Japanese soldier in half with his bare hands.
Ge, 27, married Liu last year. The track athlete retired last month due to injuries and was honoured in an emotional ceremony during the Shanghai Diamond League race on Sunday, in which audiences gave Liu a standing ovation and loud cheers.
Ge told Chinese media in the same interview that she supports her husband's decision and hopes Liu will have a better life after retirement.
Japan's wartime conduct and some Japanese government officials' reluctance to apologise for past aggressions have caused diplomatic tensions between Beijing and Tokyo.
The meeting came ahead of this year's 70th anniversary of the end of the second world war. China plans to hold a military parade in September and Abe will issue a key statement in August, after expressing his regrets over the war but stopping short of an apology at the Indonesia summit.