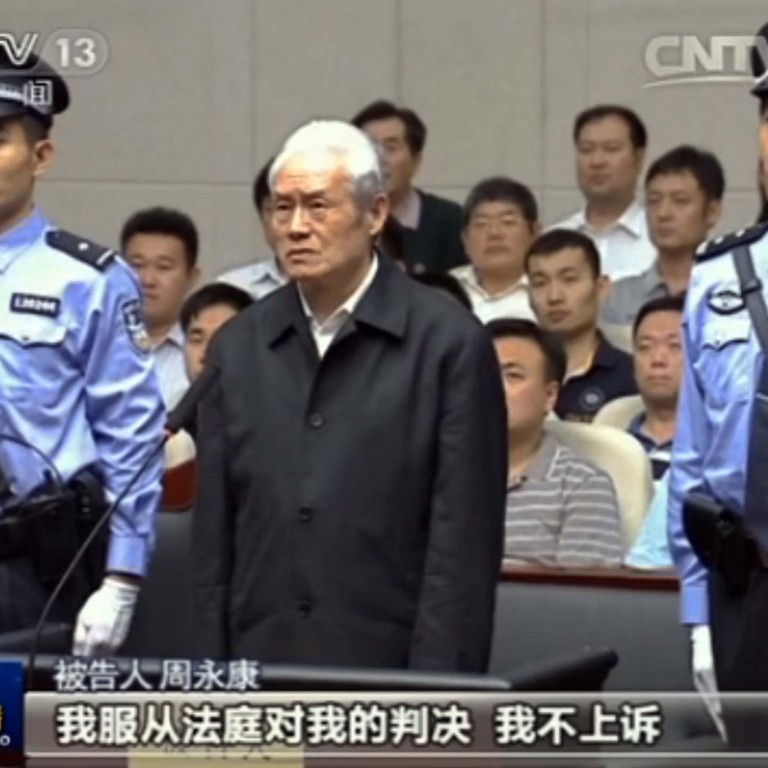 China ex-security chief Zhou Yongkang sentenced to life in prison, will not appeal
Zhou Yongkang has been sentenced by Tianjin No.1 Intermediate People's Court
China's former security tsar Zhou Yongkang has been sentenced to life imprisonment by Tianjin No.1 Intermediate People's Court.
He was also stripped of all political rights for life and all his personal assets were confiscated, Xinhua reported on Thursday.
State television showed pictures of a white-haired Zhou admitting his guilt in court and saying that he would not appeal.
Zhou, the most senior Chinese official to stand trial on graft charges in decades, was formally charged in April with taking bribes, abuse of power and intentionally leaking state secrets.
On the charge of taking bribes, Zhou was sentenced to life imprisonment, had his political rights withdrawn for life and his personal assets confiscated.
For abuse of power, he received seven years' imprisonment, and for leaking state secrets he received four years' imprisonment.
The Tianjin court started a closed-door trial on May 22. The trial was not open to the public because "some evidence of his crimes involved state secrets", the report said.
The court ruled that Zhou and his family had taken bribes totaling 129.7 million yuan (HK$164 million) from Zhou's close allies.
It said that Zhou accepted bribes worth 731,100 yuan from Jiang Jiemin, the former head of the State-owned Assets Supervision and Administration Commission and former chairman of the state-run China National Petroleum Corporation (CNPC), where Zhou was a top official for 10 years.
His son Zhou Bin and wife Jia Xiaoye received 129 million yuan from others including Sichuan businessman Wu Bing, former Luliang mayor Ding Xuefeng, CNPC chief accountant Wen Qingshan and Zhou Hao, the former party chief of a subsidiary of CNPC.
The court said Zhou had abused his power by asking Jiang and former Sichuan deputy party chief Li Chuncheng to direct more than 2.13 billion yuan of illegal gains to his son and other businessmen, causing a loss of 1.48 billion yuan to the Chinese economy.
Zhou had also given six classified documents, of which five were top secret, to Cao Yongzheng, who is a "qigong master" according to mainland media.
The court said that while Zhou had accepted a "huge" amount of bribes, he had confessed his crimes and pleaded guilty. Most of the bribes had been taken by his relatives and he had asked them to hand back the money, it noted, adding that all the money had been confiscated.
Therefore, said the court, he had been given a "lenient" punishment.
The maximum punishment for bribery is death; the state-secret and abuse of power charges each carry up to seven years in jail.
The authorities announced in July last year that Zhou was being investigated on suspicion of abuse of power and corruption.
Dozens of officials with connections to Zhou have been detained on suspicion of graft in the past two years. Many are linked to Zhou's former power bases in the oil industry, domestic security and in Sichuan province. Both of Zhou's sons have been detained by investigators.