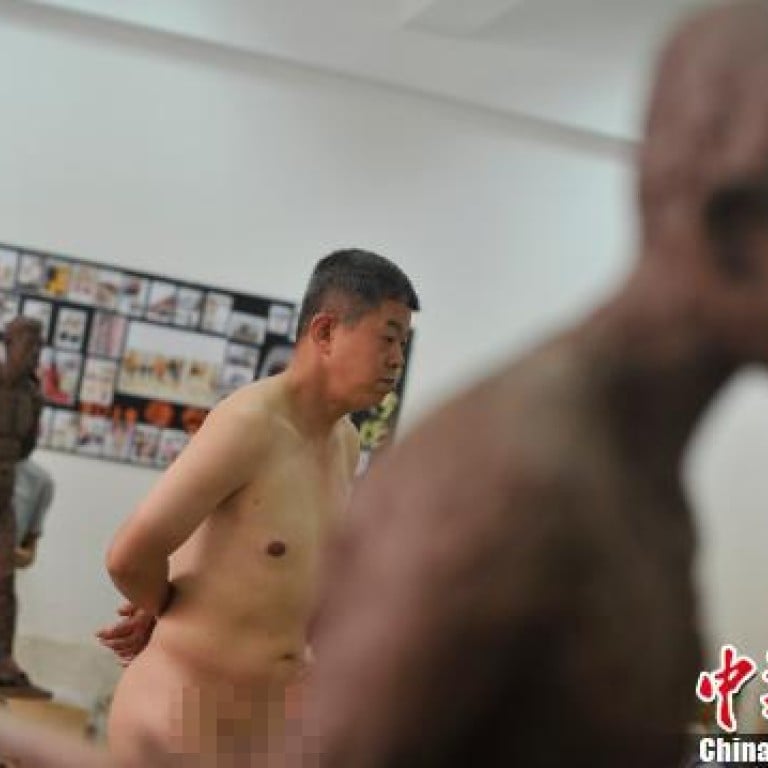 In China, nude male model doesn't mind all the attention
In conservative parts of the mainland, like Shanxi province, taking off your clothes to earn money – even if for the sake of art – is frowned upon. But Li Zhe finds the job rewarding
Li Zhe stands in the middle of a classroom completely nude. He is unfazed by the multitude of eyes staring at him, studying his body. 
Li, a nude art model in Shanxi province, is equally unbothered by how others regard his occupation. Nude art modelling is still looked down upon on the mainland, especially in more conservative, interior provinces like Shanxi, and male models are especially rare.
But that hasn't deterred Li from pursuing modelling for 14 years.
"Some people think what I'm doing is strange or stupid, but I like this job," he was quoted by the China News Service as saying.
Li was born prematurely and suffered from gastric bleeding. He has cognitive disabilities stemming from the amount of medicine he needed to take when he was a child, and only completed his secondary education in a special school. He had trouble finding work after losing his factory job in 1997, but soon turned to modelling – fully dressed.
His father then died, he experienced divorce and his mother was diagnosed with breast cancer. After learning that nude models could earn more, he made the switch.
Li said that at first, he didn't know what to do. It wasn't until he entered the classroom that he realised he had to take off his clothes. 
Now, Li wakes up at 7am and takes an hour-long bus ride to reach the capital, Taiyuan, where he has posed for students in more than six universities. He usually poses for three or four straight hours, earning 50 yuan (HK$63) per hour. The money helps pay for his mother's medical expenses and his young daughter's art classes.
"I like art myself, so I started modelling and letting other people draw me," Li said. "Now my daughter also likes art. I hope she will continue practicing and one day be admitted to art school."
This article appeared in the South China Morning Post print edition as: In China, nude male model doesn't mind all the attention