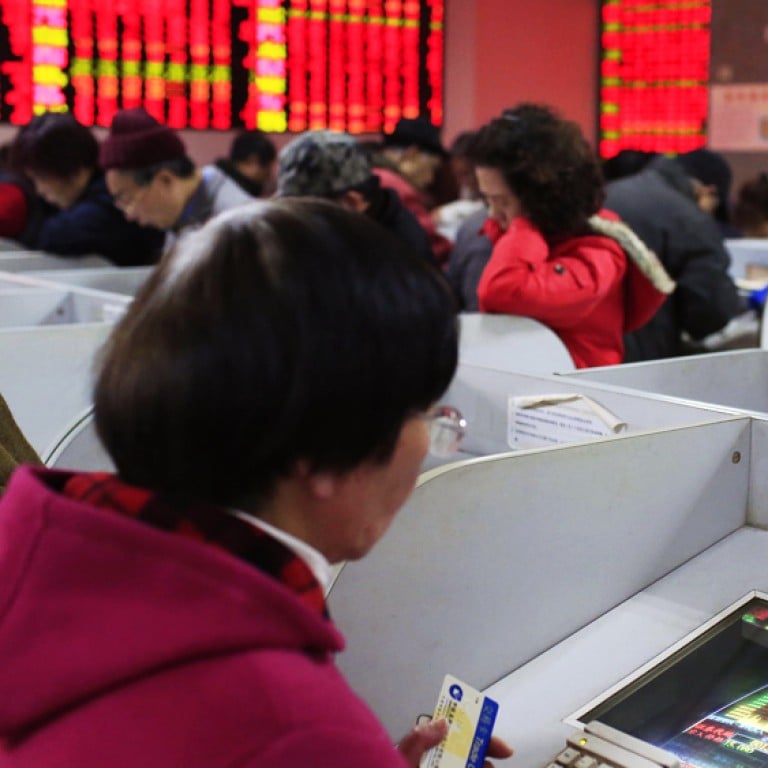 Shanghai shares regulator hands manager to police as indicator suffers worst decline in seven years
Official's spouse said to have traded shares as indicator suffers worst fall in seven years
An official with China's securities regulator was fired and handed to police for investigation of "duty crimes and violation of disciplinary rules" - abuses of power such as insider trading - just one day after the mainland's key stock indicator posted the worst weekly drop in seven years.
Li Zhiling, a division chief at the regulator's department of public offering supervision, was dismissed after her spouse was found to have illegally traded shares, the China Securities Regulatory Commission (CSRC) announced yesterday.
She was handed over to police to be investigated for abuse of power, it added.
The detention of Li, whose division approves refinancing deals by mainland-listed firms, happened as the CSRC struggled to maintain market stability, launching a series of campaigns to avoid a roller-coast ride that could trigger public chaos as retail investors piled up losses. The regulator didn't disclose details of alleged stock trading by Li's husband.
On the mainland, disciplinary rules stipulate that spouses of regulatory officials are barred from buying and selling shares.
Those who commit duty crimes including accepting bribes face imprisonment.
But the statement didn't specify the alleged wrongdoings Li had committed.
A source close to the CSRC said Li's division was regarded as a powerful unit in the CSRC because companies seeking share placements could not raise fresh capital unless they secure a go-ahead from the office.
It remained to be seen whether other CSRC officials would be involved, the source said.
Li is the second CSRC official to be charged in seven months for legal infringements and disciplinary violations.
In December, Li Liang, chief of the regulator's investor protection bureau, was taken away by the Communist Party's anti-graft body, the Central Commission for Discipline Inspection.
CSRC chairman Xiao Gang will now focus on market irregularities, rather than deepen reforms of the securities sector amid a highly volatile A-share market, two fund managers said.
The Shanghai Composite Index, which had been on a bull run since September, dropped 13.3 per cent between Monday and Friday, the biggest weekly decline among the world's major equity indicators since the global finan cial crisis.
In China, the burst of a stock market bubble is regarded by the government as a risk for social unrest as millions of retail investors are retired workers who risk losing years of savings, and might take to the streets to protest against the regulator's failure to safeguard their interests.
"It's a do-or-die moment for all investors," said Dong Jun, a Shanghai-based hedge fund manager. "If retail investors become skittish now, panic selling will continue next week."
Three journalists at state-owned news outlets said they were told not to use "poignant" comments about the market performance in their articles.
This article appeared in the South China Morning Post print edition as: Shanghai shares regulator hands manager to police