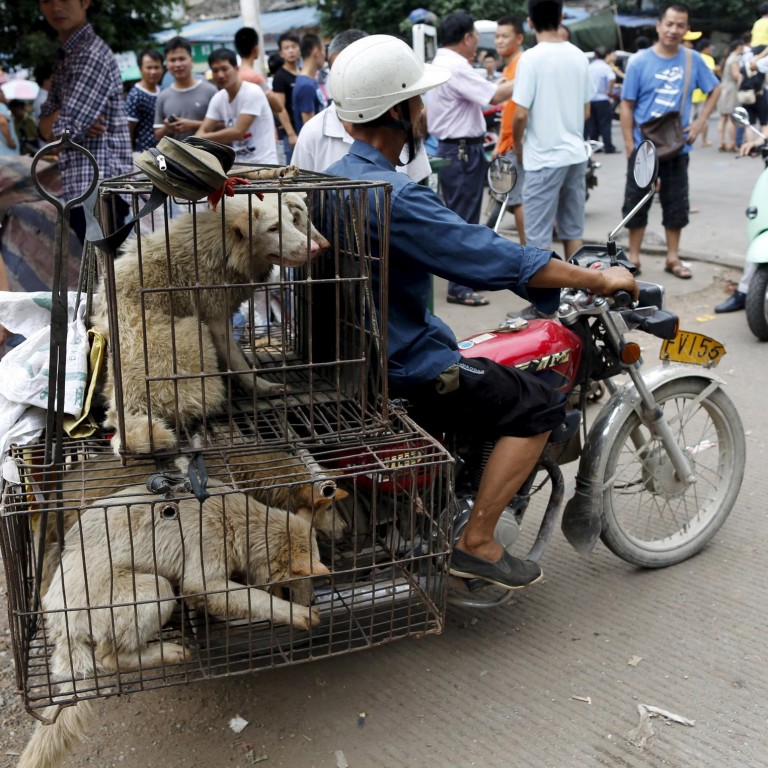 Is there life in the old dog-eating festival? Chinese activists increasing efforts to stop the trade
The city of Yulin, notorious for its annual dog meat festival that celebrates the summer solstice, appeared calm on Monday - in contrast to the previous two events, at which animal rights activists clashed with festivalgoers.
Dog meat vendors in the city's wet markets kept a low profile, with local authorities ordering them to cover their stall fronts with iron sheets and serve customers through small windows.
This was to avoid stoking arguments between the vendors and animal rights activists who had arrived from across the country to protest, according to one activist, "Xijing", who had come from Shaanxi.
Watch: Dog meat festival draws fans and opponents
Local officials had also blocked the road to Dongkou market, one of the city's biggest wet markets, for a short period while reporters were shown around, the activist said.
An activist from Guangdong said little had improved - slaughterhouses were merely more hidden, while local government and residents remained hostile to the activists. "Volunteers were harassed, but police ignored our reports," she said.
Days earlier, activists from across the country had started to flood into the small city in Guangxi province, to protest against the festival, which kills and serves up thousands of dogs every year.
Keeping dogs as pets was once seen as a decadent bourgeois habit, but the practice has become increasingly popular with the Chinese mainland's growing middle class, who are increasing efforts to stop the dog meat trade.
Activists from Beijing, Tianjin, Liaoning, Hebei, Henan and Shaanxi gathered in front of the local government headquarters and unfurled banners, before being hustled away.
Adam Parascandola, a senior activist from Humane Society International who has spent 20 years protecting animal rights in the United States, said the movement against dog meat made him "hopeful" for an end to the Yulin festival and ultimately a ban on dog meat.
"Dogs are treated cruelly, but we see how organised and passionate the activists are," he said. "They are really brave for what they believe in, and this movement against dog meat eating is a movement from within China."
This article appeared in the South China Morning Post print edition as: Yulin festival: life in the old dog yet?