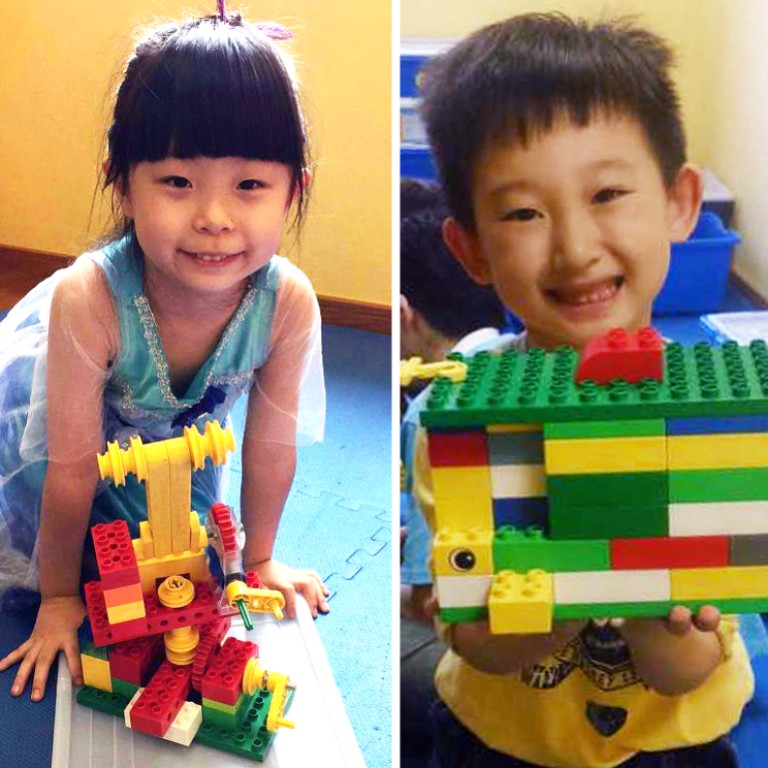 Lego builds on strong success in China as playful children discover their creative side
Sales of Danish company's toys surge more than 50 per cent in two years as mainland parents recognise that playing with interlocking plastic bricks boosts inventiveness
Every weekend four-year-old Yuanzi makes a 30-minute trip from his Shanghai home so he can take a one-hour class that teaches him to play with small interlocking plastic Lego blocks.
His parents, both white-collar workers at foreign companies in the city, believe the time it takes and 130 yuan (HK$165) cost of the activity at the Lego Education Centre in the city's Jinqiao district, are worthwhile because it is helping to improve his logical and creative thinking.
"He likes it," said Yuanzi's mother, Sue Jin.
"His kindergarten offers various after-school classes, such as Lego, Chinese chess, and painting, but Lego is the first to be filled up, so we have to do it outside of school."
Lego and other block toys that offer children a creative experience while they are playing, have been growing in popularity as the country continues its vigorous drive towards greater inventiveness – a quality for which Chinese people have traditionally had little ability.
Premier Li Keqiang has been a strong advocate of innovation – a move backed by Jin and many other typical mainland parents.
Roar Rude Trangbaek, Lego's press officer, said that through playing with Lego, the company was inspiring and developing the builders of tomorrow.
Children that played with Lego "learn to be systematic yet endlessly creative and they learn to find different solutions to the same problem", Trangbaek told the South China Morning Post.
The Danish toy company had seen an increase of more than 50 per cent in sales to Chinese consumers over the past two years, he said.
"The fact that hundreds of millions of Chinese consumers will form an [increasingly affluent] middle class in the coming years is a huge opportunity for us," Trangbaek said.
"Lego products – the whole idea of creative play experiences – is something that resonates strongly with Chinese consumers."
Zhao Chen, a customer consultant manager at Shanghai's VZ International Creative Centre, which specialises in offering Lego classes, said a growing number of China's more affluent parents now attached just as much importance on their child's creativity and ability to perform practical tasks as their success in school examinations.
"In the past parents would choose Chinese, English or mathematics classes for their children to do after school," she said. "Lego was just regarded by them as playing and was therefore unnecessary.
"Now they've changed their opinion and realise that this kind of thing actually helps children to think independently; it is a good supplementary activity to traditional Chinese education, which focuses on grades."
Lego has been quick to recognise the potential of this business opportunity in China and the rest of Asia.
A year ago the company began work in Zhejiang province on building its third-largest global factory in the city of Jiaxing, 100km from its China office in Shanghai, which was opened last year.
The factory will supply Lego products not only for the China market but also other Asian markets including Japan and South Korea. Trangbaek said it would eventually employ up to 1,500 workers and was due to start packaging Lego toys produced abroad for sale on the mainland later this year. It is due to become fully operational in 2017.
Lego also expects to open more than 80 mainland stores by the end of this year, some of which will be based in second- or third-tier cities.
"We began with shops in the major cities and are now looking to reach more children by establishing stores in more cities as we see increasing interest and demand for our products," Trangbaek said.
Despite differences between the cultures of children brought up in Asia and Western nations, Trangbaek said the company would not be developing product lines specifically for the China or Asia.
He said the company's insight and research, which included observing youngsters playing with Lego products, showed that children all over the world were "remarkably similar".
Trangbaek said: "While there may be cultural and historical differences from region to region, we see that children all over world find it intuitive and fun to create things – which is the essence of Lego play."
The mainland's growing appetite for Lego and other creative toys is benefiting not only the manufacturers.
Zhao said her company, established in 2005, had expanded during the past decade and now had more than 20 branches throughout Shanghai.
She said there was a bright future for the industry, with similar organisations flourishing in other major mainland cities such as Beijing and Guangzhou.
"We have so many babies being born each year and mainland parents are all willing to invest in their child's education," she said.
However, the burgeoning interest has also sparked demand for counterfeit plastic block products among parents that cannot afford the higher prices of the original items.
These counterfeit goods have become a common sight in Zhejiang's international trading mall in the city of Yiwu – China's biggest distribution centre of small commodity items.
Katherine Lou, the manager of a toy shop in the mall that specialises in selling copies of Lego products, said sales of the counterfeit plastic blocks had been strong over the past few years.
"As long as you're not trying to selling them in poverty-stricken areas, you can definitely expect good sales," she told one client keen to buy the counterfeit products at wholesale prices.
A typical Lego Technic set of more than 250 pieces – allowing children to build items such as trucks, racing cars and aircraft – costs 169 yuan on the mainland; a counterfeit version sold in the mall costs 45 yuan.
"The copy is not expensive and serves the same purpose, so parents have no reason to refuse if their children ask them to buy it," Lou said.
The counterfeit versions – produced mostly in the mainland's toy manufacturing centre in Chenghai district in Shantou, Guangdong province – were popular among poorer parents, who could not afford the more costly Lego originals, Lou said.
However, frequent mainland media reports have warned about the health risks to children from toxic substances found in locally produced plastic toys.
Yang Shuangshuang, who sells baking appliances in Yiwu, said local authorities were turning a blind eye to the sale of counterfeit goods and the safety concerns over the toys because they were more concerned about avoiding problems for manufacturers and traders so that the city remained an attractive business location for them.
"Keeping business activities vigorous is more important to the government," she said.
For Lego, the problem of counterfeit plastic blocks made to copy its toy products was nothing new and not limited only to China, Trangbaek said. "When we experience unfair competition we do whatever we can to protect our intellectual rights in the interest of the consumer.
"We will take any steps necessary on a global scale and, as such, we consider this an ever important issue for us not only in China – but globally."
Concerns over the health risks of counterfeit products have led many mainland parents, such as Jin, to ignore the counterfeit plastic blocks and buy original Lego blocks to guarantee the safety of their children.
"I know toy plastic blocks that meet EU standards will be much safer than those made on the mainland," Jin said.
"However, I would certainly consider buying mainland-made versions if China's toy-making industry started to apply the same safety standards."