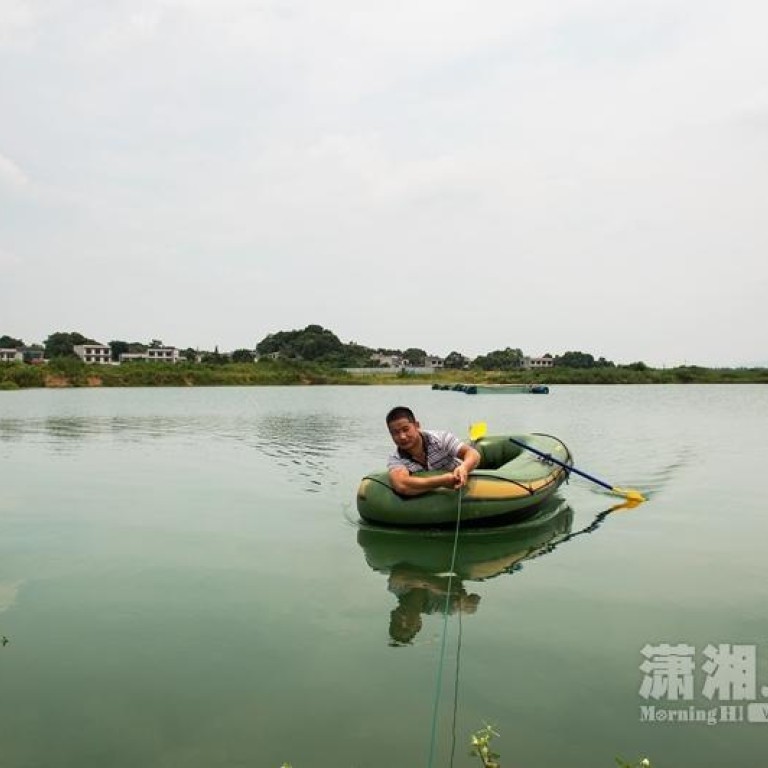 Foundations for planned 'world's tallest building' used as fish farm in China
The foundations of what was planned to be the world's tallest building are being used as fish farm in China two years after the project stalled, according to a newspaper report.
Construction of the 838-metre tall "Sky City" in Changsha started in July 2013 when billionaire Zhang Yue, the president of Broad Group, arrived in a helicopter for the ground-breaking ceremony.
Zhang had expected the 9-billion yuan (HK$11.3 billion) project to be completed in nine months, using prefabricated building modules, and replace the Burj Khalifa in Dubai as the world's tallest building.
But work stalled after concerns from regulators over the safety of the skyscraper and its environmental impact and funding.
With no progress on the project in sight, villagers nearby have started to raise fish in its 2.6-hectare water-filled foundations, the
Xiaoxiang Chen Bao
reported.
One villager started to raise fish in March and has invested over 20,000 yuan in his business. "I raise fish on the construction site. It is not in secret, neither have I ever been stopped," he was quoted as saying.
On the banks of the pit, some villagers grow watermelons. A road built to the project site is used to dry grain in the sun, the report said.
Zhang returned to the spotlight earlier this year after his company finished the construction of a building dubbed Small Sky City, more than 200 metres high, in an eyebrow-raising 19 days.
At the Boao Forum of business and political leaders in March, he insisted Sky City was not a lost cause despite the local government's suspension of the project.
"[Construction] shouldn't be far away. We'll start soon and complete soon," he said.