Focus
Get more with myNEWS
A personalised news feed of stories that matter to you
Learn more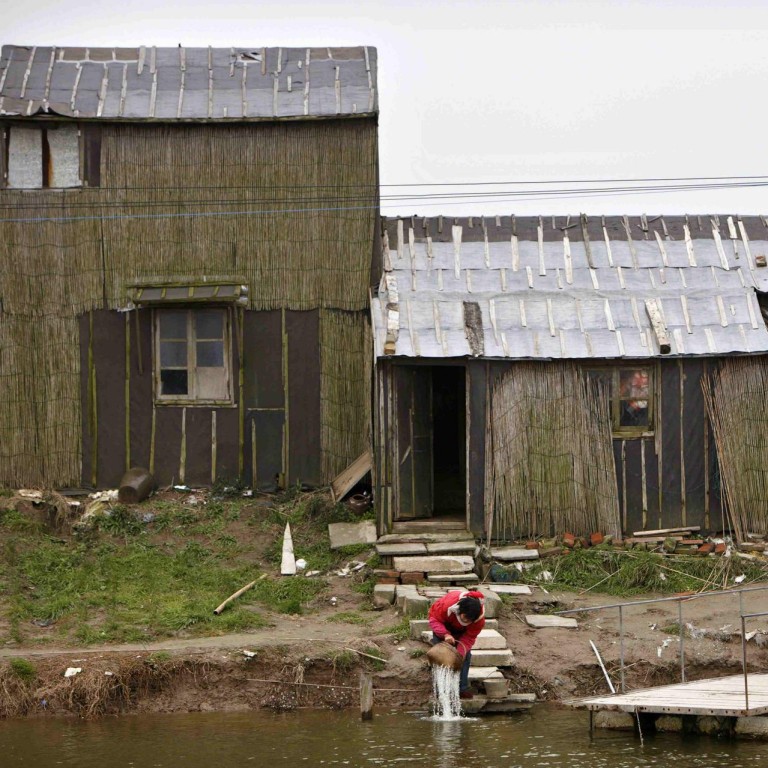 Sustainable solutions enable China's rapid urbanisation without disastrous environmental side effects
Sustainable solutions can enable rapid urbanisation without disastrous environmental side effects
Back in 2013, a Chinese communist leader quietly toured the urban environs of Chicago and New York, an experience that transformed his thinking about city design.
Zhang Jifu, then party secretary for the district of Pinggu, was impressed by Chicago's lakefront, with its winding bike paths and general hustle and bustle. He was also struck by how a dense urban environment like New York still had parks, gardens and outdoor cafes scattered throughout the city.
Zhang had attended a two-week course in the United States arranged by former US Treasury secretary Henry Paulson's brainchild, Paulson Institute. On returning to Pinggu, about 90 minutes' drive from Beijing, Zhang ripped up the basic government-sanctioned blueprint for the way China builds cities.
"In the past we were after bigger and faster stuff and we built wide roads and large communities and these were actually contrary to the urban sustainability concept," said Zhang, who has been made mayor of the larger city of Datong in Shanxi province, according to an August 5 statement. "After my training in Chicago and New York, I learned the importance of developing compact cities."
Influencing the way China's leaders think was among key goals Paulson wanted to achieve in 2011, when he set up his non-profit institute, focused on economic and environmental challenges in China and the US. With 100 million people set to move into China's cities by 2020 and the nation adding 2 billion square metres of floor space in new buildings each year, efficiency of urbanisation is central to averting environmental catastrophe.
China's Soviet-influenced city planning has emphasised vast boulevards and cars over people and liveability. Zoning frequently separates residential areas from industrial and commercial ones, forcing long commutes by car.
Local governments' need for revenue from land sales has caused urban sprawl as cities expand out instead of up. The result: Gridlocked streets and choking air pollution.
"The stakes are high for China as it urbanises," said Paulson, a former chairman and CEO of Goldman Sachs Group.
"If China manages to urbanise in a way that improves people's livelihoods and limits environmental damage, the positive impact will be enormous for the Chinese people and the rest of the planet."
Changing the status quo will be a serious challenge. About 90 per cent of China's cities are built according to the Soviet model, according to the San Francisco-based Energy Foundation, a non-profit organisation that promotes clean energy. Local governments remain dependent on land sales for about a fifth of their total revenue, giving them an incentive to continue selling land instead of increasing density.
"As long as local governments in China are evaluated by GDP growth, and they continue generating revenue through land sales, I do not see any sign of changes in the Chinese way of urbanisation," said Fang Yiping, assistant professor at the PSU-China Innovations in Urbanisation Programme at Portland State University in Portland, Oregon.
Over the years, Paulson has cultivated his ties with upper echelons of the Communist Party and business. He helped many of China's biggest enterprises list on the stock market before becoming US Treasury Secretary from 2006-09. In that post, he founded the Strategic & Economic Dialogue summits between the nations to foster closer economic ties. Premier Li Keqiang wrote the Chinese calligraphy for the "Uniting Knowledge and Action" logo that adorns the Paulson Institute website.
Paulson believes the massive urbanisation in China poses the greatest challenge and potentially biggest opportunity for shifting to a more sustainable development model, said Fred Hu, chairman of Beijing-based Primavera Capital Group and former China chairman of Goldman Sachs.
"More often than not, conservation takes a back seat if it is perceived in conflict with economic growth," said Hu, who worked for Paulson at Goldman Sachs and is chairman of the Nature Conservatory's China Board. "The GDP growth-centric mindset in China is hard to shake off but Hank has the status, credibility and passion to make a difference."
Building compact cities around mass transit systems that balance commercial and residential areas, as Zhang plans, would slash reliance on cars, preventing as much as 700 million tonnes of carbon dioxide in total from spewing into the atmosphere by 2030. That's more than was emitted by Australia and Italy combined in 2013.
Zhang has already started a programme to use electric vehicles as taxis. Other plans include priority for non-motorised vehicles, bicycles and pedestrians over cars, as well as networks of small streets instead of the vast multi-lane boulevards so common in Chinese cities.
Zhang was a "visionary" and more of his kind were likely to pop up in China in coming years, said Zhou Nan, deputy group leader of the China Energy Group of Lawrence Berkeley National Laboratory in California, who is a co-author of a Paulson Institute report commissioned by the Pinggu government for its urbanisation plan.
Still, challenges to broader change in the way China urbanises abound, including limits on financial and human resources to carry out plans, she said. Some of China's plans for eco-cities proved unsuccessful because of such problems, she said.
"If there is a change in leadership then everything will fall apart," she said. "That's why in the US and other countries many of the action plans are stipulated in legislation, regulation and being enforced well."
One such green city project was to have been the Dongtan eco-city on Chongming Island near Shanghai, unveiled with great fanfare in 2005. It never got off the ground after its main backer, former Shanghai Party Chief Chen Liangyu , was sentenced to 18 years in jail in 2008 for corruption.
"The fact that there is no rush to revive Dongtan eco-city shows that the initial political back-up was so important," according to a February research paper published in the . "Without it the project will only remain a white elephant."
It's also easier for Pinggu, with a small population of about 423,000 people, to remodel its urban planning than for megacities like Beijing and Shanghai or China's other large cities.
Paulson's hope is that annual training programmes like the one Zhang attended will lead to places such as Pinggu emerging as models for change, said Leigh Wedell, Washington-based Chief Sustainability Officer at the Paulson Institute.
"We have seen a lot of case studies like that where a successful pilot project led to national impact," said Zhou.
Another such project is the Shenzhen International Low- Carbon City, which last year won the second annual prize for China's "Cities of the Future", which is co-sponsored by the Paulson Institute.
The Shenzhen project, in the Pingdi district about an hour's drive from Hong Kong, was redeveloped without tearing buildings down and contributed to cleaning up the local river.
Paulson is also trying to spark change in the nation's building codes. The Intergovernmental Panel on Climate Change estimates that buildings account for almost 40 per cent of global greenhouse gas emissions.
Energy consumption from buildings and commercial floor space are projected to double in China through 2050, adding about 2 billion square metres a year to its 50 billion square metres of floor space. Buildings in China have the potential to improve energy efficiency by 30 per cent or more, estimates Zhou.
"By retrofitting buildings with existing technologies - even something as simple as insulation - you can start to have a major impact on the energy efficiency of a building," said Deborah Lehr, senior fellow at the Paulson Institute.
How China went about cleaning up its environment and whether it could shift to a more efficient urbanisation pattern was crucial for global climate change, Hu said.
Zhang provided a glimmer of hope. After reading the Paulson Institute's 65-page report on how he should revamp Pinggu's urban design, which broadly recommends adopting leading international practices, Zhang said he wanted more.
"It's a very good report," he said. "But I want to see more specific recommendations, something that would really enlighten us."
This article appeared in the South China Morning Post print edition as: The road to reimagining Chinese cities