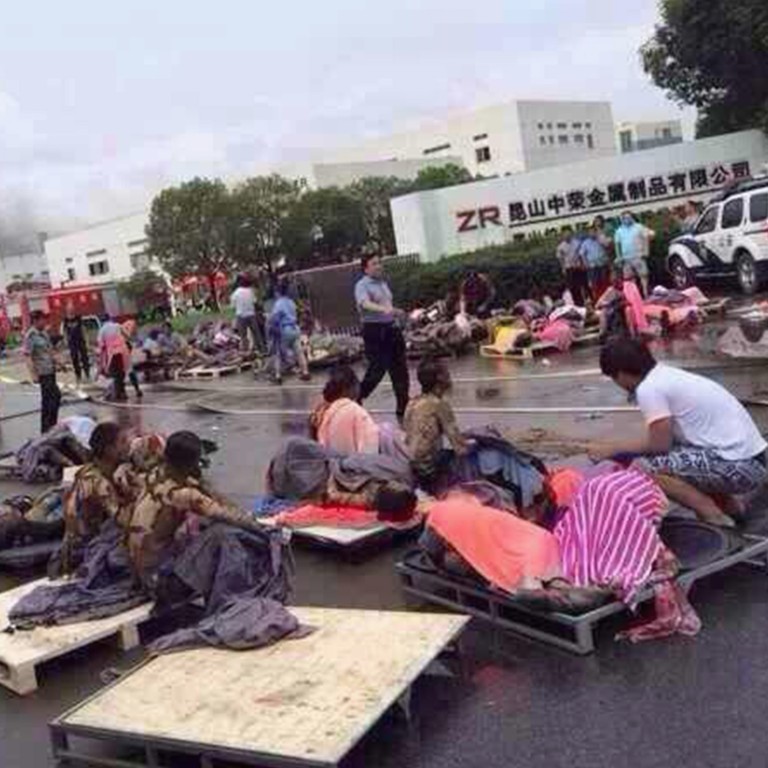 Industrial accidents in China continue to exact high toll in lives and property
Inadequate workplace safety blamed on lax enforcement, inspections and training
Explosions and fires caused by industrial accidents have killed and injured hundreds in China in recent years.
Workplace safety has been a persistent problem on the mainland, compounded by inadequate enforcement of safety regulations, inspections and training.
In recent years, major industrial accidents – including yesterday's warehouse explosions in Tianjin, northeastern China, where many remain missing – have killed more than 200 people and injured more than 880.
Many of the accidents were thought to be caused by dangerous working conditions, improper storage and poor facilities.
There have also been large protests by residents over perceived harmful pollutants from chemical plants in several provinces, causing local governments to alter or shelve plants producing sensitive materials.
Some of the more prominent incidents include:
April 6, 2015
Zhangzhou, Fujian province
The suspected cause is an oil leak. The incident follows protests against perceived harmful pollutants in the area since 2007, causing authorities to cancel plans to build paraxylene plants in Xiamen, Ningbo, Dalian and Maoming. Paraxylene, also called PX, is used in the manufacture of plastic bottles and polyester clothing, and can damage the nervous system and abdominal organs if absorbed through the skin or inhaled.
December 31, 2014
Foshan, Guangdong province
An investigation is reported to be underway in January.
November 16, 2014
Shouguang, Shandong province
A fire at a food packaging plant kills at least 18 workers and injures 13. The blaze destroys 1,500 square metres of the factory before it is extinguished two hours later.
A preliminary investigation shows a faulty freezer caused the blast, Xinhua reports.
August 2, 2014
Kunshan, Jiangsu province
The State Administration of Work Safety finds the factory lacks adequate ventilation or equipment to clear a high concentration of dust that triggered the blast. The city's work safety regulator had warned the factory about dust several times before the accident.
November 22, 2013
Qingdao, Shandong province
An oil pipeline explosion near a residential area kills 62 and injures at least 136.
The blast shatters windows and tears up roads. The pipeline, owned by Sinopec, leaks onto the street and into the harbour before it was shut 15 minutes later. About 18,000 people were evacuated.
The State Administration of Work Safety blames unacceptable oil pipeline design, inadequate supervision and handling for the blast.
Correction: The Foshan injury count is 33, not 20 as previously stated.