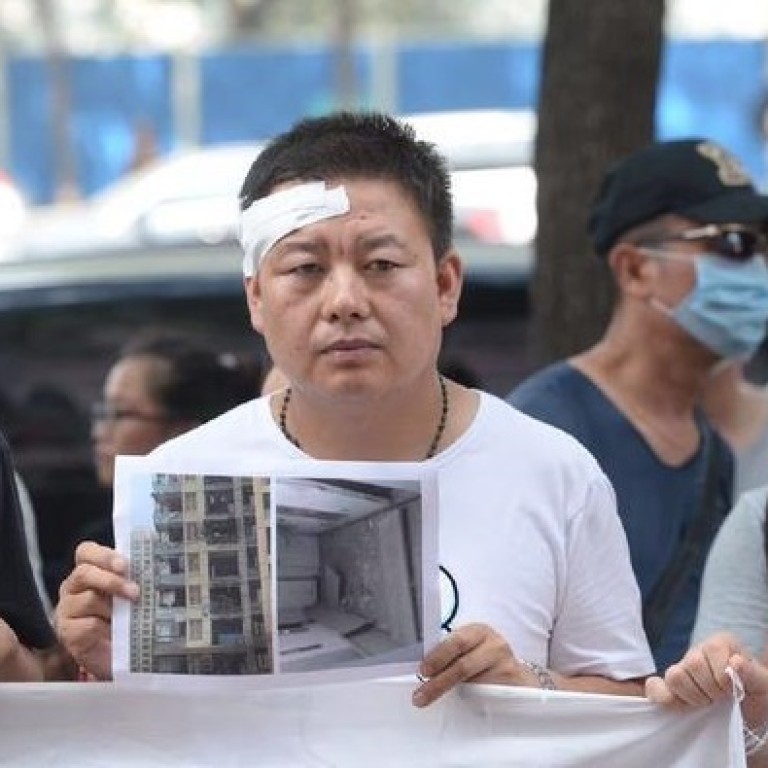 Buy our ruined homes, Tianjin explosion victims tell Chinese government
Owners protest, demanding compensation for property, medical fees and loss of work
Close to a hundred homeowners who lived near the Tianjin explosion site took to the streets on Sunday to demand the government buy their damaged flats.
Frustrated owners from the Qihang Jiayuan residential compound held banners, petition letters, and pictures of their ruined building as they protested outside a hotel where an official press briefing on the blasts was being held at around 10am, the reported.
Around five uniformed policeman watched as the owners, some of whom were in bandages, protested peacefully.
"No homeowner can accept settling the problem merely by repairing the buildings… [we] demand the government recover our losses by buying our flats," said a petition signed by the owners.
They also called on the government to pay compensation for their damaged property, medical fees and loss of work.
Residents feared that toxic gas and cracks caused by the explosion threatened the safety of their flats, which are about 800metres from the explosion site, the reported.
Tianjin's courts were making plans to settle legal issues arising from the explosion, including demands for compensation over loss of life and property, the reported, without elaborating.
Some local residents said they now needed to stay at the homes of relatives or friends, and that they had been unaware that the warehouse stored dangerous substances when they bought their flats.
"[My home is] 875 metres from the explosion site [and] there are residential buildings closer than ours," said a Weibo user who claimed to be a resident of Qihang Jiayuan.
"There is also a primary school being built nearby. I want to know who approved [the deposit of] such dangerous chemicals right beside my bedroom," he said.
"We just want a home without explosions, without toxic gas and without danger."
He posted a picture of a building more than 10 stories high where all the windows had shattered from the explosion. Objects from inside the building had been scattered on the ground.
The construction of the primary school started in June.
A petrol station was also being built next to the residential building.
Residents said that before the explosion, they had no knowledge of what being was stored nearby.
"There was nothing there [at the explosion site] when we moved in three years ago," said a resident of another compound, which was also less than one kilometre from the warehouse.
"The containers look barely different from others at the port," resident Li Ping told Tencent's news website
Inews.qq.com
There was no indication of what they contained, he said.
Another woman living near the blast site, who identified herself as Ms Zhang, said she had to move out of her flat after the blaze, and had climbed the 10 floors several times to get all she needed.
"We didn't know there was a dangerous warehouse, even if we did, that was almost three kilometres away," she said.
"Who would think something that far away could pose any threat?"
This article appeared in the South China Morning Post print edition as: Buy our ruined homes, residents urge government