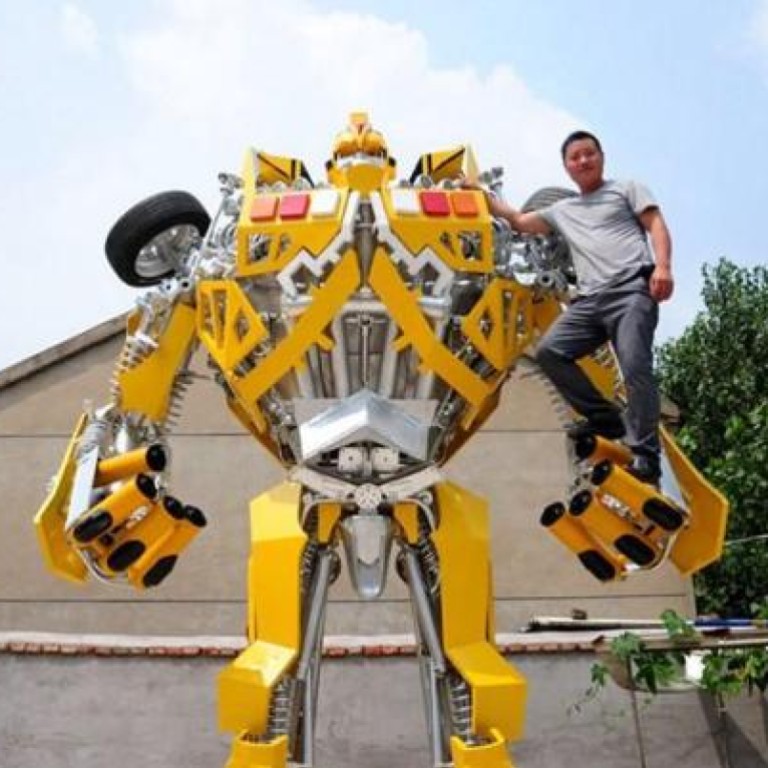 Best dad ever? Chinese father keeps promise to son and builds giant model of Transformers robot in backyard
A shipyard welder in eastern China gave up his job to fulfil a promise to his son and build a robot replica based on the Transformers action movies.
Standing 5m high and 3m wide, the dazzling yellow version of "Bumblebee Autobot", character in the film, towers over onlookers in Wang Liansheng's backyard in Suqian, Jiangsu province.
It all started when Wang told his two-year-old son that he would make a model for him because he couldn't afford to buy one after they watched the latest Transformers movie last July, Thepaper.cn reported.
His son took his words to heart, and Wang realised he had to keep his promise.
"As a father, I can't just say something and not do it," Wang said.
He gave up his job and spent 140,000 yuan (HK$170,000) on his pet project. In a year, he scoured enough old car parts and other scrap metal across the city to assemble the robot.
Wang says it was the worth the effort, especially when his son proudly tells people: "My father made this."
He next plans to make a model of the Transformers character Optimus Prime, and maybe try to make a business out of it.