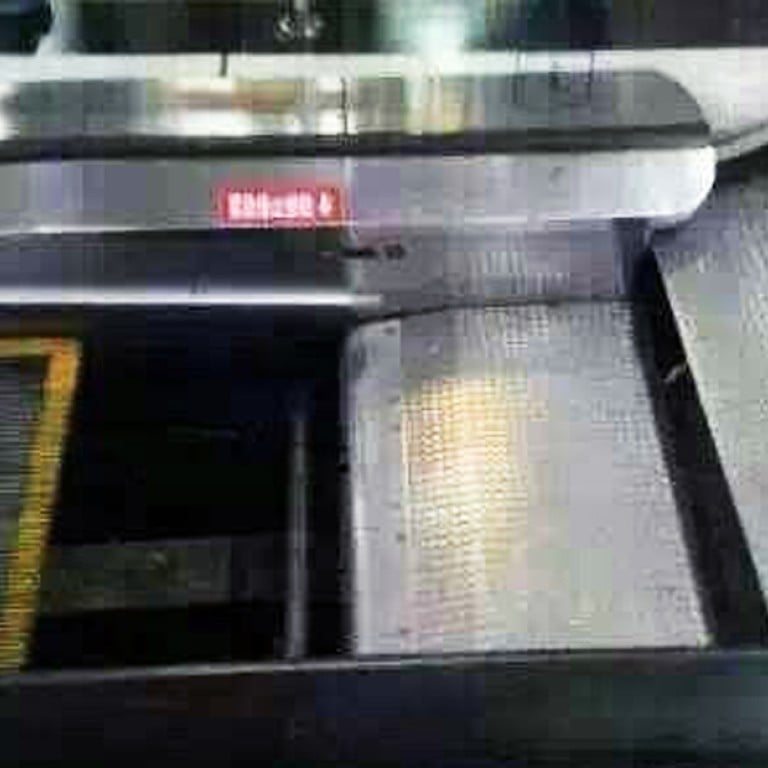 Chinese woman has narrow escape as mall escalator floor collapses just weeks after fatal Hubei accident
On Sunday an unnamed woman in her 20s was going down the escalator at the mall in Shenyang, in Liaoning province, when she heard the loud crash of a metal flooring panel behind her falling inside the machine, Liaoshen Evening News reported
She rushed to the bottom of the escalator in a panic until she was safely standing on the floor below.
Staff at the mall immediately shut down the escalator and no one was injured in the accident.
A safety inspection is being carried out and the use of all escalators at the mall has been suspended, the report said.
The newspaper report did not say whether the mall's escalator had been made by the same company that manufactured the escalator involved in the earlier fatal accident, Suzhou Shenlong Elevator Co, which was  accused of poor quality control.
"Luckily there were not many people using the escalator," one shopper told the Liaoshen Evening News.
Watch: Five-minute surveillance video before the Hubei escalator tragedy
In July, Xiang died moments after pushing her young son to safety when the metal panel on an escalator, made by Suzhou Shenlong Elevator Co, collapsed under her feet at the AZG Mall in Jingzhou, in central Hubei province.
Surveillance video showed her saving her son before falling through the hole into the moving parts of the escalator.
The video went viral, after being published on social media public, and sparked nationwide concerns about the safety of escalator malls.
Investigators found the three plates were poorly designed, allowing them to work their way loose and tilt easily. They also found the size of the plates did not match the original designs and were loosely fitted.
Officials ordered all of Suzhou Shenlong Elevator Co's machines operating across the province to stop service and safety checks to be carried out.
The fatality led to safety and quality supervision authorities throughout the country to demand immediate inspections of all escalators produced by Suzhou Shenlong Elevator Co.
The iniital investigation also found the mall did not take proper emergency measures after its staff discovered the escalator was faulty.
Video footage showed two members of staff at the shopping mall almost fell through a gap in the plates of the same escalator minutes before Xiang was killed.
In 2014, 36 people died in 49 elevator and escalator accidents on the mainland, according to the Administration of Quality Supervision, Inspection and Quarantine, Xinhua reported.
Safety checks on more than two million elevators and escalators as of the end of June found almost five in every 100 elevators had problems, according to official data.