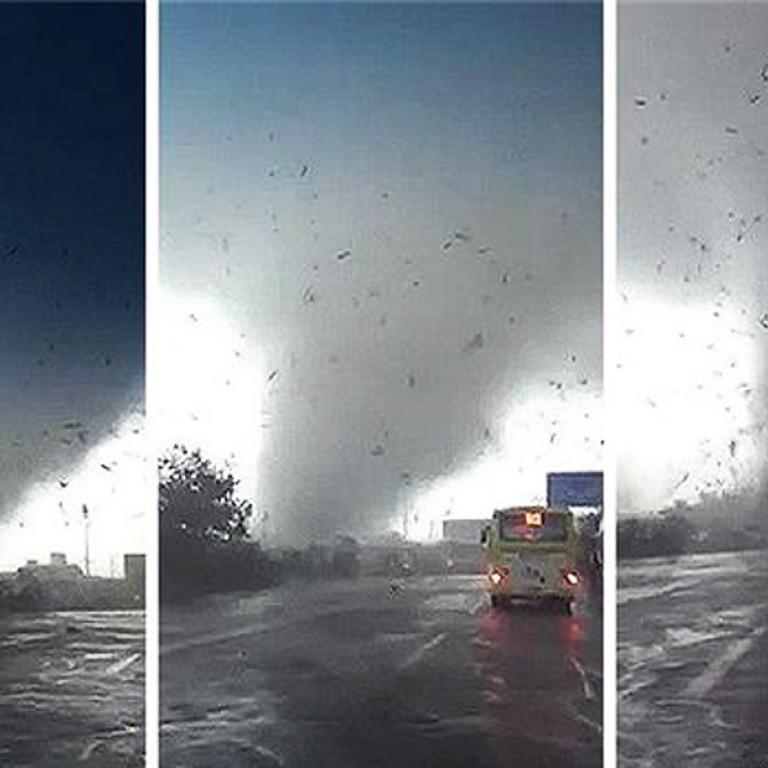 Update
Seven dead and 223 injured as tornadoes brought by Typhoon Mujigae ravage China's Guangdong province
At least seven people were killed and 16 were reported missing in Guangdong on Sunday after Typhoon Mujigae and the tornadoes it generated ravaged the province, cutting power, water supplies and communications.
Xinhua said Mujigae was the strongest typhoon to make landfall on the mainland in at least six decades. Mujigae touched down near Zhanjiang  in western Guangdong, just after 2pm on Sunday.
It spawned at least three powerful tornadoes, one each in Foshan's  Shunde district, Panyu district in Guangzhou, and Haifeng county in eastern Guangdong, according to the Guangdong Meteorological Bureau.
Three were reported dead in Shunde and three others in Panyu, according to Nanfang Daily, as of Monday afternoon. More than 223 people were injured.
A fisherman was also confirmed dead and 16 were missing after the typhoon battered 35 boats near the Zhanjiang coast.
Transport in Zhanjiang was brought to a halt and electricity lines to nearby  Donghai Island were cut.
Electricity networks in Zhanjiang, Maoming and YanGjiang were damaged, causing power, water and phone outages throughout western Guangdong.
The tornados, which are rare in the Pearl River Delta, ripped apart homes and overturned vehicles.
In the provincial capital, Guangzhou, emergency power and water supplies were brought on stream on Sunday after tornadoes took down several power lines and left thousands of residents in Panyu and Haizhu without electricity for the first time in 23 years, state broadcaster CCTV said.
A 30-year-old female driver said Haizhu district in Guangzhou on Sunday night was like a disaster zone.
"Trees were toppled, there were no street lights and traffic lights. You could see leaves and tree branches everywhere. It was very scary," she said.
Many tourists visiting the 600-metre tall Canton Tower  – a Guangzhou landmark in Haizhu district – had to be evacuated after the blackout. The tower was reopened to the public at about 7pm.
Scores of flights in and out of Hainan's main airport in Haikou were cancelled, and high-speed rail services between Haikou and Sanya were suspended on Saturday and Sunday.
China Southern Airlines cancelled 19 flights in Guangdong, and more than 500 passengers in Nanning, Guangxi, were affected, Xinhua reported.
Lin Liangxun,  a meteorologist at the provincial weather bureau, told Xinhua, the typhoon developed very quickly and the tornadoes it brought with it were extremely rare.
"Guangdong is often hit by typhoons but an autumn typhoon like Mujigae is very rare. From formation to landing, it only took 57 hours but travelled more than 1,300km," Lin said.
"From a grade 8 tropical storm, it strengthened to a level 15 strong typhoon."
Foshan city was preparing to open its first tornado research centre, China News Service reported.
Additional reporting by Laura Zhou