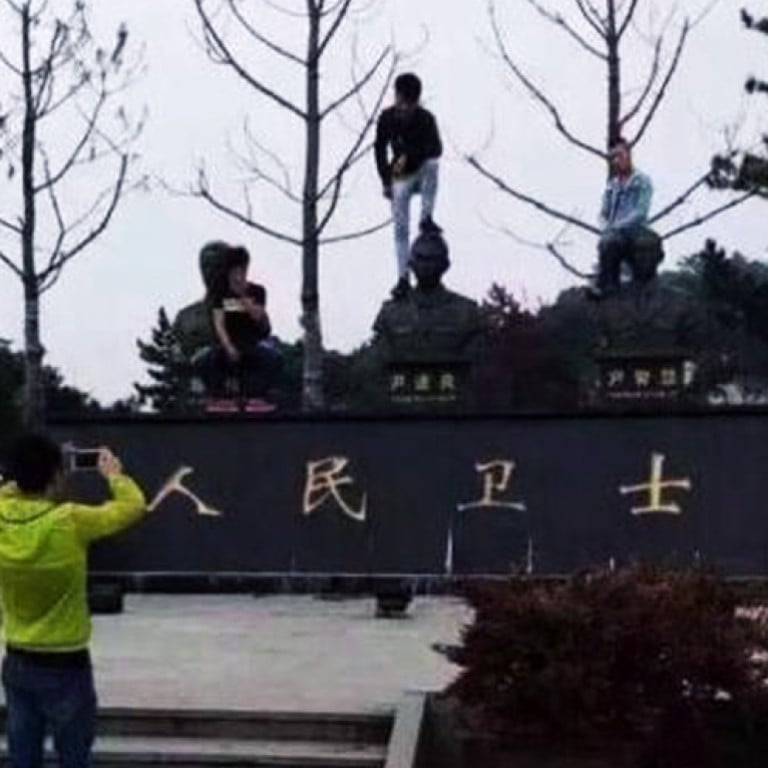 New

|
Tourists gone wild: China's unruly hordes make headlines over 'golden week' holiday – but this time back at home
Badly behaved Chinese tourists have once more made national headlines over the "golden week" National Day holiday, Chinese media reports.
The Yangtze River Bridge in Wuhan, Hubei province, was covered with nearly 300 pieces of graffiti, many made using correction fluid, which is difficult to remove, Dahe.com reported.
Some declared their love for their partners through their graffiti while others penned poems or drew pictures.
One person wrote "I'm happy to finally see the Yellow River", although it was really the Yangtze River below.
In Hangzhou, Zhejiang province, four men were being investigated for disrespecting figures of local heroes, Today Morning Express reported.
The men, in their 20s, had taken photos of themselves climbing onto the metal statues of three firefighters who had lost their lives putting out an industrial park fire in Xiaoshan's Guali township.
One of them had his foot on a statue's head, sparking anger after they were circulated online.
In Beijing, the Forbidden City administration has enforced a blacklist of more than 2,500 unwelcome guests, the Legal Evening News reported.
Personal identification now has to be produced to buy tickets to the imperial palace. Unruly tourists, touts and unregistered tour guides are banned from the site.