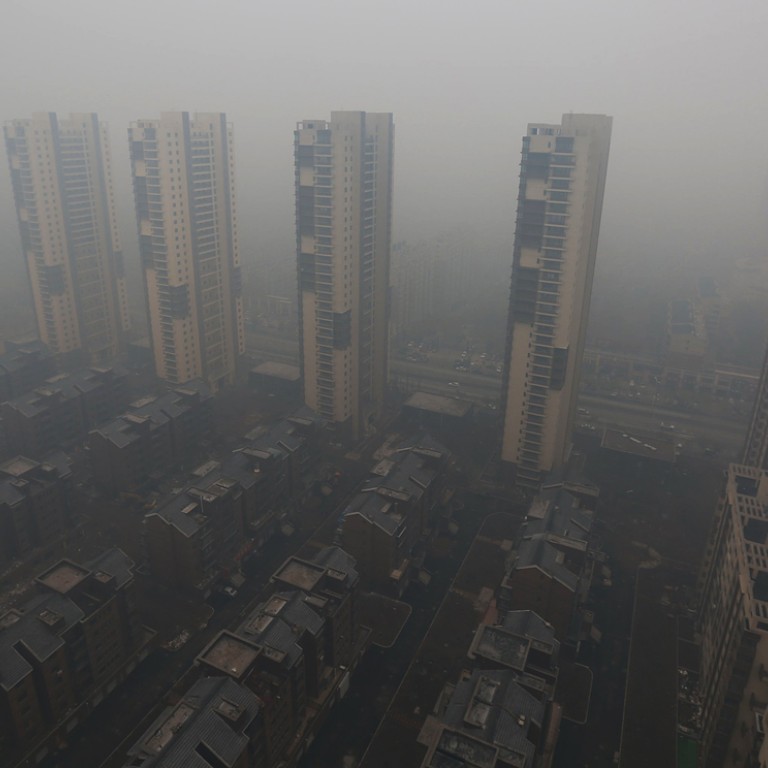 Smog in northeast China at nearly 50 times World Health Organisation safe limits
Heavy pollution shrouds 21 cities in northeast as dangerous particles reach highest levels since mainland began releasing real-time data
A swathe of China was blanketed with dangerous acrid smog on Monday after levels of the most dangerous particulates reached the highest recorded this year at almost 50 times World Health Organisation recommended limits.
Levels of PM2.5, the tiny airborne particles considered most harmful to health, reached 1,157 micrograms per cubic metre in Shenyang, capital of Liaoning province, on Sunday, data from the city's environmental protection bureau showed.
In Changchun, the capital of neighbouring Jilin province, they reached more than 1,000 micrograms on Sunday, and fell only slightly - to 860 - on Monday. Nearby cities also reported very high levels.
The Ministry of Environmental Protection said 10 cities in the northeast had recorded heavy pollution on Friday. The number rose to 18 on Saturday and 21 on Sunday. By Monday morning, 20 cities were shrouded in heavy pollution. The ministry said traffic control measures had been in place since Friday.
Shenyang's readings were some of its worst since 2013, when the mainland started to monitor air quality and release real-time data. In 2013, the PM2.5 index of Shenyang only once reached more than 1,000. In the same year, Beijing's index reached 900. The WHO's safety limit is a 24-hour average of 25.
The Shenyang city government said it was initiating a "level one red alert" emergency response, the highest level, telling schools to stop organising outdoor activities, and reminding residents to "take green transit", stay indoors and "take health precautions".
Chronic pollution problem has been linked to hundreds of thousands of premature deaths on the mainland, and has become a major source of popular discontent with the government.
PM2.5 particulates can play a role in heart disease, stroke and lung ailments such as emphysema and cancer.
Xinhua said anti-smog masks had sold out at several pharmacies and a doctor at Liaoning's geriatric hospital said it had received more patients than usual.
Liaoning said the extreme smog was caused by the coal-powered public heating system being switched on with the onset of winter, and by heavy pollution blown in from other provinces.
Xinhua blasted Shenyang's emergency response as "useless" in the face of "such severe haze and pollution".
A Shenyang resident told Xinhua: "When you go out you feel the air burn your eyes, your throat hurts, so you go buy a mask, but it's not really clear what we should specifically be doing."
Xia Qing, former president of the Chinese Research Academy of Environmental Sciences, said the emergency response protocols were not legally binding so they had only limited effect.
"Unlike Beijing, Liaoning's legislature has yet to approve these trial measures," Xia said. "Administrative documents have their limitations."
Xia also said the fundamental problem causing the heavy smog in the region was coal-burning, rather than vehicle use.
"It's different from Beijing. Banning the vehicles there won't bring blue skies like the Apec blue in Beijing. As long as China continues to burn coal … the [air pollution] problem won't be thoroughly solved," Xia said.
Calls made to Shenyang's Environmental Protection Bureau went unanswered.
This article appeared in the South China Morning Post print edition as: Smog nearly 50 times W.H.O. limit