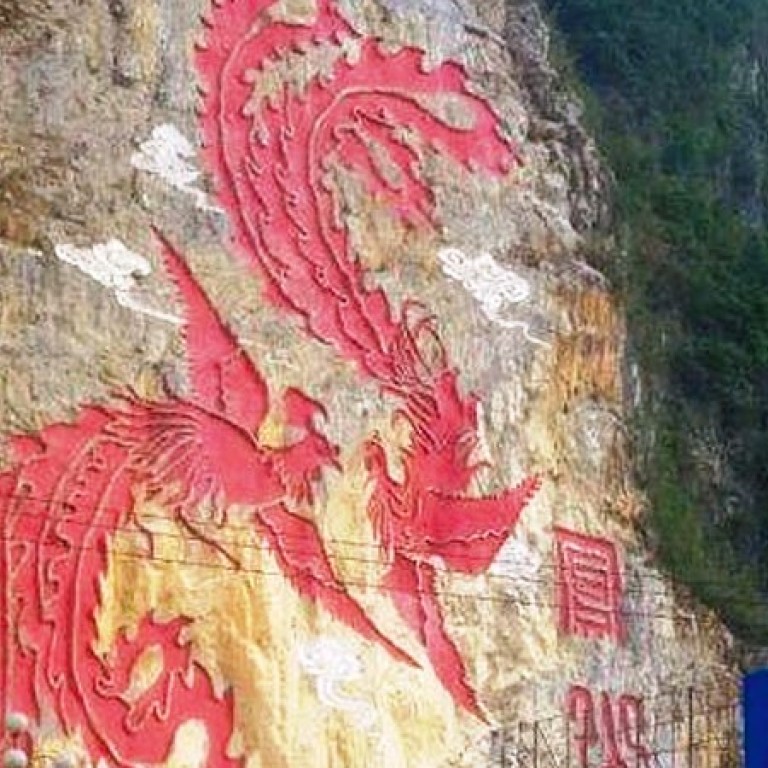 Chinese official blames drunkeness for bribe-taking amid scandal over giant phoenix mural that led to his fall
A giant cliff mural of a pair of phoenixes in southwest China has brought about the downfall of a senior city official who commissioned it after it was found he accepted millions of yuan in bribes and kickbacks, and misappropriated millions more from funds for the project.
Huang Deyi, 51, a deputy city mayor in Guangxi autonomous region, stood trial this week after he confessed to taking more than 5 million yuan (HK$6 million) in bribes over six years, the Nanguo Morning News reported.
The fall of Huang Deyi, 51, followed residents' complaints that he had spent 50 million yuan to have the giant fresco carved at the entry to Fengshan county, which he headed at the time, in the northwest of the scenic but impoverished region.
The Guangxi anti-graft watchdog found that Huang had also misappropriated 5.35 million yuan – the equivalent of half of Fengshan's annual revenue – from public funds to make the mural, which only cost about 2 million yuan to construct.
The report did not say how the money was misappropriated, but the investigation is continuing into what happened to the outstanding millions of yuan.
However, it was established that between 2007 and 2013, Huang took bribes of more than 5.21 million yuan, which included 3kg of gold, the report said.
In one case, Huang took gifts totalling 600,000 yuan to help a local investment firm build a sewage and garbage treatment works and invest in other infrastructure projects in the county.
On another occasion, Huang accepted about 2.3 million yuan from a businessman surnamed Wen from Zhejiang province to help develop tourism real estate in the county.
Although Huang later returned the gifts, he accepted 200,000 in cash from Wen in 2012 after his promotion to deputy mayor of Hechi, a prefectural level city that administers Fengshan county.
"I didn't mean to take those bribes on purpose. For most of the time, I accepted them when I was drunk," Huang told the court, according to the report. "I didn't want these bribes, and I regret taking them. But I didn't return them because I was afraid of losing face. "