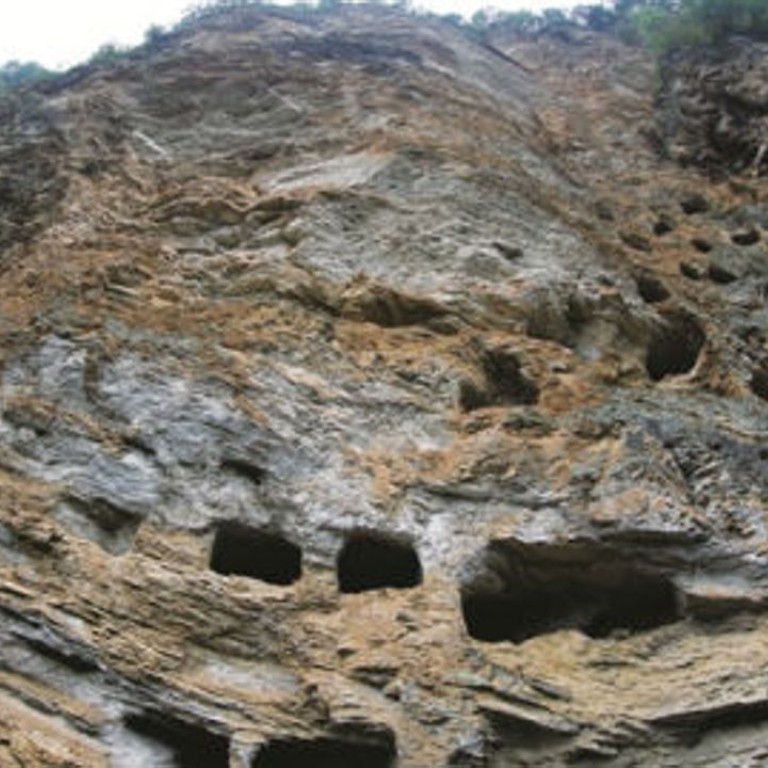 131 ancient Chinese 'hanging' coffins found on side of 100m cliff near Three Gorges Dam
Archaeologists say coffins, placed in caves carved into the rock face in remote area of Hubei province, were built 1,200 years ago during Tang dynasty (618-907)
A total of 131 "hanging" wooden coffins, believed to be about 1,200 years old, have been discovered on the side of a 100 metre-high mountain cliff in China's Hubei province, mainland media reports.
The coffins had been placed in rectangular-shaped holes, carved into an area covering more than 50 metres high up on the side of the cliff facing a river in a remote area in Zigui county, close to the site of the Three Gorges Dam, the Three Gorges Business News reported on Monday.
Archaeologists said the coffins were built 1,200 years ago during the Tang dynasty (618-907), and probably belonged the ancient ethnic minority Bo people, who lived in southern China, the newspaper said.
It is still unclear how the coffins would have been lifted up the high cliff.
The report did not say who discovered the coffins, or when they were found.
This unique burial custom was carried out to prevent the dead bodies from being eaten by wild animals and was also believed to be a way for the soul of the deceased to gain an eternal blessing.
Other hanging coffins, some with coffins resting on wooden stakes embedded in the rock face, have been discovered in China's southern provinces of Yunnan, Sichuan, Jiangxi and Fujian.
In the past mainland media have reported that some government officials have been seen worshipping at such sites because the pronunciation of "hanging coffin" or
xuanguan
in Chinese sounds similar to word for "promoting the official".
Construction of the controversial Three Gorges Dam, the world's largest hydroelectric dam, spanning the Yangtze River, in Hubei, began in December 1994, and has cost more than 248 billion yuan (HK$312 billion).
It has led to at least 1.24 million people being relocated from the area, and created a 600 km-long reservoir that raised water levels across a wide area and flooded about 1,300 archaeological sites, including some hanging coffin sites.