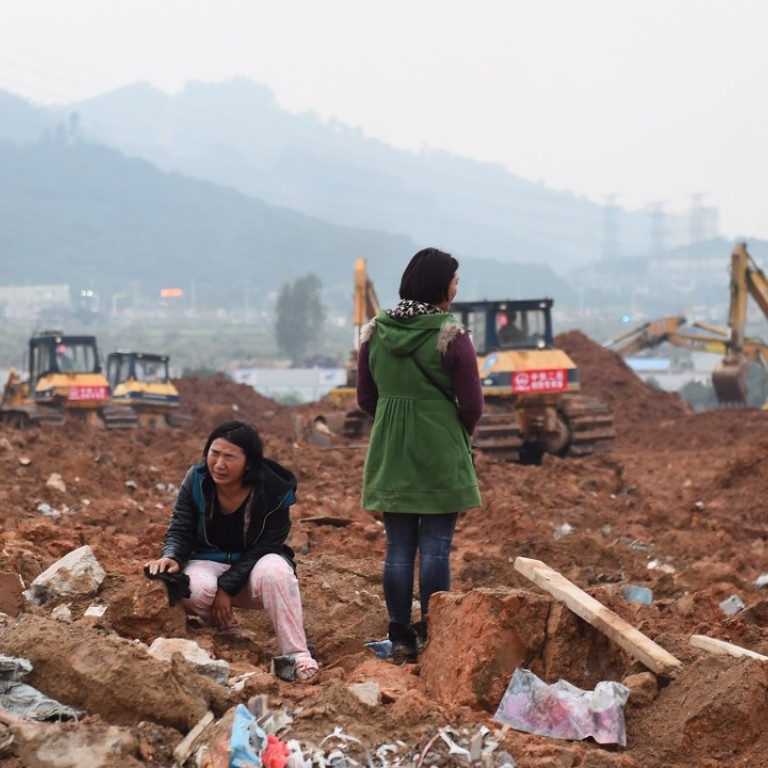 After Shenzhen landslide, residents of China's big cities wonder when disaster will strike next
Moving to a first-tier urban centre on the mainland once guaranteed a better life, but not any more
The three worst man-made accidents on the mainland this year all took place in its largest cities, where planners struggle to accommodate an expanding middle class and waves of migrant workers.
The tragedies have led some mainlanders to ask why China's leading urban centres – which are supposed to provide their residents with a better life – have become so dangerous.
China started the new year on a horrific note. At least 36 people were killed in a stampede on the Bund in Shanghai on December 31. Overcrowding and a lack of safety measures were blamed.
READ MORE - Firm that won bid for Shenzhen dump transferred contract, Chinese media says
Another blow came on August 12 when explosive materials stored at a chemical warehouse in Tianjin ignited, triggering twin blasts that shattered windows as far as 2km away. The official death toll was more than 170, with first responders accounting for many of the fatalities. Investigators found that the owner of the facility, Ruihai International Logistics, had contravened safety regulations.
Then on Sunday, a construction-waste dumping site collapsed, sending a wave of mud across an industrial park in Shenzhen. Seventy-six people remained missing.
Rescuers continue to pick through the debris in the hopes of finding survivors perhaps trapped among the 33 destroyed buildings. The park sits on the edge of Shenzhen, the mega city held out as a shining example of the benefits of economic reform.
"Two years ago, a Beijing resident drowned in his car when the city was hit by a thunderstorm," one person wrote on Weibo. "This year, people strolling on a Shanghai street were crushed to death. In Tianjin, one could be killed while just sleeping at home. And as 2015 nears its end, some people are buried by mud and rocks while at work! When will the cities become safe?"
READ MORE - Our wedding is in 10 days. Why is this happening?: Anguish of woman whose fiancé is missing after huge Shenzhen landslide
Another commentator said: "These cities are the most modernised, and are the most successful examples of China's reform and opening-up. But the rare and unprecedented accidents this year are raising the question: where will development lead our country?"
Qi Zhiqiang, a lecturer on environment, health and safety at Nanjing University, called the Shenzhen landslide a "city's shame". It was a "human-made disaster" that had causes that were "kept in the dark for a long time", he said.
The three accidents all bear similar hallmarks – poor management oversight, lax planning and weak enforcement of existing laws.
In the Bund stampede, most of the victims were young people in their 20s going to watch a New Year light show. Government agencies under Huangpu district were later blamed for failing to alert the public that the show had been called off.
The local police department was accused of severely underestimating the expected turnout – the crowd swelled to 310,000 people at one point, but only 600 police officers had been deployed to maintain order.
In the Tianjin disaster, Ruihai Logistics was found to have handled dangerous chemicals without a licence, state media reported. Company executives admitted they had made use of their connections to get fire safety approvals.
Similarly in Shenzhen, mainland media has reported the company that won the bid to build and operate the waste dump was not qualified for the job.
Central authorities have yet to publish the investigation result of the Tianjin blasts, more than four months of the accidents.
Luwei Property Management Company did not list handling waste dumps in its business registration but nevertheless won the bid, and contracted the project out to another firm, Yixianglong Investment Development Company. The property management company has won numerous government contracts over the years.
Mainland media also reported that the permit to run that site, classified as a temporary dump site, expired in February. A deputy director of Yixianglong was taken away by the police yesterday .
In the wake of such man-made disasters, the central government has been quick to announce responsible parties would be punished. But at the same time, the leadership has been clamping down on the spread of information about large public incidents on the internet.
Some people have expressed fears that weak government accountability will only lead to more such accidents in the future.
"What startles me most is you no longer see the same anger and questions online after the Shenzhen landslide. The public just seems to go along with their own life now," said a Shanghai resident.