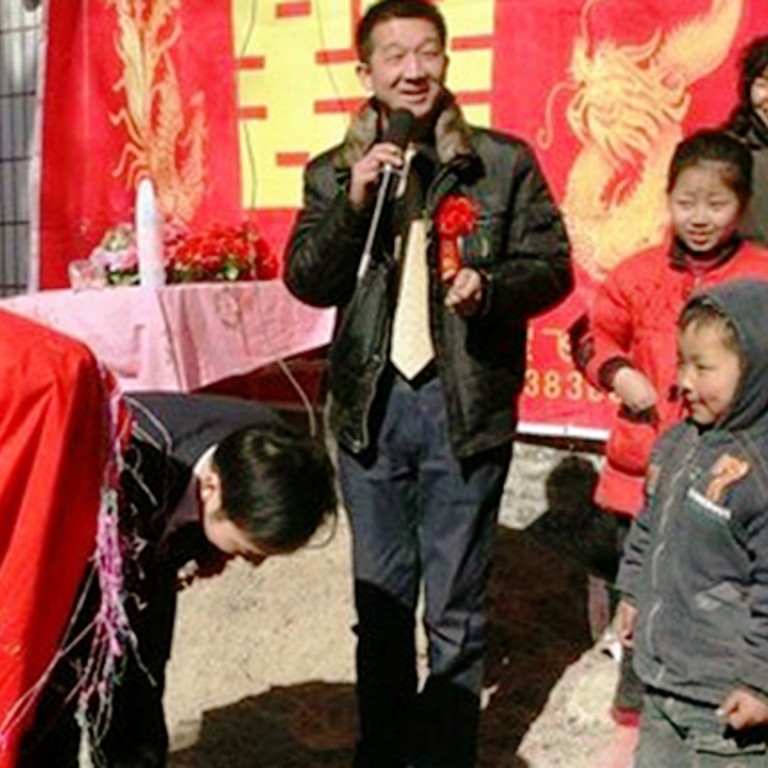 100,000 yuan and counting! The price China's rural bachelors must pay to get a wife
Mainland's gender imbalance means marriages, especially those between couples in poorer countryside areas, have become increasingly expensive and – in some cases – unaffordable
Life has recently been much more expensive than normal for Zhang Hu, a farmer from a impoverished mountainous village in northwestern China's Gansu province
Zhang, whose family earns about 60,000 yuan (HK$70,000) each year working in one of the nation's poorest provinces, has just spent about 170,000 yuan on his son's wedding, including 130,000 yuan paid to his daughter-in-law as a "bride price" – a traditional Chinese marriage ritual that is still widely practised.
Yet Zhang had to borrow 150,000 yuan to foot the bill, the China Youth Daily reported.
"[The village] is so poor that no woman wants to marry [men] here," Zhang said. "And the poorer you are, the higher the bride price."
As China's economy has grown to become the second biggest in the world, marriages, especially those between couples in some countryside areas, have become increasingly expensive and – in some cases – unaffordable, according to research and Chinese media reports.
The cost of a bride price has been growing much faster than the Chinese economy over the past 10 years.
In Gansu, a family once needed to pay less than 10,000 yuan to the bride, but now the price has increased to 150,000 yuan, the China Youth Daily reported.
Brides from some villages in the eastern province of Shandong have been known to ask for a bride price so that the number of 100 yuan bills would weigh more than 1.6kg, which amounts to more than 100,000 yuan.
The price Zhang paid out for his son's marriage speaks volumes about the conundrum facing "bare branches", as bachelors are known in Chinese, in the countryside.
Their poor economic status, compounded by gender imbalance across the mainland make these "bare branches" ever more unmarriable.
According to China's 2010 census, the ratio of newborn girls and boys was 100 to 117.9. There were 700.79 million men in 2014 compared with 667.03 million women, according to the National Bureau of Statistics.
The gender imbalance starts to be felt mostly in China's impoverished countryside where women have often left to find better marriage prospects in more developed areas, experts say.
Chen Weimin, director of population and development studies at Nankai University in Tianjin, believes the high cost of countryside weddings is more of an economic phenomenon.
"In some poor villages, men have to buy brides [from Vietnam]," Chen said. "That's because women there have chosen to change their fate by getting married in more developed places."
Chen said the economic development of the countryside and the changing spending habits of farmers had all contributed to the hefty price of marriages in rural areas.
A bride price is only part of the expenditure of weddings in China's countryside. Sometimes brides will also ask for flats in towns and a car.
"It's become general practice," Chen said. "Villagers used to host wedding banquets at home, but now they also hold them in hotels and use a motorcade involving expensive cars on the wedding day."
Chen, who is originally from the countryside in Anhui province, added that it was now a "must" for brides and grooms to own a flat in a town.